E' tornata la compilation Hot Parade Forever Summer 2015, un doppio album con tutto il meglio della musica pop e dance del momento! L'opera è disponibile dal 18 settembre nelle versioni doppio CD e digitale.
Per la prima volta 45 HIT in doppio cd a prezzo speciale per un'estate senza fine, quarantacinque pezzi italiani e stranieri, che hanno e continuano a dominare le classifiche italiane ed estere.
Gué Pequeno, Cesare Cremonini, Malika Ayane, Il Pagante, Nek, Prezioso, Fabri Fibra, David Guetta, Major Lazer, Madcon, Alvaro Soler, OMI, Flo Rida, Gregory Porter, Serebro, Feder, Sebastien, Jack Savoretti, Thomas Jac, Clean Bandit, Family of the Year, Nicky William, Eva Simons, Spada, Cristian Marchi, Hardwell & Jason Derulo, W&W, Dj Antoine e tanti altri artisti e relative hit, sono presenti in quest'interessante compilation.
Appena dopo la copertina frontale, potete leggere i titoli di tutte le canzoni presenti in Hot Parade Forever Summer 2015.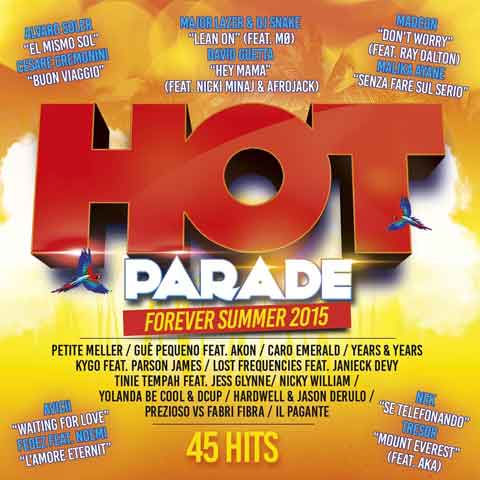 Tracklist Hot Parade Forever Summer 2015 (Disponibile su Amazon nei formati Audio CD e Digital Download)
CD 1
Don't Worry – Madcon feat. Ray Dalton [Radio Version] 3:34
El Mismo Sol – Alvaro Soler (DJ Ross & Max Savietto Remix) 2:50
Baby Love – Petite Meller (Single Version) 3:39
We Wanna – Alexandra Stan & Inna feat. Daddy Yankee [Radio Edit] 3:50
Soul Makossa (Money) Yolanda Be Cool & Dcup [Radio Edit] 3:00
Kiss – Serebro (Radio Edit) 3:21
Goodbye – Feder feat. Lyse [Stefan Dabruck Remix] 2:56
High on You – Sebastien feat. Hagedorn [Radio Edit] 2:32
The Other Side of Love – Jack Savoretti 3:50
Vamonos – Il Pagante 3:19
CD 2
Policeman – Eva Simons feat. Konshens [Original Mix] 3:48
Jeff – Karlk feat. GuitK [Radio Edit] 3:04
Rivers – Thomas Jack 3:27
Hero – Family of the Year 3:05
Se telefonando – Nek 2:56
The Sun – Parov Stelar feat. Graham Candy [Original] 2:52
Love Love Love – Jackson feat. James Yuill [Zwette Radio Edit] 3:29
King – Years & Years 3:29
Catchfire (Sun Sun Sun) Spada feat. Anna Leyne [Radio Edit] 2:43
Second Chance – Cristian Marchi feat. Max'c [Original Radio] 3:18
Holiday – Dj Antoine feat. Akon [DJ Antoine vs. Mad Mark 2k15 Radio Edit] 3:27
Vedi anche: Hot Parade Summer Dance 2015 – Hot Parade Dance 2015.