Il 24 giugno è uscita la regina delle compilation dance, ovvero Papeete Beach Vol.21 – Summer Hits 2014 che in 2 CD, propone un totale di 41 tracce, mentre nella versione digitale su iTunes, è presente una traccia bonus.
Come per altre compilation, anche quest'opera contiene le hit accuratamente selezionate, che vi accompagneranno nell'estate 2014. I due dischi contengono grandissimi successi e brani emergenti, che hanno tutte le potenzialità per divenire vere e proprie hits di successo.
Tra le le canzoni presenti, menziono canzoni di grande successo come Summer di Calvin Harris, Addicted to You di Avicii, Rather Be dei Clean Bandit, Light It Up di Dj Antoine e la versione remix di Changes di Faul & Wad Ad & Pnau.
Tra i brani emergenti, cito invece Everybody di Oceana, Balada di Federico Scavo,Welcome to the Jungle delle Neon Jungle, Tonight I'm Yours di Ola Svensson, Heart of Glass di Gisele & Bob Sinclar e moltri altri pezzi.
Dopo la coloratissima copertina, potete leggere i titoli di tutte le canzoni proposte in Papeete Beach Vol.21.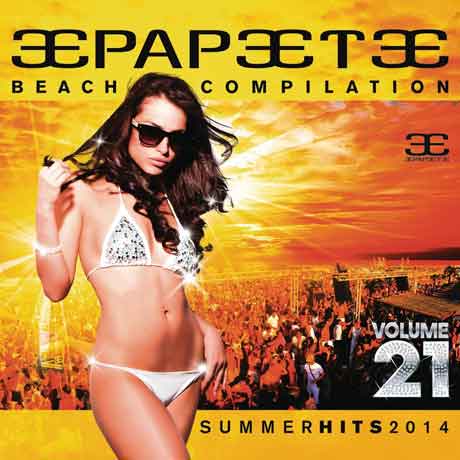 Tracklist Papeete Beach Vol.21 – Summer Hits 2014 (Disponibile su Amazon nei formati Audio CD e Digital Download)
CD 1
1 Intro Papeete 0:45
2 Summer – Calvin Harris 3:31
3 Love Never Felt So Good (Fedde Le Grand Remix Radio Edit) Michael Jackson 3:22
4 Take me Back (feat. Jonny Rose) Stefano Pain & M. Lobina 3:41
5 Ten Feet Tall (feat. Wrabel) Afrojack 3:42
6 Helium (feat. Jareth) [Tiësto Remix] Chris Lake 4:18
7 Tonight I'm Yours – Ola 3:46
8 Addicted to You – Avicii 2:20
9 Jealous – Chromeo 3:39
10 Welcome to the Jungle – Neon Jungle 3:27
11 Kiss You (feat. Broono) Sasha Lopez & Ale Blake 3:12
12 Everybody – Oceana 3:07
13 Light It Up (DJ Antoine vs Mad Mark 2K14 Radio Edit) DJ Antoine & Mad Mark 2:43
14 I Will Never Let You Down – Rita Ora 3:23
15 Ahead of Us (Radio Edit) Tom Swoon & Lush & Simon 3:07
16 Super – Carolina Marquez 3:37
17 #Selfie – The Chainsmokers 2:54
18 Ping Pong (Radio Edit) Armin van Buuren 2:55
19 Fix Me (feat. RAIGN) Swanky Tunes 3:11
20 You – Galantis 3:41
21 Anywhere for You – John Martin 3:33
22 La Musica Che Viaggia (feat. Ricky S. & Marco Benini) Viceversa 2:14 (iTunes bonus track)
Disco 2
1 Rather Be (feat. Jess Glynne) [Magician Remix] Clean Bandit 4:29
2 Hideaway – Kiesza 4:02
3 One Day (Vandaag) [Radio Edit] Bakermat 3:33
4 Setting Sun – Dirty Vegas 3:24
5 Follow the Sun (feat. Xavier Rudd) [Western Disco Radio Edit] Time Square 3:26
6 Godspeed You (feat. Ozark Henry) Francesco Rossi 3:33
7 She Moves (Far Away) [feat. Graham Candy] [Extended Mix] Alle Farben 3:52
8 Red Velvet Dress – Spada 2:40
9 We Are Together (Radio Edit) Planet of Sound 2:37
10 Waves (Robin Schulz Radio Edit) Mr. Probz 3:18
11 Move on Out (Radio Edit) Bontan 3:08
12 Igloo Brother (feat. Zachary Gray) Da French Connection 2:57
13 Shake That – Dansson & Marlon Hoffstadt 2:35
14 Heart of Glass (Radio Edit) Gisele & Bob Sinclar 2:56
15 Fade to Love – Polina 3:44
16 The Return of Wolfy – Mark Knight 3:20
17 Last Night to Tango (feat. Pizzle) Marco Cavax 3:07
18 The Guitar Man – Weiss 4:39
19 Changes (Tocadisco's Sunny LA Remix Edit) Faul & Wad Ad & Pnau 3:56
20 Balada – Federico Scavo 3:30
Vedi anche: Papeete Beach Compilation Vol. 23 Summer Hits 2015 – Papeete Beach Compilation, Vol. 22 Winter 2015 – Papeete Beach Compilation 2013 Vol. 20