E' disponibile nei negozi dal 23 giugno Papeete Beach Compilation Vol. 23 Summer Hits 2015, un doppio CD contenente un totale di 42 delle canzoni più in voga del momento ed ideali per essere ballate in quest'estate appena iniziata.
Al suo interno sono presenti hit ormai conosciutissime ed altri brani meno conosciuti ma non per questo inferiori.
Tra le tracce presenti, cito le famose What I Did For Love di David Guetta, Another You du Armin van Buuren, Runaway (U & I) dei Galantis, Intoxicated di Martin Solveig & GTA, Stole the Show di Kygo, Cheerleader di Omi, The Thrill is Gone di MHE, Make Me Feel Better di Alex Adair, Feel the Vibe di Bob Sinclar e molte altre hit, ma come detto, sono anche presenti pezzi non ancora molto conosciuti ma di indiscutibile interesse.
Appena dopo la colorata immagine relativa alla copertina frontale, potete leggere la scaletta delle canzoni. Cliccando sulle tracce accedete ad ulteriori informazioni sulle stesse.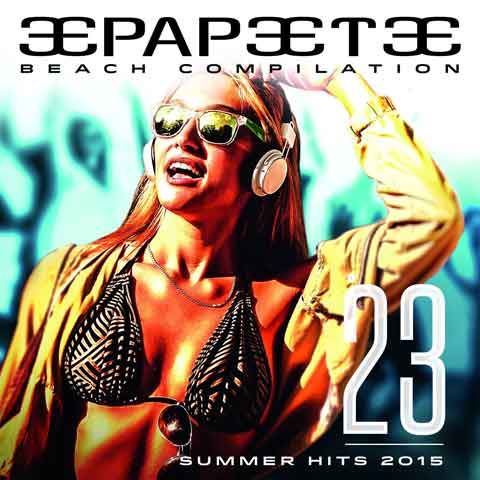 Tracklist Papeete Beach Compilation Vol. 23 (Disponibile su Amazon nei formati Audio CD e Digital Download)
CD1
Intro Papeete Cafè Orchestra 0:59
Intoxicated – Martin Solveig & GTA (New Radio Mix) 2:34
Shining – Mattias 3:56
Another You – Armin van Buuren feat. Mr. Probz [Radio Edit] 3:07
Warriors – Nicky Romero & Volt & State (Radio Edit) 3:31
Crossing Borders – Luca Giossi feat. Jonny Rose 2:59
Flying Up Leiner & Marco Cavax 2:54
Runaway (U & I) – Galantis [Kaskade Remix] 5:08
Booty Bounce – Tujamo (Radio Edit) 3:15
The Hum – Dimitri Vegas, Like Mike & Ummet Ozcan (Short Edit) 3:22
Sí – Martin Jensen 2:48
CoCo – O.T. Genasis 4:22
Change the World – Giovi 4:16
Afrobot – Gregor Salto 3:30
Lotus – Fehrplay 5:27
Chica Loca – Flores Del Sol feat. Ricky S. & Marco Benini 2:54
CD 2
Change Your Mind – Sam Walkertone feat. Sam Hezekiah [Jan 2015] 2:50
Gunfire – Pretty Pink feat. Janine Vilforth [Teenage Mutants Mix] 3:31
No Games – Serani (Hedonism Remix) 2:53
Every Single Piece – Redondo & Bolier feat. She Keeps Bees [Radio Edit] 2:38
Liquid Spirit – Gregory Porter 2:38
All Cried Out – Blonde feat. Alex Newell [99 Souls Remix] 3:32
Paradigm – CamelPhat feat. A*M*E [Amtrac's Temptation Remix] 6:13
Feel the Vibe – Bob Sinclar feat. Dawn Tallman [MAttias & Akami Remix] 2:57
Future – Akami & John Dabel 2:48
Make Me Feel Better – Alex Adair (Don Diablo & CID Remix) 4:34
Parole Parole – Federico Scavo (Radio Version) 2:37
Freedom – Absolut Groovers & Damon Grey 4:04
Chest – Chris Lake 3:36
Fantasy – Alina Baraz & Galimatias (Felix Jaehn Remix) 3:09
Supergirl – Anna Naklab feat. Alle Farben & Younotus [Radio Edit] 3:26
Lonely Without You – Jomy 3:09
Potrebbe interessarvi anche: Papeete Beach Compilation vol 24 Winter hits 2016.
Vedi anche: