Kiss You è il nuovo singolo di Sasha Lopez e Ale Blake feat. Broono, in rotazione radiofonica da venerdì 25 aprile 2014 e pubblicato lo stesso giorno su iTunes e negli altri store digitali.
Grazie anche alla spinta ricevuta da varie compilation, il brano Kiss You sta piano piano diventando un vero e proprio tormentone, grazie anche ad un simpatico ed allegro ritornello, che entra subito nella testa dell'ascoltatore.
Ma chi è Sasha Lopez? Il suo vero nome è Sergiu Istrate ed è una deejay e produttrice moldava, oggi tra le più famose dell'est Europa. Dopo aver passato tanti anni in consolle a far ballare la gente, nel 2006 inizia l'avventura di produttore musicale attraverso il progetto "Studio One" insieme a Tania Cerga. Tale progetto cresce a tal punto da divenire molto popolare prima in Romania e poi nel resto d'Europa, permettendo all'artista di collaborare con vari artisti come ad esempio Tom Boxer ed i Fly Project.
Dopo esser tornato a fare il dj suonando in giro per l'Europa, nel 2011 arriva la svolta con la collaborazione di Andreea D e Broono per il singolo All My People, che divenne una vera e propria hit di successo che scalò le classifiche di mezzo globo, successo ottenuto anche con il successivo "weekend".
Ed ora Kiss You, frutto della collaborazione con il suo team storico: la bellissima e bravissima Ale Blake e Broono. Ecco il video ufficiale che accompagna questa canzone. Si trova ad inizio articolo.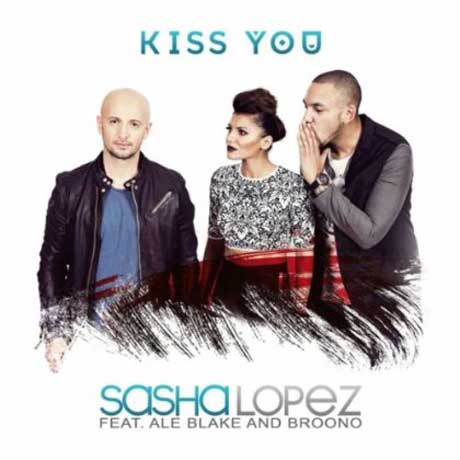 Testo Kiss You – Sasha Lopez & Ale Blake feat. Broono
You make me feel beautiful, oouoo
make me feel beautiful, oouoo
make me feel beautiful, oouoo
When I ki-ki-ki-ki-kiss
When I ki-ki-ki-ki-kiss, kiss you
Hey baby,
when you're moving so close
I don't wanna let go tonight
Be your lady
what is gonna take?
what is gonna take til you'll be mine?
Hello! Hello! Hello!
Any place, any time, any place, any way
got the right to bend when the wind is calling
it's about to blow
you know the place
my hips and my haws give it up,
give it up just like a lambada
it's about to blow
You will know what to do
When I ki-ki-ki-ki-ki with you
You will know how to act
When I ki-ki-ki-ki-kiss you
You make me feel beautiful, oouoo
make me feel beautiful, oouoo
make me feel beautiful, oouoo
When I ki-ki-ki-ki-kiss
When I ki-ki-ki-ki-kiss you
Hey baby,
My lips don't know
but the magic gonna be my guide
daydreaming,
if you wanna play, if you wanna play
boy, you better treat me right, yeahhh
Let's now waste any time,
choose a place anywhere,
gotta like to spend
feel the wind is calling
it's about to blow
I know the place
your hips and your haws give it up,
give it up just like a lambada
it's about to blow
You will know what to do
When I ki-ki-ki-ki-ki with you
You will know how to act
When I ki-ki-ki-ki-kiss you
You make me feel beautiful, oouoo
make me feel beautiful, oouoo
make me feel beautiful, oouoo
When I ki-ki-ki-ki-kiss
When I ki-ki-ki-ki-kiss, kiss you
You go slow, affraid of the broken time
we'll fix it for the rest of our days
don't know but I wanna live the rest of my life
like I'm living today
(Let's go!)
You will know what to do
When I ki-ki-ki-ki-ki with you
You will know how to act
When I ki-ki-ki-ki-kiss you
You make me feel beautiful, oouoo
make me feel beautiful, oouoo
make me feel beautiful, oouoo
When I ki-ki-ki-ki-kiss
When I ki-ki-ki-ki-kiss, kiss you
Read more at http://www.onlylyrics.com/sasha-lopez-lyrics-1128764.php#t3y2zw7tEtkUV6KA.99