Light It Up è il nuovo singolo del dj e produttore discografico svizzero Antoine Konrad, meglio conosciuto come Dj Antoine.
Dopo aver lasciato il suo zampino in tutte le classifiche di vendita, con successi rientrati nella nella Top 10 di iTunes Dance come la recente "House Party", "Sky Is The Limit", "Broadway", "Bella Vita" e "Ma Cherie" (Multiplatino solo in Italia, N.1 iTunes Dance e Top 10 iTunes Italia), il grande disc jockey torna con il nuovo singolo Light It Up, pezzo forte della sua collezione primavera/estate 2014, che è stato prodotto insieme a Mad Mark.
Questa canzone è in rotazione radiofonica da venerdì 16 maggio, e ad appena quattro giorni dall'uscita sugli store digitali, è già Top 50 su iTunes Dance. L'inedito anticipa il rilascio di un nuovo disco, che farà seguito a Sky Is the Limit del 2013. Il nuovo album dovrebbe essere pubblicato il prossimo autunno.
Light It Up è stata registrato in Canada con il cantante Tebey, e prodotto in svizzera da DJ Antoine con l'aiuto di Mad Mark; il brano gira attorno al famoso riff di "Tarzan Boy" dei Baltimora, uno dei brani più famosi della italo disco anni 80/90, che venne scritto da Bassi/Hackett (EMI Music Publishing, used by permission).
Con questo pezzo, Antoine si prepara a scalare nuovamente le charts. Ce la farà? Le premesse ci sono tutte! Guardate il video ufficiale uscito il 15 maggio 2014 e subito dopo potete leggere le parole.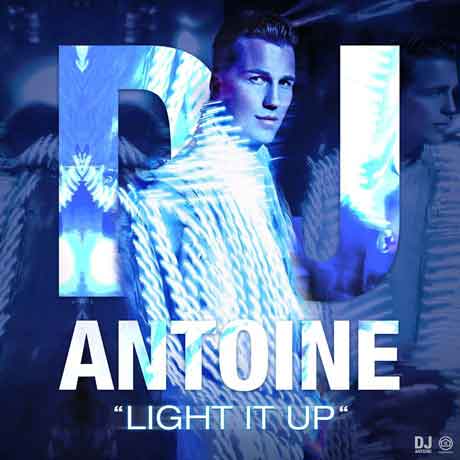 Testo Light It Up – DJ Antoine
There's something in the air that's making me so loco
[?] down to my toes
I feel the better motion that's stronger than the ocean
Before I even know it, I'm letting go
Forget all your problems, you don't have to solve them
You just got to live and love
So lets come together, a moment forever
We'll shine like the stars above
Light it up
In the heat of the night
There's a fire in your eyes
I can see it
Light it up
Watch the temperature rise
Raise your hands to the sky
If you feel it
Feel like its getting hot, sweat dripping like a sauna
You should close up your [?] yeah its alright
Cause it's a celebration but every [?]
We got no renovation, nobody mind
Forget all your problems, you don't have to solve them
You just got to live and love
So lets come together, a moment forever
We'll shine like the stars above
Light it up
In the heat of the night
There's a fire in your eyes
I can see it
Light it up
Watch the temperature rise
Raise your hands to the sky
If you feel it
Light it up
In the heat of the night
There's a fire in your eyes
I can see it
Light it up
Watch the temperature rise
Raise your hands to the sky
If you feel it