Welcome to the Jungle è un singolo delle Neon Jungle, pop band britannica al femminile formatasi nel 2013 e composta da Shereen Cutkelvin, Amira McCarthy, Jess Plummer e Asami Zdrenka.
Il loro primo singolo Trouble si è piazzato al dodicesimo posto nella UK Singles Chart, ma si sono fatte conoscere con il loro secondo singolo, Braveheart, che si è piazzato al numero 4 della medesima classifica.
Il nome della formazione, è stato tuttavia deciso proprio dopo aver creato questa canzone, battezzata come Welcome to the Jungle, un brano composto in precedenza, che solo ora è stato lanciato e si sta affermando, trascinato in Italia anche dalle varie compilation come Papeete Beach Vol.21.
Pubblicata il 21 aprile, la canzone ha debuttato al settimo posto della classifica UK, e farà parte del primo album omonimo, che vedrà la luce il prossimo 28 luglio.
Di seguito potete vedere il video ufficiale, e leggere il testo in inglese e relativa traduzione in italiano. La clip è stata spostata in apertura articolo, dopo l'immagine trovate il dietro le quinte.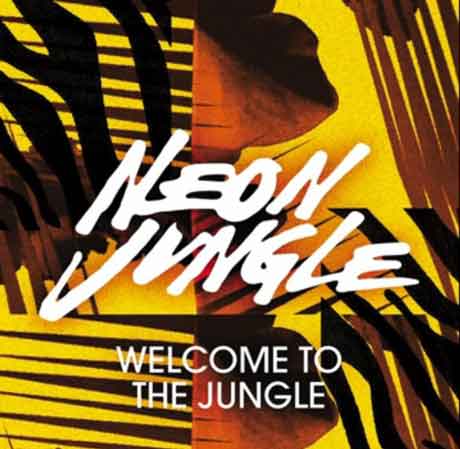 Dietro le quinte
Traduzione Welcome to the Jungle – Neon Jungle
Testo
Tonight I'll hunt you down
Boy can you make me growl?
With the wild things on the prowl
Welcome to the jungle
Oh oh oh oh oh, oh oh oh oh oh
Oh oh oh oh oh, oh oh oh oh oh oh
Welcome to the jungle
Oh oh oh oh oh, oh oh oh oh oh
Oh oh oh oh oh, oh oh oh oh oh oh
Welcome to the jungle
La la la la la la
La da la di hands on my body
La la la la la la oh just love me down
La la la la la la
La da da di hands on my body
La la la la la la la oh just love me down
See that boy hit me up at a bar
Dark and smooth like a jaguar
Ask one time and I'll make you my star
And you know you want to
If you wanna get deep in the club
Must rough it up gimme that jungle love
Only one winner one bad man tough
And you know I want you
Tonight I'll hunt you down
Boy can you make me growl?
With the wild things on the prowl
Welcome to the jungle
Oh oh oh oh oh, oh oh oh oh oh
Oh oh oh oh oh, oh oh oh oh oh oh
Welcome to the jungle
Oh oh oh oh oh, oh oh oh oh oh
Oh oh oh oh oh, oh oh oh oh oh oh
Welcome to the jungle
La la la la la la
La da da di hands on my body
La la la la la la oh just love me down
La la la la la la
La da da di hands on my body
La la la la la la oh just love me down
When you're hungry then I'll be your cow
Come now help make the kitty cat purr
Top of the food chain, top of the world
And you know you want to
On your cruise unpredictable
One on one, done wild animal
Instinct kicks and I can't control
And you know I want you
Welcome to the jungle
Beat it up like Rocky no A$AP
Cut game like 8 track
You want that I stay strapped
You knocked down, don't say that
Super faded, ready gone
She super bad, highly wrong
Do your dance when they play my song
Excuse me shorty, you o-o-owned
True trilled and I'm sorry
Got two seats in this 'rarri
For this pussy popping safari
So fuck her let's party
It's two cliques, one crew
Two two's and my two coops
Girl do you but let me too
Welcome to the jungle
Oh oh oh oh oh, oh oh oh oh oh
Oh oh oh oh oh, oh oh oh oh oh oh
Welcome to the jungle
Oh oh oh oh oh, oh oh oh oh oh
Oh oh oh oh oh, oh oh oh oh oh oh
Tonight I'll hunt you down
Boy can you make me growl?
With the wild things on the prowl
Welcome to the jungle