Jealous (I Ain't With It) è il nuovo singolo dei Chromeo, duo canadese di musica elettrofunk, formato da Patrick Gemayel in arte P-Thugg (tastiere, sintetizzatori e talk box) e Dave 1 all'anagrafe David Macklovitch (chitarra e voce).
In rotazione radiofonica dal 9 maggio scorso, questa canzone è la quarta estratta dal quarto studio album White Women, rilasciato da noi lo scorso 13 maggio. Sebbene in Italia sia passata quasi inosservata, l'opera dallo stile funky è molto interessante, e vede importanti collaborazioni con artisti del calibro di Ezra Koenig dei Vampire Weekend, Solange, Pat Mahoney degli LCD Soundsystem, Toro Y Moi e Fool's Gold.
Scritta e prodotta dai Chromeo insieme ad Oliver Goldstein, Jealous (I Ain't With It) è disponibile anche nelle 3 versioni ufficiali remixate da Dillon Francis, The Chainsmokers e Benny Benassi. C'è da aggiungere che questo pezzo, è incluso in Striscia La Compilation Summer 2014 e Papeete Beach Vol.21 – Summer Hits 2014.
Il 18 marzo scorso, è uscito nella pagina Youtube dei Chromeo il video ufficiale che accompagna il brano. Il filmato è stato diretto da Ryan Hope e potete vederlo subito dopo la cover.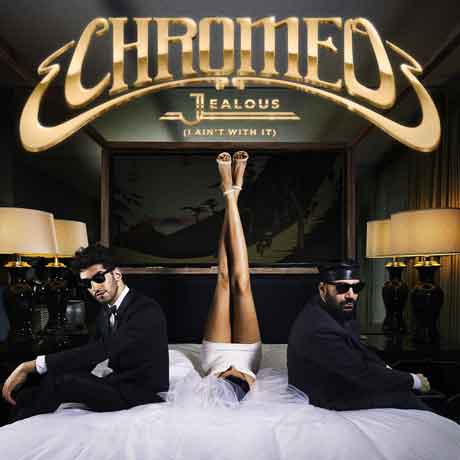 Testo Jealous (I Ain't With It) – Chromeo
[Verse 1]Annotate
I got strung up from our loving
I wish you cared to see
But she only cares when she's got the time
And I fret so much about our loving
I wish she let me be
But our destiny got us intertwined
[Pre-Chorus]
And is it really my fault
I get a shiver when I see you with those other guys
Wearing the jacket I bought
I can't help but lose my temper and I don't know why
[Chorus]
I get jealous, but I'm too cool to admit it
When the fellas, talk to my girl I ain't with it
I get jealous, but I'm too cool to admit it
When the fellas, talk to my girl I ain't with it
I ain't with it, I ain't with it, I ain't with it
I ain't with it, I ain't with it, I ain't with it
I ain't with it, I ain't with it, I ain't with it
I ain't with it, I ain't with it, I ain't with it
[Bridge]
What is she thinking, too much uncertainty
Why can't she give some sort of sign
You know and I know, a thing about loyalty
But that girl don't pay no mind
[Pre-Chorus & Chorus]
[Verse 2]
I get strung up from her loving
I wish she cared to see
But she only cares when she so inclined
And I fret so much about her loving
I wish she'd let me be
But her destiny got us so intertwined
Back in 2011, I decided
To not let this play with my mind
But when the boys from out of town
They come back around
I feel like committing a crime, yeah
[Chorus]