Papeete Beach Compilation volume 24 Winter hits 2016 è un doppio CD, la cui uscita è fissata al 4 febbraio, mentre dal 29 gennaio è disponibile in download digitale.
Nei due dischi, sono inclusi un totale di 43 delle hit più ballate del momento, che vi terranno compagnia in quest'inverno che tarda ad arrivare.
Nel primo CD sono presenti 22 tracce mentre il secondo propone 21 canzoni, alcune delle quali poco conosciute, ma la grande maggioranza sono tutti pezzi che molti di voi avranno già avuto modo di ascoltare. Alcune hit, vengono riproposte in nuove versioni remix.
Maître Gims, Tujamo, Armin van Buuren, Norde, Alan Walker, Robin Schulz, Jasmine Thompson, Mike Posner, Sigala, Deorro, Lost Frequencies, Tinie Tempah, Carolina Marquez, Calvin Harris & Disciples, Rudimental, RÜFÜS, Philip George, 99 Souls, Federico Scavo & Barbara Tucker, Sia, Felix Jaehn e Don Diablo, sono solo alcuni degli artisti inclusi nella doppia compilation, una delle più ricercate nella penisola
Appena dopo la copertina frontale, trovate i titoli di tutte le canzoni incluse in Papeete Beach vol 24.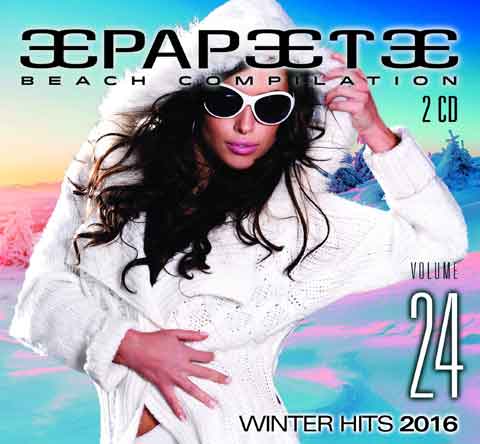 Tracklist Papeete Beach Compilation vol. 24 (Reperibile su Amazon nel formato Audio CD e Digitale – Download su iTunes)
CD 1
Intro – Papeete 0:34
Reality – Lost Frequencies feat. Janieck Devy (Radio Edit) 2:37
Come To Me – Lily & Madeleine (Ofenbach Remix) (Radio Edit) 2:31
Hold On – Moguai feat. Cheat Codes (Radio Edit) 2:49
Sugar – Robin Schulz feat. Francesco Yates (EDX's Ibiza Sunrise Remix) 5:23
Lay It All On Me – Rudimental feat. Ed Sheeran (Sultan + Shepard Remix) 4:59
For a Better Day – Avicii (Kshmr remix) 4:07
Play My Drum –  Sandra Lyng (Mattias & Akami Remix) 4:18
Summerlove / Right Now (Na Na Na) – Carolina Marquez (Andry J vs Marco Cavax remix) 3:22
Cream – Tujamo & Danny Avila (Radio Edit) 2:30
Faded – Alan Walker 3:24
Perfect – One Direction (Matoma Remix) 3:43
The Horns – DJ Katch feat. Greg Nice, DJ Kool & Deborah Lee (Radio Remix) 3:32
CD 2
All the Love You Got (Tropical Mix) Marco Cavax & Cue feat. Snoop Dogg & Leiner 3:07
3AM – Mads Langer 3:19
Falling for You (Radio Edit) Teenage Mutants x Laura Welsh 3:15
Bombs 2.0 (Claptone Remix) Faithless feat. Harry Collier 5:24
Like an Animal – RÜFÜS (Dom Dolla Remix) 4:41
Kiss Me – Olly Murs (The Alias Club Mix) 4:03
Alive – Sia (Cahill Radio Mix) 3:22
The Party (This Is How We Do It) – Joe Stone feat. Montell Jordan 2:58
Eagle Eyes – Felix Jaehn feat. Lost Frequencies & Linying (Lucas & Steve Remix) 3:33
Got the Love – Don Diablo & Khrebto (Radio Edit) 3:25
Theatre – Giovi 3:40
All Black – Akami & Aroon Kiasso 3:15
Pounding Drum – Heymen (The Shapeshifters Edit) 3:13
Vedi anche: Papeete Beach Compilation Vol. 23 Summer Hits 2015 – Papeete Beach Compilation Vol. 25 Summer hits 2016.