E' uscita l'attesa Papeete Beach Compilation Vol. 25 Summer hits 2016, disponibile su iTunes dal 24 giugno, mentre il CD sarà reperibile a partire dal prossimo 1° luglio.
Sono in totale 46 le canzoni che compongono il doppio CD, tra hit già acclamate e potenziali grandi successi, che ci faranno ballare questa torbida Estate appena arrivata.
Alan Walker, Sigala, Deorro, Carolina Marquez, David Guetta & Disciples, RÜFÜS, Sia, J-AX e Fedez, Nicky Jam, Jain, Major Lazer, Jennifer Lopez, Dasoul, Maître Gims, DNCE, Fleur Eas, Kygo, Paul Kalkbrenner, Bob Sinclar, Benny Benassi & Chris Brown, 19eighty7 e Dj Antoine, sono solo alcuni degli artisti inclusi nella doppia compilation, una delle più richieste nella penisola.
Appena dopo la copertina frontale, trovate i titoli di tutte le canzoni incluse in Papeete Beach vol 25.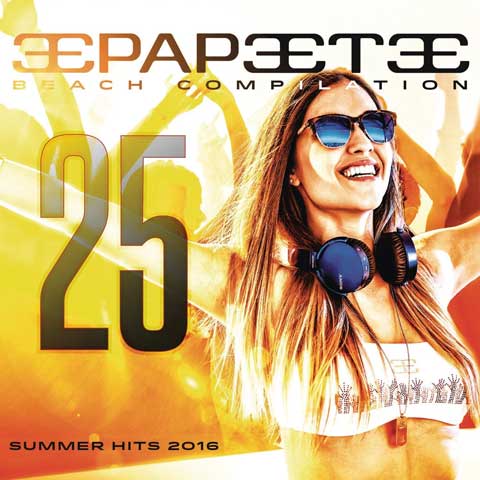 Tracklist (Su Amazon è reperibile la versione Audio CD e Digitale – Download su iTunes)
CD 1
Intro Summer 2016 – Papeete 0:47
Faded Alan Walker (Luke Christopher Remix) 3:17
Bonbon – Era Istrefi 2:42
Come – Jain 2:34
Can't Stop the Feeling! – Justin Timberlake (Per la colonna sonora del film d'animazione "TROLLS") 3:52
Le Ragazze – Lemandorle 3:12
Hasta Luego (Pilule Bleue) Maître Gims 3:24
El No Te Da – DaSoul 3:58
Light It Up – Major Lazer (feat. Nyla & Fuse ODG) [Remix] 2:44
Turn Me On (Hold You) [feat. David Celine] [Radio Edit] Kriss Raize 3:21
Work – Global Deejays & Danny Marquez (feat. Puppah Nas-T & Denise) [Radio Mix] 3:11
Weekend Love – DJ Antoine (feat. Jay Sean) [DJ Antoine vs. Mad Mark 2k16] 3:50
Sax – Fleur East 3:51
We Turn the World Around – Tanja La Croix 3:11
Contigo – Flores Del Sol 3:14
CD 2
Raging – Kygo (feat. Kodaline) [Radio Edit] 3:14
Forever – Marco Cavax 3:05
All I Wanna Do – Martin Jensen 3:10
California Dreamin (Radio Edit) Freischwimmer 3:26
Take Me to Infinity (Radio Edit) Consoul Trainin 3:22
Feed Your Head – Paul Kalkbrenner (Robin Schulz Remix) 6:07
Nighthawk – Mat Joe 4:54
You Were Right (Nora En Pure Remix) RÜFÜS 3:49
Me Minus You – Jerome Price 3:17
Momento (Radio Edit) Mambo Brothers 2:31
You & I – Spada (feat. Richard Judge) [Radio Edit] 3:19
The Rebels – Mattias & Rentalbear 3:07
Paradise – Benny Benassi & Chris Brown (Radio Edit) 3:52
Get It On – 19eighty7 (Benny Benassi & MazZz Remix) 3:02
Bailar – Deorro (feat. Elvis Crespo) [Radio Edit] 2:36
Oh La La La – Carolina Marquez (feat. Akon & J Rand) [Andry J Edit [Remix]] 4:07
Elegibo (feat. Margareth Menezes) Relight Orchestra & DJ Andrea 3:04
Cheap Thrills – Sia (John "J-C" Carr Radio Mix) 3:29
Bang Boogie – Akami & Aaron Kiasso 3:18
Vedi anche: Papeete Beach Compilation vol. 24 Winter hits 2016 – Papeete Beach Compilation Vol. 26 Winter hits 2017.