Il 24 marzo 2015 è uscita la nuova compilation di R101, Sony Music e Do Iy Yourself  intitolata Top Hits, un album formato da due dischi composti da 20 tracce cadauno.
Da una delle playlist più ascoltate al mondo su Spotify, arriva anche in Italia la compilation dei veri numeri uno: TOP HITS.
Il primo CD raccoglie 20 tra le canzoni pop più in voga del momento, brani italiani e stranieri di artisti del calibro di Gianna Nannini, Lorenzo Fragola, Marco Mengoni, J-AX, Hozier, Avicii, George Ezra, Pitbull, Sia & The Weeknd, Ariana Grande ed altri ancora.
Il secondo Cd contiene invece venti tra le hit dance più ballate del momento. Stiamo parlando di pezzi di Deorro, Dirty Vegas, Luca Guerrieri, Polina, Hardwell, Nicki Romero, Bob Sinclar, Above & Beyond, Bakermat, Philip George ed altri ancora.
TOP HITS racchiude quindi in 2 CD, il meglio della musica pop e dance del momento, gli artisti più celebri, e quelli più promettenti, i brani più scaricati e ascoltati in streaming nella penisola e quelli  più trasmessi dalle radio nazionali.
APpena dopo l'immagine relativa alla copertina, potete leggere i titoli delle quaranta canzoni incluse nella nuova uscita discografica.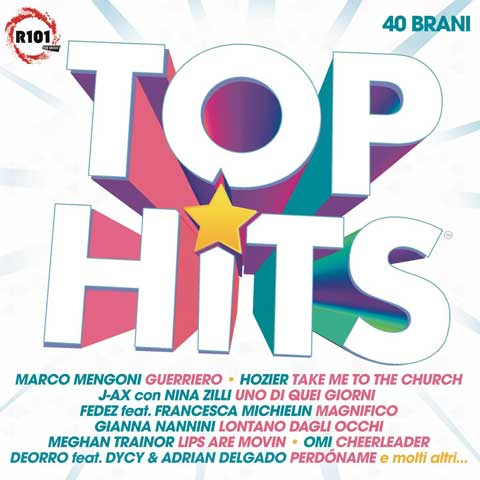 Tracklist Top Hits – R101 compilation (Disponibile su Amazon e iTunes)
CD1 POP
01. MARCO MENGONI – GUERRIERO
02. OMI – CHEERLEADER (Felix Jaehn remix)
03. J-AX con NINA ZILLI – UNO DI QUEI GIORNI
04. MEGHAN TRAINOR – LIPS ARE MOVIN
05. FEDEZ feat. FRANCESCA MICHIELIN – MAGNIFICO
06. BROOKE FRASER – KINGS & QUEENS
07. KYGO feat. CONRAD – FIRESTONE
08. HEYMEN – IF I PLAY YOUR GAME
09. TEZ CADEY – SEVE
10. GIORGIO MORODER feat. KYLIE MINOGUE – RIGHT HERE, RIGHT NOW
11. HEREWEGO feat. PATCHY – SECRET
12. SIA – ELASTIC HEART
13. ARIANA GRANDE & THE WEEKND – LOVE ME HARDER
14. HOZIER – TAKE ME TO CHURCH
15. LORENZO FRAGOLA – THE REASON WHY
16. AVICII – THE DAYS
17. GEORGE EZRA – BLAME IT ON ME
18. GIANNA NANNINI – LONTANO DAGLI OCCHI
19. BECKY HILL – LOSING
20. PITBULL – CELEBRATE (Dalla colonna sonora de I pinguini di Madagascar)
CD2 DANCE
01. PHILIP GEORGE – WISH YOU WERE MINE
02. ROBIN SCHULZ – SUN GOES DOWN (feat. JASMINE THOMPSON)
03. SIRENS OF LESBOS – LONG DAYS, HOT NIGHTS
04. LISTENBEE feat. NAZ TOKIO – SAVE ME
05. BAKERMAT – TEACH ME
06. ABOVE & BEYOND feat. ZOË JOHNSTON – WE'RE ALL WE NEED
07. BOB SINCLAR feat. CECE ROGERS – I WANT YOU
08. DIRTY VEGAS – SAVE A PRAYER (Luca Guerrieri remix)
09. LUCA GUERRIERI – HARMONY
10. Mr. PROBZ – NOTHING REALLY MATTERS (Afrojack remix)
11. OLIVER HELDENS – LAST ALL NIGHT (KOALA) feat. KSTEWART
12. BRAVVE – LOVE THAT GOES AROUND
13. DEORRO feat. DYCY & ADRIAN DELGADO – PERDÓNAME
14. POLINA – BREATHE
15. NICKY ROMERO & VICETONE – LET ME FEEL (ft. WHEN WE ARE WILD)
16. HARDWELL feat. CHRIS JONES – YOUNG AGAIN
17. JOHN MARTIN – LOVE LOUDER (Style of Eye remix)
18. NERVO feat. AU REVOIR SIMONE – RISE EARLY MORNING
19. ARONCHUPA – I'M AN ALBATRAOZ
20. PIXIE PARIS – ES RAPPELT IM KARTON
Vedi anche: TOP HITS Volume 2.