M2o 39 – Are You Summer? è la nuova compilation estiva della celebre radio, formata da due CD contenenti 20 tracce cadauno, in uscita il 17 luglio 2015.
A distanza di qualche mese dalla precedente M2o 38 – Are You Radio?, arriva quest'album al cui interno sono presenti hit da tempo ai vertici delle classifiche, e pezzi ancora meno conosciuti ma non per questo inferiori.
Provenzano, Molella, Prezioso e Fabri Fibra, Jess Glynne, Ariana Grande, Cristian Marchi, Alberto Remondini, Lost Frequencies, Zwette, Feder, Yolanda Be Cool, The Cube Guys e Jutty Ranx, Jeffrey Jey, Tommy Vee , Rudeejay e molti altri artisti, sono presenti in quest'interessante disco.
Appena dopo la verdissima copertina, potete leggere la lista delle quaranta canzoni che troverete al suo interno.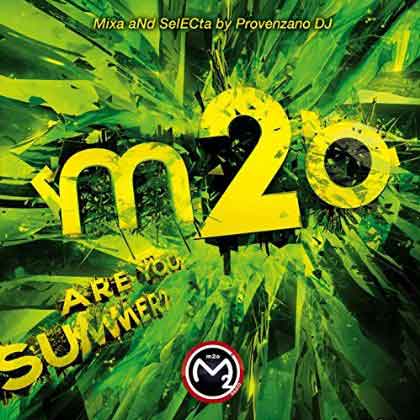 Tracklist M2o 39 – Are You Summer? (Reperibile anche su Amazon)
CD 1
Hold My Hand – Jess Glynne (Chris Lake Remix)
Flowin' Like the River – Dj Ross feat. Ramin Rezai
Love Shack (Club Mix) Leandro Da Silva
Here We Go – Cueva & Moreno
Beautiful Again – Jack Bernini feat. Timothy
Second Chance – Cristian Marchi feat. Max'c
Bring Back the Love – Molella & Airtones
Nothing I Can Do – Alberto Remondini & 2souls vs Dino Brown
Dreaming – Tara feat.Spankers [Paolo Ortelli & Luke Degree Extended]
Gettin' Up – Phunkers
CD 2
This Feeling – L'Tric
Higher – Tom Staar
Get Get Down – Merk and Kremont
Love I Feel – Promise Land
Serious – Delayers vs Stefano Pain
Your Body – Corti & Lamedica vs Andry J feat. Cuchara
Wow – Denny Berland
Party with You – Get Far, Provenzano, Jeffrey Jey (Provenzano Rework)
California – Snbrn feat. Kaleena Zanders [Chris Lake & Matroda Remix]
Woman (Bodybangers Remix) J8ck Gypsy
Inside the Groove – Tommy Vee feat. Marc Evans and Sheree Hicks [Future Disco Radio Edit]
Warriors – Nicky Romero vs. Volt & State (Syn Cole Remix)
Supermash – Rudeejay
So Good – Sean Finn and Chris Willis
You Are in My Heart – Donzelli & Tony Hogan
Bring Me Your Silence (Triple1 Remix) Tony Star
Altre compilation estive:
Vedi anche: