Il prossimo 3 febbraio, vedrà la luce Papeete Beach Compilation Vol. 26 – Winter hits 2017, un doppio CD contenente 40 canzoni tutte da ballare.
Disponibile anche nel formato digitale, la doppia compilation include brani molto conosciuti, in gran parte remixati da artisti del calibro di Alan Walker, Rudimental, R3hab, Steve Aoki, Alesso, Addal e The Cube Guys, tanto per citarne solo alcuni.
Nel ventiseiesimo capitolo di Papeete Beach, sono presenti canzoni di successo come Human di Rag'n'Bone Man, Closer dei Chainsmokers, Hometown Girl di Zhu, Just Hold On di Steve Aoki & Louis Tomlinson, Alone diAlan Walker, Hey Baby di Dimitri Vegas & Like Mike vs. Diplo, I Feel so Bad di Kungs, In the Name of Love di Martin Garrix ft. Bebe Rexha, I Wanna Know di Alesso feat. Nico & Vinz, Other People di LP, Move Your Body di Sia, Burning di Bob Sinclar e Daddy's Groove e tanti altri pezzi, tutti da ballare.
Appena dopo la copertina frontale, trovate i titoli delle quaranta tracks incluse in questa nuova uscita discografica.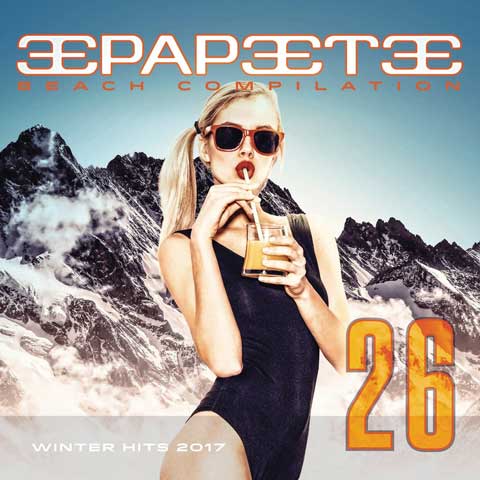 Papeete Beach Compilation Vol. 26 – Winter hits 2017 (Reperibile su Amazon nei formati 2 CD e Download Digitale)
CD 1:
Intro (Winter 2017)
Human – Rag'n'Bone Man (Rudimental Remix)
Closer – The Chainsmokers feat. Halsey (R3hab Remix)
Tuesday – Burak Yeter Feat. Danelle Sandoval (Radio Edit)
Hey Baby – Dimitri Vegas & Like Mike vs. Diplo feat. Deb's Daughter (Steve Aoki Remix)
Other People – LP (Rivaz Remix)
Give U Up – Calvin
Only One – Sigala and Digital Farm Animals (Radio Edit)
Move Your Body – Sia (Alan Walker Remix)
Love My Life – Robbie Williams (Adam Turner & James Hurr Remix)
I Wanna Know – Alesso feat. Nico & Vinz (Alesso x Deniz Koyu Remix)
CD 2:
Inside the Lines – Mike Perry feat. Casso
Karma – Julian Perretta
Made Of – Viola Martinsson (Addal Remix)
Would I Lie to You – John Gibbons (Monarchs Remix)
Just Say – KDA feat. Tinashe (Faithless Remix)
Am I Wrong – Jordan Brown (Manovski Extended Remix)
Yebisah – Mark Knight (Radio Edit)
Good Life – Oliver Heldens feat. Ida Corr
Love Me Now – John Legend (Armand Van Helden Remix Radio Edit)
Ginevra – Wlady (The Cube Guys Radio Edit)
Another Chance – Tom & Hills feat. JS16 (Radio Edit)
Bitch – Nils van Zandt x Dave McCullen (Radio Edit) [Explicit]
Feel the Funk – Andry J & Akami
Que pasa – Federico Scavo (Giovi Rmx)
La luna – Jude & Frank feat. Totó La Momposina (Giovi Remix)
Never Stop – DC Breaks (Mark Knight & D. Ramirez Remix)
Stanga – Sagi Abitbul & Guy Haliva
Vedi anche: Papeete Beach Compilation Vol. 25 – Summer hits 2016 – Papeete Beach Compilation vol. 24 Winter hits 2016 – Papeete Beach Compilation Vol. 27 Summer hits 2017.