E' uscita Hot Parade Dance Winter 2017, la compilation che in due CD racchiude 45 hits dance, pubblicata nel formato digitale il 13 gennaio e da una settimana più tardi disponibile nel formato fisico.
Major Lazer, David Guetta, Feder, Pikotaro, Axwell, Kygo, W&W, LP, Cazzette, Planet Funk, Matt Simons, Seeb, Matoma, Niky Romero, Dimitri Vegas & Like Mike, Don Diablo, Galantis, Bob Sinclar, Tujamo, Sam Feld e molti altri blasonati artisti, sono i protagonisti della doppia imperdibile compilation di casa Time Records.
HOT PARADE DANCE WINTER 2017 include tutti i successi dance del momento come "Would I Lie To You" di David Guetta, Cedric Gervais & Chris Willis, "Cold Water" di Major Lazer Feat. Justin Bieber & MØ, "Somewhere New" di Klingande, Burning" di Bob Sinclar & Daddy's Groove, "What Is Love" di Lost Frequencies, "Belong" di Axwell & Shapov, "Bailar" di Deorro Feat. Elvis Crespo, "Cutting Shapes" di Don Diablo, "Lordly" di Feder Feat. Alex Aiono, "Tuesday" di Burak Yeter, "Other People" di LP in versione remix e tantissimi altri successi tutti da ballare, alcuni dei quali riproposti anche in versione remix.
Appena dopo la copertina frontale, trovate i titoli delle quarantacinque canzoni incluse nell'album.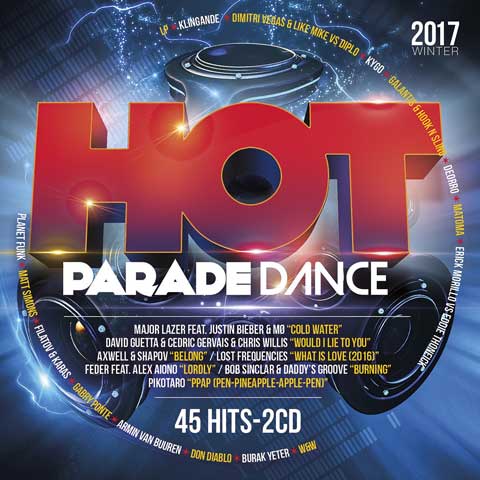 Tracklist Hot Parade Dance Winter 2017
(Reperibile su Amazon nei formati Audio CD e Digitale – Download su iTunes)
CD 1:
01. MAJOR LAZER "COLD WATER" (feat. JUSTIN BIEBER & MØ)
02. BURAK YETER "TUESDAY" (feat. DANELLE SANDOVAL)
03. FEDER "LORDLY" (feat. ALEX AIONO)
04. OFFAIAH "TROUBLE"
05. LP "OTHER PEOPLE" consoul trainin edit remix
06. KLINGANDE feat. M-22 "SOMEWHERE NEW"
07. DAVID GUETTA & CEDRIC GERVAIS & CHRIS WILLIS "WOULD I LIE TO YOU"
08. DON DIABLO "CUTTING SHAPES"
09. CHEAT CODES & DANTE KLEIN "LET ME HOLD YOU (TURN ME ON)"
10. NEVADA feat. MARK MORRISON & FETTY WAP "THE MACK"
11. BOB SINCLAR & DADDY'S GROOVE "BURNING"
12. GALANTIS & HOOK N SLING "LOVE ON ME"
13. JUDE & FRANK feat. TOTO' LA MOMPOSINA "LA LUNA"
14. GREGOR SALTO feat. CURIO CAPOEIRA "PARA VOCE"
15. FILATOV & KARAS "TELL IT TO MY HEART"
16. DEORRO feat. ELVIS CRESPO "BAILAR"
17. AXWELL & SHAPOV "BELONG"
18. TOM & HILLS feat. JS16 "ANOTHER CHANCE"
19. TUJAMO feat. INAYA DAY "KEEP PUSHIN'"
20. ARMIN VAN BUUREN feat. BULLYSONGS "FREEFALL"
21. THOMAS GOLD feat. M.BRONX "SAINTS & SINNERS"
22. W&W & HARDWELL & LIL JON "LIVE THE NIGHT"
23. SAGI ABITBUL & GUY HALIVA "STANGA"
CD 2:
01. LOST FREQUENCIES "WHAT IS LOVE 2016"
02. DIMITRI VEGAS & LIKE MIKE va DIPLO feat. DEB'S DAUGHTER "HEY BABY"
03. PLANET FUNK "NON STOP" (feat. DAN BLACK)
04. CAZZETTE feat. LALEH "BLUE SKY"
05. KYGO feat. JULIA MICHAELS "CARRY ME"
06. NATHAN GOSHEN "THINKING ABOUT IT (LET IT GO)" kvr remix
07. VIOLA MARTINSSON "MADE OF" addal remix
08. MATT SIMONS "LOSE CONTROL"
09. SEEB feat. JACOB BANKS "WHAT DO YOU LOVE"
10. MATOMA & BECKY HILL "FALSE ALARM"
11. 1 WORLD & BOB MARLEY "AFRICAN HERBSMAN"
12. SAM FELDT x LUCAS & STEVE feat. WULF "SUMMER ON YOU"
13. ANTOINE CHAMBE & OTTER BERRY "ANDALUSIA" (feat. HI-LY) jako diaz remix
14. EDX "HIGH ON YOU"
15. NILS VAN ZANDT x DAVE MCCULLEN "BITCH"
16. ERICK MORILLO vs EDDIE THONEICK feat. ANGEL TAYLOR "LOST IN YOU"
17. CONSOUL TRAININ "TAKE ME TO INFINITY"
18. NICKY ROMERO "TAKE ME" (feat. COLTON AVERY)
19. W&W "CARIBBEAN RAVE"
20. GABRY PONTE feat. DANTI "CHE NE SANNO I 2000"
21. MAJOR LAZER & SHOWTEK "BELIEVER"
22. PIKOTARO "PPAP (PEN-PINEAPPLE-APPLE-PEN)"
Vedi anche: Hot Parade Dance Summer 2017. – Hot Parade Dance Winter 2018.