E' tornata Hot Parade Dance Summer 2017, la doppia compilation che in due CD racchiude tantissime hit dance del momento.
Il doppio CD contiene un totale di 45 canzoni di artisti come Alan Walker, Stella Mwangi, Lost Frequencies, Shapov, Tiesto, Gabry Ponte, Dj Antoine, Tujamo, Martin Jensen, Cristian Marchi, Molella, Spada e tanti altri.
Si inizia con Be Mine degli Ofenbach e si prosegue con Here Me Now di Alok and Bruno Martini, It Ain't Me di Kygo ft. Selena Gomez, All For You di Spada e…
Per conoscere i titoli delle canzoni in scaletta scorrete la pagina. Le troverete appena dopo la copertina frontale di Hot Parade Dance Summer 2017, una delle compilation dance più blasonate nella penisola.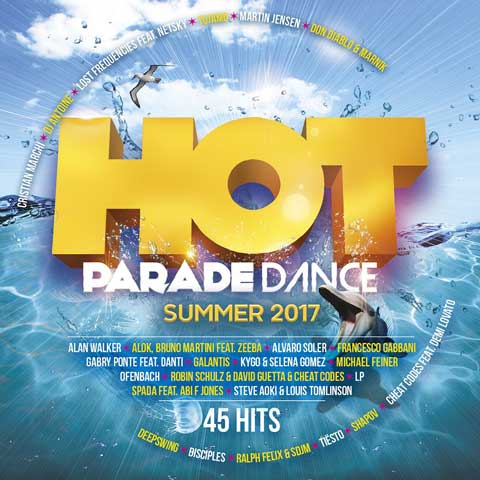 Tracklist Hot Parade Dance Summer 2017 (La trovi su Amazon nelle versioni 2 CD e Download Digitale)
CD 1:
Be Mine – Ofenbach 2:41
All For You – Spada feat. Abi F Jones [Spada Edit.] 3:00
Other People – LP (DJ Ross & Savietto Edit) 3:48
The Heat (I Wanna Dance With Somebody) Ralph Felix & SDJM 3:40
Summertime – Cristian Marchi & Luis Rodriguez feat. Glang Pham [Radio Edit] 2:45
Occidentali's Karma (Wlady Remix) – Francesco Gabbani [Radio Edit] 3:19
Animal – Alvaro Soler (DJ Katch Remix) [Radio Edit] 3:36
Work – Stella Mwangi 3:01
San Salvador (Radio Edit) Julie Joy 3:37
La dura remix (Shorty Radio Remix) Shorty, Fuego, Pitbull & Jacob Forever 3:18
Under Your Skin – Seeb, R. City 3:08
Heart Won't Forget – Matoma & Gia 3:26
Some People – Shapov vs. Beverley Pills 3:15
CD 2:
Alone – Alan Walker 2:41
Mind If I Stay (Addal Remix) Kadebostany 4:09
Savior – Danko 3:18
Hit The Road Jack – Throttle 3:17
In the Music (Michael Feiner Remix) Deepswing [Radio Edit] 3:09
Music Sounds Better with You (Radio Edit) Vanrip 3:38
Beachball 2017 (Sebastien Remix) Nalin & Kane 2:58
Hot2Touch – Felix Jaehn, Hight & Alex Aiono 2:40
Never Let You Go – LennyMendy feat. Richie Loop 3:01
Northern Lights – MAROMA feat. Solskur [Radio Edit] 3:25
Losing Your Mind (Radio Edit) Stainless 2:30
Rich Boy – Galantis 3:03
If You Wanna Party – Molella feat. The Outhere Brothers [Corti & Lamedica & Andry J Remix Radio Edit] 2:50
Touch the Sky – Cedric Gervais feat. Digital Farm Animals & Dallas Austin 2:36
Calling On You – Lucas and Steve feat. Jake Reese 2:55
Breathing Deeper – Shapov vs. M.E.G. & N.E.R.A.K. 3:12
Switch – Don Diablo 2:55
Check Out Da Bass (Radio Edit) Cristian Marchi 2:24
Vedi anche: Hot Parade Dance Winter 2017.