Il 28 aprile è uscita la nuova compilation Top of the Spot 2015, disponibile sia nella versione CD che in quella digitale.
Sono 22 le tracce incluse in quest'album, alcune molto recenti, anzi direi attuali, altre più datate ed in alcuni casi meno conosciute.
Tra gli artisti protagonisti in questo disco, menziono Avicii, Of Monsters and Men, The Beach Boys, Disclosure, The Avenre, Mika, Sia, Deorro, Stromae, James Blunt, Naughty Boy, The Black Keys, Sheppard e molti altri.
Appena dopo l'immagine relativa alla copertina, potete vedere la scaletta dei brani con i relativi artisti.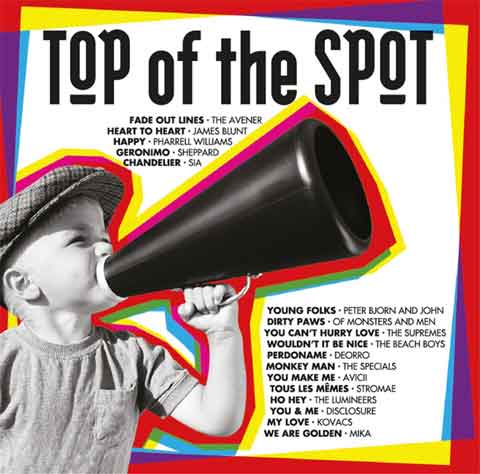 Tracklist Top of the Spot 2015 (Disponibile su Amazon nei formati Audio CD e Digital Download)
Chandelier – Sia 3:34
You Make Me – Avicii (Radio Edit) 3:04
You & Me – Disclosure (feat. Eliza Doolittle) [Flume Remix] 4:41
Young Folks – Peter Bjorn & John (Radio Edit) 3:31
Geronimo – Sheppard 3:32
We Are Golden – MIKA 3:59
Dirty Paws – Of Monsters and Men
D-D-Dance – The Royal Concept 3:41
My Love – Kovacs 3:56
Wouldn't It Be Nice – The Beach Boys 2:33
You Can't Hurry Love – The Supremes (2003 Remix) 3:00
Monkey Man – The Specials 2:47
Get Down On It – Kool & The Gang 4:49
I Want You Back – Jackson 5 3:02
Vedi anche: Top of the Spot 2016.