You're So Beautiful è un nuovo brano incluso nella colonna sonora della prima stagione della serie tv Empire, il cui CD sarà disponibile a partire dal prossimo 5 maggio.
La versione Full Cast di questa canzone, ovvero con Estelle, Terrence Howard, Jussie Mollett, Yazz e Serayah McNeill, è inclusa nell'EP Empire: Music From Unto The Breach, disponibile dallo scorso 21 aprile. Nell'EP ci saranno anche le seguenti tre tracce All Of The Above (feat. Jussie Smollett), Black & Blue (feat. V. Bozeman) e Conqueror (feat. Estelle and Jussie Smollett).
Il brano che potete ascoltare tramite il lyric video non ufficiale cliccando sull'immagine sottostante, viene interpretato dall'attore e cantante statunitense Jussie Langston Mikha Smollett.
Di seguito trovate le parole in inglese che compongono questo pezzo.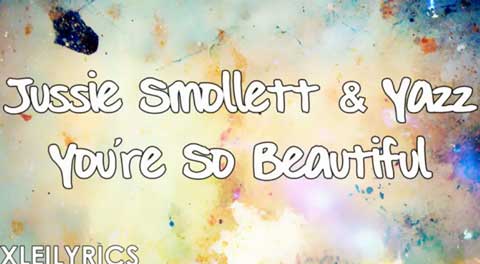 Testo You're So Beautiful – Empire Cast feat Jussie Smollett & Yazz (Digital Download)
[Verse 1: Jussie Smollett]
Sometimes you feel insecure
Trust me babe I understand
Even with no manicure
Just know that I'll still hold your hand (haha, I'm just sayin')
You look so good when you walking by
Sexy comes in every size
Keep wearing that, you ain't playin'
You got yourself a new man
F Kanye's Workout Plan
I call that baby fat (baby fat)
Cause you sure look good to me
I think
[Hook]
You're so beautiful (shake it, shake it)
Give the world a show (move it, move it)
Go up down, up down, up down
Go up down, up down, up down
Shake it fast, its yours
(How much you pay for it?)
I say, you're so beautiful (shake it, shake it)
And I don't care who knows (move it, move it)
Go up down, up down, up down
Go up down, up down, up down
Shake it fast
Cause it sure look good to me
[Verse 2: Yazz]
Hakeem got a thing for the ladies
The ladies got a thing for the Hakeem
What I'mma do with you? Damn you so beautiful
How do I get you on my team?
You can be natural with a wig on
Chocolate, Caramel, or a Red bone
So confident, so classy
I should kiss you for the hell of it, no chapstick
Can't help it, I love all women
Big, small, medium, and tall women
Aww man, every one of ya' look good to me
Ain't gotta be a beava' to get wood from me, get it?
Where the hell do ya' come from?
Shot me like a bullet, where did you get a gun from?
Landed on your planet in another dimension
Lookin' at you got me standin' up at attention
You got me goin'
[Hook]
You're so beautiful (shake it, shake it)
Give the world a show (move it, move it)
Go up down, up down, up down
Go up down, up down, up down
Shake it fast, its yours
(How much you pay for it?)
I say, you're so beautiful (shake it, shake it)
And I don't care who knows (move it, move it)
Go up down, up down, up down
Go up down, up down, up down
Shake it fast
Cause it sure look good to me
[Bridge – 4x]
Shake it fast
Shake it, shake it fast
You lookin' like a bag of money (bag of money, bag of money)
[Hook]
You're so beautiful (shake it, shake it)
Give the world a show (move it, move it)
Go up down, up down, up down
Go up down, up down, up down
Shake it fast, its yours
(How much you pay for it?)
I say, you're so beautiful (shake it, shake it)
And I don't care who knows (move it, move it)
Go up down, up down, up down
Go up down, up down, up down
Go up down, up down, up down
Go up down, up down, up down [2x]
Shake it fast
Cause it sure look good to me
Traduzione
A volte ti senti insicura
Fidati di me tesoro, ho capito
Anche senza manicure
Basta sapere che terrò ancora la tua mano
Sei così bella quando cammini
in aggiornamento