Il 24 giugno 2014 è uscito Lo Zoo Di 105 Vol. 9, la nuova compilation formata da tre CD contenenti un totale di 52 tracce, tra le più in voga del momento.
Ben 37 dance hit sono state selezionate e mixate da Pippo Palmieri e Dj Spyne con la collaborazione di Max Baffa, head of music di Radio 105. Il terzo CD è invece il il nuovo imperdibile album di Dj Matrix intitolato "Musica da giostra".
Una raffica di successi on the dancefloor firmati da star internazionali come Avicii, Tiesto, Clean Bandit, Afrojack, Polina, Laidback Luke, Cash Cash, l'ambizioso progetto nato a Miami "Mazzoli featuring Flo Rida & Shawn Lewis", la sigla del programma "Danzo dentro il buio", e l'ultima creazione del famigerato Dj Matrix. Tutto incluso in quest'interessantissima opera.
Dopo l'immagine relativa alla copertina frontale, potete leggere i titoli di tutte le canzoni presenti in Lo Zoo Di 105 Vol. 9.
Tracklist Lo Zoo Di 105 Vol. 9 (Disponibile su Amazon)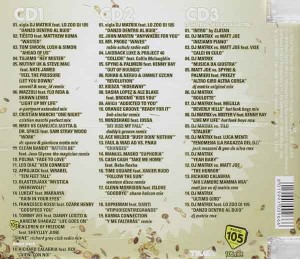 CD 1
Danzo dentro al buio (Sigla) [feat. Lo Zoo di 105] Dj Matrix 1:33
Ahead of Us – Tom Swoon & Lush & Simon 3:51
Hey – Mister Tujamo 3:44
Feel the Pressure (Let You Down) [Axwell & NEW_ID Remix] [feat. Nate James] Mutiny UK & Steve Mac 3:59
Light Up My Life (E-Partment Extended Mix) [feat. Flo Rida & Shawn Lewis] Mazzoli 4:42
Work (Dr. Space & Gianluca Motta Mix) [NRD1 vs. Gianluca Motta & Dr. Space] [feat. Sam Stray Wood] NRD1, Gianluca Motta & Dr. Space 4:35
Rather Be (The Magician Remix) [feat. Jess Glynne] Clean Bandit 3:13
Ven Conmigo – Leo Diaz 4:29
Mystica (Werewolf) [Extended Mix] BlasterJaxx 3:37
Rain in Your Eyes (feat. Maraaya) LukeAT 3:13
Life Goes On (Extended Mix) [feat. Danny Losito & Kareem Shabazz] Tommy Vee 4:40
Shine (Richard Grey Club Radio Mix) [feat. Sheylley June] Children of Freedom 3:45
Vieni con noi (feat. RCK) Richard Calabria 3:54
CD 2
Danzo dentro al buio (Sigla) [feat. Lo Zoo Di 105] Dj Matrix 1:37
Collide (feat. Collin McLoughlin) Laidback Luke & Project 46 4:00
Out of Bounds (feat. Kenny Ray) SPYNE & Palmieri 3:36
Revolution (Vocal Mix) R3hab, NERVO & Ummet Ozcan 3:52
Hideaway – Kiesza 4:26
Ready for It (Bob Sinclar Remix) Orange Grove 4:03
My Rise My Fall (Daddy's Groove Remix) [feat. Iossa] Mindshake 4:13
Busy Doin' Nothin' – Ace Wilder 3:21
Euphoria – Manuel Masko 2:27
Take Me Home (feat. Bebe Rexha) Cash Cash 3:55
Goodbye (Shane Halcon Mix) [feat. Islove] Glenn Morrison 4:26
#Tipuoisentiregrande (Bonus Track) [feat. Danti] Sopreman 3:59
Y Me Faltarás (Remix) [Bonus Track] Karma Connection 3:33
CD 3 (Dj Matrix – Musica da giostra)

Intro Zlatan 2:31
Iniziamo piano (Dj Matrix vs. Matt Joe) Dj Matrix & Matt Joe 3:51
Calci in culo (Dj Matrix vs. Matt Joe) [feat. Vise] Dj Matrix & Matt Joe 2:51
Musica Da Giostra – Dj Matrix 3:23
Altro giro altra corsa (Dj Matrix Mix) [Matt Joe vs. Spyne & Palmieri] [feat. Preezy] Matt Joe, SPYNE & Palmieri 4:48
Roulotte – Dj Matrix 3:40
Beverly Hills (Hot Funk Boys Mix) [feat. Melilla] Dj Matrix 4:13
Live My Life (Hot Funk Boys Rmx) [Dj Matrix vs. Mister V feat. Kenny Ray] Dj Matrix & Mister V 4:50
Stalker (Dj Matrix vs. Tilo) Dj Matrix & Tilo 3:54
Fenomena (La ragazza del Dj) [Jack Mazzoni & Geo Da Silva Rmx] [feat. Luca Menti] Dj Matrix 4:37
Yeah Baby – Dj Matrix 3:48
The Horror (Dj Matrix vs. Matt Joe) Dj Matrix & Matt Joe 2:40
Ahi l'amore Mamma Mia (Matt Joe vs. Dj Matrix Rmx) Richard Calabria 2:53
Ultimo Giro – Dj Matrix 3:13
Danzo dentro al buio (Sigla) [DJ Matrix Rmx] [feat. Lo Zoo di 105] Dj Matrix 1:59