Il 17 giugno 2016 è uscita Pineta Club Compilation Vol. 3, la terza collana della serie pubblicata dalla label modenese Molto Recording. All'interno del doppio CD, troverete un totale di 36 canzoni internazionali accuratamente selezionate, che propongono il vero suono e la giusta immagine dello storico locale di Milano Marittima.
Per esattezza, sono incluse 18 tracce per CD, più le due tracks Pineta Club Compilation Vol. 3 Continuous Mix1 e Continuous Mix2, della durata di oltre 1 ora cadauna.
Jess Glynne, Michael Feiner, Tujamo, Galantis, Imany, Dj Katch, Bob Sinclar, Robin Schulz, Don Diablo, Mark Knight, The Cube Guys, Luca Cassani, Marc Werner, Disciples & David Guetta, sono solo alcuni tra i protagonisti della doppia compilation, che racchiude pezzi prevalentemente house e deep house, senza trascurare le hits più ballate nel celebre locale del capoluogo lombardo.
Appena dopo la cover frontale, trovate i titoli dei brani inclusi nel doppio album.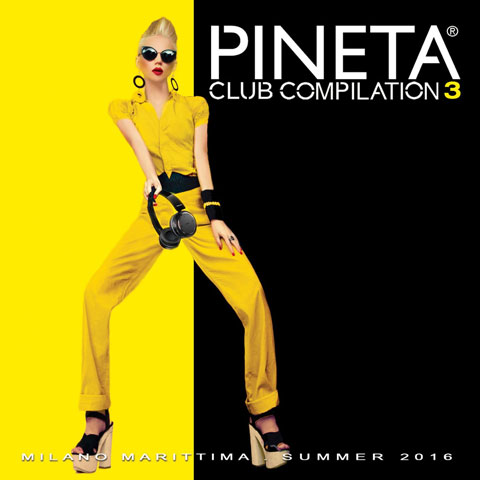 Tracklist Pineta Club Compilation Vol. 3 (Disponibile su Amazon nel formato Audio CD e Download Digitale)
CD 1
A Simple Design (Deetron Remix) The Juan Maclean 7:23
Make Your Move – Croatia Squad & Lika Morgan 5:23
Yo – Purple Disco Machine 7:28
What U Know – Antonio Giacca & Fort Arkansas 5:19
Heat (African Day) (feat. Nomfusi) [Calippo Remix] Milk & Sugar 5:41
When We Are Apart (feat. Max C) – Luca Cassani 6:34
Take It Easy (Sonny Fodera & Mat.Joe Remix) Gershon Jackson 6:47
Oh Baby Dance – Basti Grub & Natch! & Dothen 6:48
Big Discs – Eats Everything 7:50
Don't Hold Back – Mendo 6:44
Hands Up (Luca Cassani Presents Lovedeejay) Luca Cassani presents Lovedeejay 6:04
No! (Extended Mix) CID 5:36
In My House – Robbie Rivera & David Tort 6:29
Think About You (Luca Cassani Casting Couch Remix) Francesco Pittaluga 5:39
Fall Down on Lee – Mark Knight 6:46
Music in My Head – The Cube Guys 6:47
This Time – Marc Werner 6:16
Pineta Club Compilation Vol. 3 (Continuous Mix1) 1:13:10
CD 2
The Boy Is Mine (feat. Alexandra Prince) [Original Extended Remix] Ben Delay 5:45
Show Me Love – Robin Schulz & J.U.D.G.E (Moguai Remix) 5:34
Together – CID 3:09
Don't Be So Hard On Yourself – Jess Glynne (Antonio Giacca Remix) 6:42
Mawby (The Cube Guys Mix) Miami Dub Machine 7:00
No Money – Galantis 3:09
The Horns – Dj Katch (feat. Greg Nice, DJ Kool & Deborah Lee) [Federico Scavo Remix] 4:06
Vazilando (Federico Scavo Remix) Shorty 4:27
El toro – Dual Beat 5:53
Drop That Low (When I Dip) – Tujamo [Extended Mix] 4:30
Tonight – Don Diablo 3:56
The Creeps 2016 – Nari & Milani e Cristian Marchi 4:11
Pressure (David Tort Remix) SP1DER 6:16
Nite Deal (feat. Mr. V) Paul Richard 4:00
What Becomes of the Broken Hearted (feat. Will Weldon Roberson) Wahs 3:30
Pineta Club Compilation Vol. 3 (Continuous Mix2) 1:06:59
Vedi anche: Pineta Club Compilation Vol. 1 – Pineta Club Compilation Vol. 2.