L'etichetta discografica modenese Molto Recording ha rilasciato in data 9 dicembre Pineta Club Compilation Vol. 2 – Milano Marittima Winter 2014/15, la seconda collana della serie pubblicata dalla label, dopo il precedente Pineta Club Compilation #1, Milano Marittima Summer 2014.
E' quindi finalmente disponibile il secondo volume di quest'album, la versione invernale che propone il vero suono e la giusta immagine dello storico locale di Milano Marittima.
In due CD sono presenti canzoni internazionali accuratamente selezionate, una scelta elegante e raffinata di pezzi prevalentemente di genere house e deel house, senza trascurare le hits più ballate nel celebre locale del capoluogo lombardo.
Sono rispettivamente 21 e 19 i brani contenuti nei due dischi, per un totale di 160 minuti di sound, accompagnati dalle inconfondibili voci di Isa B, Lara Caprotti e Faber, che vi trascineranno nelle uniche atmosfere che ogni notte si vivono al PINETA.
Jess Glynne, ZHU, Alex Kenji, Fedde le Grand, The Cube Guys, Fritz Kalkbrenner, Marlon Roudette, I Am Oak, Saint Motel, Coldplay, Magic!, Hardwell, The Magician, Spada & Elen Levon, David Guetta, Panzer Flower e Timmy Trumpet, sono solo alcuni degli altisonanti nomi di artisti presenti in quest'opera.
Dopo l'immagine relativa alla copertina frontale, potete leggere i titoli delle 40 tracce proposte in questa nuova uscita discografica.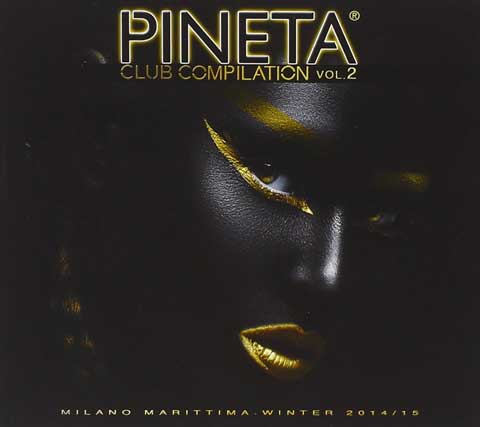 Tracklist Pineta Club Compilation Vol.2 Milano Marittima Winter 2014/15 (Disponibile su Amazon nei formati Audio CD e Digital Download)
CD 1
Pineta Is the Answer – Introlab 0:58
They Don't Know – Disciples 4:14
Bump & Grind 2014 – Waze & Odyssey & R. Kelly 2:59
Giom (feat. Apple Rochez) Dr. Zapp 3:45
I Got (Something You Need) [Oliver Dollar Remix] Ed Ed
Bullit – Watermät 3:03
Faded – ZHU 3:25
Can't Stop Playing (Oliver Heldens & Gregor Salto Remix) Dr. Kucho! & Gregor Salto 2:55
Don't Give Up – My Digital Enemy 3:49
Everybody Be Somebody (feat. Yavahn) [Lucas & Steve Remix] Ruffneck 3:34
Push the Feeling On – Criminal Vibes 3:02
I Used to Be (feat. Redman & Method Man) [Rene Amesz Remix] GOH vs. Sugarstarr 3:34
Exceeder (Umek & Mike Vale Remix) Mason 3:32
Channels – Alex Kenji 3:55
3 Minutes to Explain (feat. Shermanology) [Funkerman Fame Mix] Fedde le Grand & Funkerman 3:03
All Night Long – Santé & Sidney Charles 3:57
1 Bad Bitch – Ten Ven, Ripley & Zebra Katz 3:32
Hey You! (feat. Shermanology) The Cube Guys 4:47
Back Home – Fritz Kalkbrenner 3:27
CD 2
Jazz It Up (Robbie Groove, Andrea Mazzali, Matteo Sala, Peruz Remix) Mistachic 3:22
Knight Time – Don Diablo 3:46
Calabria (Firebeatz Remix) Rune RK 2:52
5 Seconds (Maurizio Gubellini 2015 Remix) Maurizio Gubellini 3:16
Virus (How About Now) Martin Garrix & MOTi 4:03
Rude (Zedd Remix) Magic 4:44
Vedi anche: Pineta Club Compilation Vol. 3