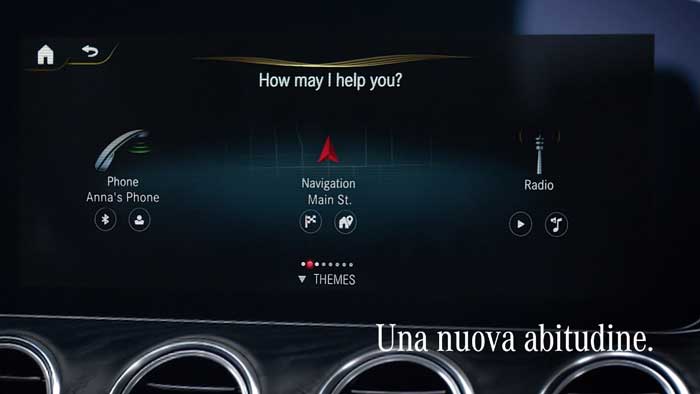 Forse cercavi: pubblicità della nuova Mercedes Classe S con Roger Federer, Lewis Hamilton e Alicia Keys trasmessa da fine dicembre 2020?
Da ottobre 2020 viene trasmesso in tv lo spot della Mercedes, esattamente della Nuova gamma Classe E con lo slogan Made to win the day, quello in cui una donna si rivolge a quest'automobile dicendole "Ehi Mercedes?" e l'auto che risponde "Come posso aiutarti?"
Vai direttamente al titolo della canzone
A fare da colonna sonora alla pubblicità, una coinvolgente canzone rock del 2013: qual è il titolo e chi la canta? La risposta ed altro appena dopo il video di questa nuova campagna pubblicitaria.
Could Have Been Me, singolo della rock band inglese The Struts, pubblicato il 21 ottobre 2013 come primo estratto dal debut album Everybody Wants, uscito il successivo 28 luglio 2014. Il testo e il video della canzone.
Scritto da Josh Wilkinson, George Tizzard, Luke Spiller, Adam Slack & Richard Parkhouse e prodotto dai Red Triangle, il brano iniziò a divenire più popolare nel 2015, quando salì nelle classifiche airlplay americane, raggiungendo la quinta piazza nella classifica dei brani alternativi. Questo pezzo ha anche fatto da sigla a NXT TakeOver: London, è stato utilizzato anche come brano di apertura per MLB The Show 16 e in un trailer del videogioco del 2016 "Ratchet & Clank".
---
Download su Amazon – Ascolta su: Apple Music
[Verse 1]
Don't wanna live as an untold story
Rather go out in a blaze of glory
I can't hear you, I don't fear you
I'll live now 'cause the bad die last
Dodging bullets with your broken past
I can't hear you, I don't fear you now
[Refrain]
Wrapped in your regret
What a waste of blood and sweat
Oh oh oh
[Chorus]
I wanna taste love and pain
Wanna feel pride and shame
I don't wanna take my time
Don't wanna waste one line
I wanna live better days
Never look back and say
Could have been me
It could have been me
Yeah
[Verse 2]
Don't wanna live as an unsung melody
I'd rather listen to the silence telling me
I can't hear you, I won't fear you
Don't wanna wake up on a Monday morning
The thought of work is getting my skin crawling
I can't fear you, I don't hear you now
[Refrain]
Wrapped in your regret
What a waste of blood and sweat
Oh oh oh
[Chorus]
I wanna taste love and pain
Wanna feel pride and shame
I don't wanna take my time
Don't wanna waste one line
I wanna live better days
Never look back and say
Could have been me
It could have been me
Yeah
Hey
I wanna taste love and pain
Wanna feel pride and shame
Don't wanna take my time
No
Don't wanna waste one line
Hey hey
Wanna live better days
Just better
Never look back and say
Could have been me
It could have been me
It could have been me
It could have been me
I wanna taste love and pain
Wanna feel pride and shame
I don't wanna take my time
Don't wanna waste one line
I wanna live better days
Never look back and say
Could have been me
It could have been me
It could have been me
It could have been me
Yeah
Hey
I wanna taste love and pain
Wanna feel pride and shame
Don't wanna take my time
No
Don't wanna waste one line
Hey Hey
Wanna live better days
Just better
Never look back and say
Could have been me