The Desired Effect (l'effetto desiderato) è il secondo album in studio da solista di Brandon Flowers, rilasciato il 19 maggio 2015 per Universal Music Italia.
Il secondo progetto lontano dai The Killers del cantautore americano, propone un totale di dieci canzoni inedite ed è disponibile anche nella versione deluxe contenente due pezzi bonus.
Tra le tracce presenti, non posso esimermi dal citare i primi quattro singoli estratti "Can't Deny My Love" rilasciato il 23 marzo scorso, "Still Want You" pubblicato il 13 aprile, "Lonely Town"     disponibile dal 27 aprile ed "I Can Change" uscito lo scorso 4 maggio.
Il disco è stato interamente prodotto insieme all'interprete da Ariel Rechtshaid (Vampire Weekend, Haim, Charli XCX) e mixato da Alan Moulder (Smashing Pumpkins, The Killers, Arctic Monkeys) ed ha debuttato in prima posizione nel Regno Unito.
L'opera è stata registrata nell studio dei Killers "Battle Born Studios" a Winchester in Nevada, ed è anche frutto della collaborazione di musicisti di rilievo, tra i quali Danielle Haim (HAIM), Neil Tennant (Pet Shop Boys), Ronnie Vannucci Jr. (The Killers), Ted Sablay (membro nei tours dei The Killers ), Angel Deradoorian ( Dirty Projectors ), Tony Levin (Peter Gabriel), Joey Waronker (Beck , Atoms for Peace), Kenny Aronoff (John Mellencamp), Ethan Farmer (Sean Combs) e Bruce Hornsby (Grateful Dead).
Appena dopo l'immagine relativa alla copertina, potete leggere i titoli delle dodici canzoni incluse in questa nuova uscita discografica.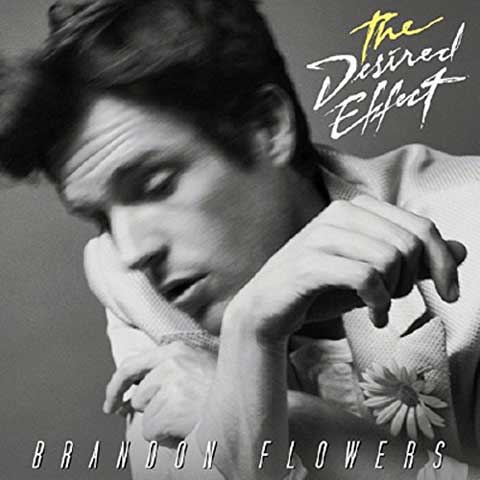 Tracklist The Desired Effect – Brandon Flowers (Lo trovi su Amazon nelle versioni Audio CD e Digital Download)
Dreams Come True – 4:03
Can't Deny My Love (

Primo Singolo

) – 3:42
I Can Change  (

Quarto Singolo

) – 4:18
Still Want You (

Secondo Singolo

) – 3:11
Between Me and You – 4:39
Lonely Town (

Terzo Singolo

) – 3:30
Diggin' Up the Heart – 3:49
Never Get You Right – 3:43
Untangled Love – 4:11
The Way It's Always Been – 3:59
Deluxe
11. "Btwn Me 'N U" 4:09
12. "The Desired Effect" 3:46