Il 13 gennaio è uscita Top Hits 2017, la nuova compilation di casa Do It Yourself, disponibile in due CD ed in download digitale.
Sono 40 i brani racchiusi nel doppio album, tutte le hit del momento con in esclusiva canzoni di successo di Rag'n'Bone Man, Robbie Williams e Sia.
Top Hits 2017, la compilation dei numeri 1, propone tutto il meglio della musica pop e dance del momento.
Nella scaletta, sono inclusi pezzi di artisti del calibro di J-AX e Fedez, LP, The Chainsmokers ft. Halsey, Elisa, Gnash, Max Gazzè, Junge Junge, James Arthur, Bouchra, Alvaro Soler ft. Emma, Thegiornalisti, Samuel, Raphael Gualazzi, Shawn Mendes, Tinie Tempah, Pentatonix, Burak Yeter, MØ, Martin Garrix & Bebe Rexha, Julian Perretta, i Fly Project, Empire of the Sun, Steve Aoki & Louis Tomlinson, Bob Sinclar & Daddy's Groove, Armin van Buuren ed altri.
Appena dopo la copertina frontale, trovate i titoli delle quaranta canzoni incluse nella doppia compilation, una delle più gettonate nella penisola.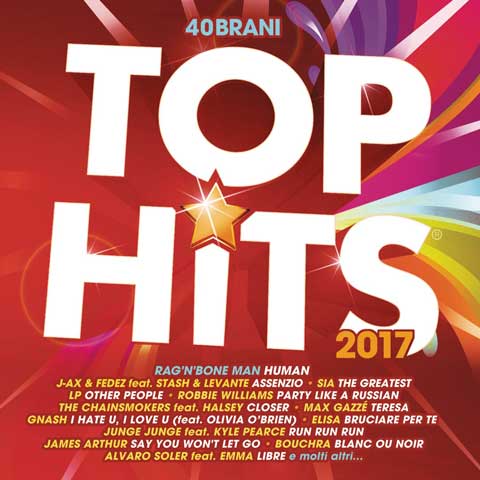 Tracklist Top Hits 2017 (Su Amazon è disponibile nelle versioni 2 CD e Digitale – Download su iTunes)
CD 1:
The Greatest – Sia 3:28
Other People – LP 4:03
Blanc Ou Noir – Bouchra 3:32
La Risposta – Samuel 3:20
L'estate di John Wayne – Raphael Gualazzi 3:29
Libre – Alvaro Soler feat. Emma [Italian Version]  3:50
Teresa – Max Gazzè 3:36
Bruciare Per Te – ELISA 4:10
CD 2:
Lost on You – LP (Addal Remix)  3:41
Cool Girl – Tove Lo 3:17
Final Song – MØ 3:52
Karma – Julian Perretta 3:16
Give U Up – Calvin 3:16
Tell It to My Heart – Filatov & Karas 3:08
Ginevra – Wlady 2:52
Superstar (Radio Edit) The Cube Guys & Luciana 3:25
Tell My Heart – Nora En Pure feat. Danielle Senior 3:26
High on You – EDX 3:00
Great Spirit – Armin van Buuren & Vini Vici feat. Hilight Tribe 3:37
Vedi anche: Top Hits 2016.