But Beautiful è il nuovo singolo del duo formato da Lady Gaga e Tony Bennett, estratto dall'album collaborativo Cheek To Cheek, pubblicato lo scorso 23 settembre, disco di cover di grandi classici jazz interpretati dalla regina del pop ed il re del jazz, che ha letteralmente scritto la storia di questo genere musicale.
Dopo Anything Goes, Nature boy e I Can't Give You Anything But Love, arriva il quarto video in studio dei 2 artisti, un commovente filmato che lascia intuire il profondo legame che li unisce. Potete vederlo in apertura articolo.
Il classico "But Beautiful" è stato interpretato magistralmente da Miss Germanotta e dall'immenso Bennett. La musica del brano è stata originariamente scritta da Jimmy Van Heusen, mentre i testi sono di Johnny Burke. La canzone è una delle 5 composte da Burke e Van Heusen per la colonna sonora del film Road to Rio (1947 – Paramount Pictures).
Ad inizio post, potete vedere il filmato, mentre appena dopo l'immagine trovate le parole che compongono questo pezzo.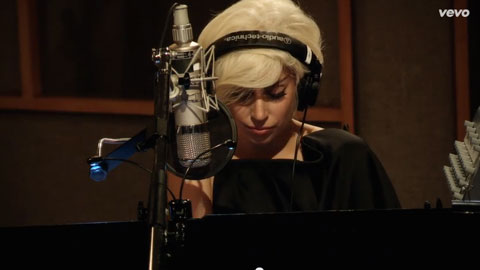 Testo But Beautiful – Tony Bennett & Lady Gaga (Digital Download)
Love is funny, or it's sad
Or it's quiet, or it's mad
It's a good thing or it's bad
But beautiful…
Beautiful to take a chance and if you fall you fall
And I'm thinking I wouldn't mind at all…
Love is tearful, or it's gay
It's a problem or it's play
It's a heartache either way
But beautiful…
And I'm thinking if you were mine I'd never let you go
And that would be but beautiful I know
And I'm thinking if you were mine I'd never let you go
And that would be but beautiful
That would be but beautiful
That would be but beautiful I know