Martedì 23 settembre 2014 esce Cheek To Cheek, primo album collaborativo di Lady Gaga e Tony Bennett. Il rilascio era originariamente previsto per il 1º gennaio 2014, successivamente è stato posticipato a marzo 2014, per poi essere finalmente pubblicato domani.
Sulle ali del successo della collaborazione nel brano The Lady Is a Tramp, contenuto in Duets II rilasciato nel 2011, opera con la quale Bennett si aggiudicò un Grammy Award, i due artisti americani hanno deciso di lavorare su questo progetto composto esclusivamente da cover di grandi ed intramontabili classici firmati George Gershwin, Cole Porter, Jerome Kern, Billy Strayhorn ed Irving Berlin per citarne alcuni.
Il disco è stato prodotto da Dae e Danny Bennett e contiene undici tracce nella versione standard, e quindici nell'edizione deluxe. Tra le canzoni presenti, non posso esimermi dal menzionare i singoli "Anything Goes" pubblicato ed in rotazione radiofonica in Italia dallo scorso 29 luglio, e "I Can't Give You Anything but Love" rilasciato lo scorso 19 agosto.
Dopo la copertina frontale, potete leggere i titoli delle canzoni presenti nella standard e deluxe edition.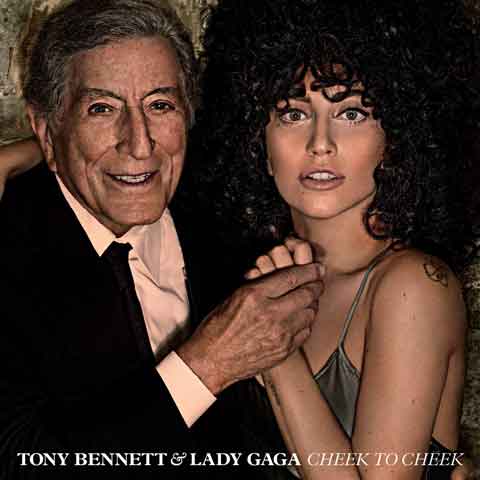 Tracklist Cheek To Cheek – Tony Bennett e Lady Gaga (dal 23 settembre disponibile su Amazon nei formati Audio CD, Audio CD Deluxe, Digital Download e Digital Download Deluxe Edition)
Edizione standard
"Anything Goes" scritta da Cole Porter e reinterpretata da Tony Bennett e Lady Gaga 2:03
"Cheek to Cheek" scritta da Irving Berlin e reinterpretata da Tony Bennett e Lady Gaga 2:50
"Nature Boy" scritta da Eden Ahbez e reinterpretata da Tony Bennett e Lady Gaga 4:08
"I Can't Give You Anything but Love" scritta da Jimmy McHugh, Dorothy Fields e reinterpretata da Tony Bennett e Lady Gaga 3:13
"I Won't Dance" scritta da Jerome Kern, Oscar Hammerstein II, Otto Harbach e reinterpretata da Tony Bennett e Lady Gaga 3:56
"Firefly" scritta da Cy Coleman, Carolyn Leigh e reinterpretata da Tony Bennett e Lady Gaga 1:57
"Lush Life" scritta da Billy Strayhorn e reinterpretata da Lady Gaga 4:14
"Sophisticated Lady" scritta da Duke Ellington, Irving Mills, Mitchell Parish e reinterpretata da Tony Bennett 3:49
"Let's Face the Music and Dance" scritta da Irving Berlin e reinterpretata da Tony Bennett e Lady Gaga 2:06
"But Beautiful" scritta da Jimmy Van Heusen, Johnny Burke e reinterpretata da Tony Bennett e Lady Gaga 4:04
"It Don't Mean a Thing (If It Ain't Got That Swing)" scritta da Duke Ellington, Irving Mills e reinterpretata da Tony Bennett e Lady Gaga 2:23
Edizione Deluxe
12. Don't Wait Too Long
13. Goody Goody
14. Ev'ry Time We Say Goodbye
15. They All Laughed