Aggiornamento: è disponibile il video ufficiale che accompagna il singolo di Mary J Blige battezzato Whole Damn Year, secondo estratto dal nuovo disco The London Sessions rilasciato in Italia il 2 dicembre. Cliccate sull'immagine per vedere questo filmato in bianco e nero.

Scritto originariamente il 4 novembre 2014
Whole Damn Year è il secondo singolo di Mary J. Blige estratto da The London Sessions, tredicesimo disco in studio che sarà pubblicato il prossimo dicembre.
Dopo il primo estratto "Therapy" pubblicato lo scorso 23 settembre, ed i promozionali "Right Now" e "Nobody But You", arriva il secondo tassello della nuova era discografica della cantante newyorkese.
Il singolo Whole Damn Year è stato co-scritto dalla Blige insieme ad Emeli Sandé e Knox Brown, mentre Naughty Boy ha curato la produzione. Esiste anche una versione cantata in duetto con la stessa Emeli Sandé, il cui file audio circola da qualche giorno in rete.
La regina del R&B Mary J. Blige, continua quindi la promozione del nuovo progetto discografico "The London Sessions" che sarà pubblicato per Capitol Records.
L'opera è stata registrata l'estate 2014 presso il RAK studios di Londra, e conterrà le seguenti dodici tracce prodotte da oltre che da Naughty Boy, da Rodney Jerkins, Sam Romans, Craze and Hoax, Eg White, Disclosure, e Jimmy Napes:
1. "Therapy"
2. "Doubt"
3. "Not Loving You"
4. "When You're Gone" 3:24
5. "Right Now"
6. "My Loving"
7. "Long Hard Look"
8. "Whole Damn Year"
9. "Nobody But You"
10. "Pick Me Up"
11. "Follow"
12. "Worth My Time"
Quì potete ascoltare l'audio ufficiale dell'inedito, mentre cliccando sull'immagine accedete al lyric video. Di seguito trovate le parole in inglese che compongono questo pezzo.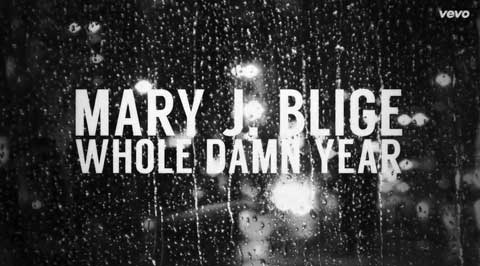 Testo Whole Damn Year – Mary J. Blige (Digital Download)
Tryna find a way to explain this
Why you can't touch me tonight?
I can feel you're getting impatient
But I really can't let you inside
Bad, how deep the pain is
Or you just couldn't believe
And yes I'm good on the surface
But I'm a mess, I'm a mess underneath
See winter took most of my heart
And Spring punched right in the stomach
Summer came looking for blood
And by autumn, I was left with nothing
It took a whole damn year to repair my body
It took a whole damn year
It took a whole damn year to repair my body
It's been about five years
Gon' take a long long year for me to trust somebody
Gon' take long long year
Gon' take a long long year for me to touch somebody
It's been a bad five years
Not tryna do this on purpose
Boy I really wish I could
Don't act like you never heard this
I know you haven't misunderstood
Where the others just wouldn't respect me
Don't tell me you use well
I thought we were heading for Heaven
But you're about to take me back to Hell
See winter took most of my heart
And Spring punched right in the stomach
Summer came looking for blood
And by autumn, I was left with nothing
It took a whole damn year to repair my body
It took a whole damn year
It took a whole damn year to repair my body
It's been about five years
Gon' take a long long year for me to trust somebody
Gon' take long long year
Gon' take a long long year for me to touch somebody
It's been a bad five years
It took a whole damn year to repair my body
It took a whole damn year
It took a whole damn year to repair my body
It's been about five years
Gon' take a long long year for me to trust somebody
Gon' take long long year
Gon' take a long long year for me to touch somebody
It's been a bad five years
Bad to the liver, bad to the bones
Bad to the liver, bad to the bones
Bad to the liver, bad to the bones
It's been a bad five years