Breaking Up è il terzo singolo della cantante inglese Charli XCX estratto da Sucker, secondo album con una major che in Italia (Europa, Regno Unito) vedrà la luce il 27 gennaio 2015, mentre negli Stati Uniti il 16 dicembre via Atlantic, Asylum e Neon Gold Records. L'opera è già pre-ordinabile in download digitale, e sarà composta dalle seguenti quattordici tracce inedite:
1. Sucker
2. Break the Rules
3. London Queen
4. Breaking Up
5. Gold Coins
6. Boom Clap
7. Doing It
8. Body of My Own
9. Famous
10. Hanging Around
11. So Over You
12. Die Tonight
13. Caught in the Middle
14. Need Ur Luv
Dopo i precedenti "Boom Clap" (incredibile successo) e "Break the Rules", l'1 dicembre è stato pubblicato il terzo tassello della seconda era discografica di Charlotte Emma Aitchison alias Charli XCX.
Questa canzone è stata co-scritta dalla cantante insieme a Patrik Berger, Markus Krunegård e Noonie Bao, ed è accompagnata dal video ufficiale diretto da BRTHR, pubblicato su Youtube il 2 dicembre scorso.
Per vedere il filmato ambientato in una sala di bowling cliccate sull'immagine sottostante, mentre di seguito potete leggere le parole in inglese che compongono questo pezzo.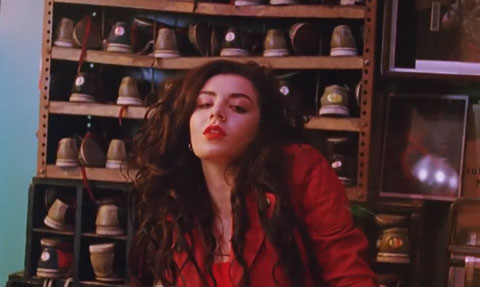 Testo Breaking Up – Charli XCX (Digital Download)
You say you love me
I say what!?
You say you love me
Ok let's rock
You say you love me
I say what!?
You say you love me
Ok let's rock
You have an ugly tattoo and f*cking cheap perfume
You couldn't dance belly but didn't know what to do
You have a friend in the band but they're not that cool
You say you love me
Ok let's rock
Everything was wrong with you
So break it up, was easy to do
Hey your friends think your fugly too
So break it up, was easy to do
Breaking up
Breaking up
Breaking up
You say you love me
I say what!?
You say you love me
Ok let's rock
You say you love me
I say what!?
You say you love me
Ok let's rock
You try to pull us apart
And make a brand new start
You tryna drive me force me
You didn't get very much
You said laugh like a baby
You're not so sure
You say you love me
Ok let's rock
Everything was wrong with you
So break it up, was easy to do
Hey your friends think your fugly too
So break it up, was easy to do
Everything was wrong with you
So break it up, was easy to do
Hey your friends think your fugly too
So break it up, was easy to do
Breaking up
Breaking up
Breaking up