L'11 settembre 2015 è uscita Happy Edition compilation Vol.2, album remixato da Dj Osso di Radio M2O.
Il secondo volume della serie, considerato dall'artista come "Il tuo antistress a portata di mano", propone trentaquattro canzoni remixate dall'amato deejay, direttamente dal programma su M2O "Happy Edition".
I titoli? Potete leggerli appena dopo la colorata copertina frontale dell'opera, disponibile nei negozi sia nel formato digitale che in quello fisico (1 CD).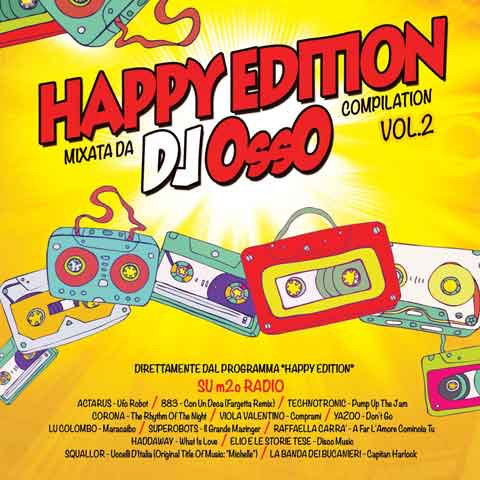 Tracklist Happy Edition compilation Vol.2 – Dj Osso (Disponibile anche su Amazon nelle versioni Audio CD e Digitale)
Aria di casa (Edit) Sammy Barbot 2:30
Storie di tutti i giorni (Edit) Riccardo Fogli 2:10
Capitan Harlock (Edit) La Banda Dei Bucanieri 1:53
Il Grande Mazinger (Edit) Superobots 1:30
Don't you want me (Edit) The Human League 1:29
Lisa (Edit) Stefano Sani 1:24
Monkey (Edit) I Coccodrilli 1:20
Mi piacerebbe… (Andare al mare… di lunedì…) [Edit] Toto Cutugno 1:43
Dolce Lassie (Edit) Giorgia 1:34
Funkytown (Edit) Lipps, Inc. 2:20
Touch Me (Edit) The 49ers 2:00
Crilù (Edit) Heather Parisi 1:59
Let's Go (Edit) FPI Project 2:05
Il pigiamino (Edit) Nina 2:16
Oba-ba-luu-ba (Edit) Daniela Goggi 2:17
A far l'amore comincia tu (Edit) Raffaella Carrà 2:31
Con Un Deca (Fargetta Remix) [Edit] 883 1:59
What Is Love (Edit) Haddaway 2:58
Music (Edit) Fargetta & Anne-Marie Smith 2:42
Disco Music (Edit) Elio e le Storie Tese 1:40
Pump Up the Jam (Edit) Technotronic 2:18
Don't Go (Edit) Yazoo 2:03
Ken Falco (Edit) Superobots 1:57
Feel It feat. Maya (Edit) The Tamperer 1:23
Portobello (Edit) His Baby Band & Lino Patruno 1:21
Maracaibo (Edit) Lu Colombo 3:06
Ufo Robot (Edit) Actarus 2:19
Come Into My Life (Edit) Gala 2:19
The Rhythm of the Night (Edit) Corona 2:25
Comprami (Edit) Viola Valentino 2:59
Move Your Body (Edit) Eiffel 65 2:08
Up & Down (Don't Fall In Love With Me) [Edit] Billy More 2:22
Uccelli d'Italia (Original Title of Music: "Michelle") Squallor 1:07
Eccezziunale…Veramente (Edit) Diego Abatantuono 4:32
Vedi anche: Happy Edition compilation Vol. 3.