Lazerray è il nuovo singolo dei Tv On The Radio estratto da Seeds, il quinto album in studio della rock band americana pubblicato il 18 novembre 2014.
Anche se in Italia è forse stato un pò snobbato, il nuovo album dei Tv On The Radio ha ricevuto ottimi feedback dalla critica di settore. Il disco è stato prodotto e registrato da David Sitek nei suoi Federal Prism studio, ed è formato dai seguenti 12 nuovi brani Quartz, Careful You, Could You, Happy Idiot, Test Pilot, Love Stained, Ride, Right Now, Winter, Lazerray, Trouble e la title track Seeds. A queste tracce vanno aggiunte Nobody Else e   Mystery Eyes, brani bonus inclusi nella sola versione in vinile.
Dopo il bel primo estratto Happy Idiot, arriva il secondo video ufficiale della nuova era discografica del gruppo di New York formata da Tunde Adebimpe, Kyp Malone, David Andrew Sitek e Jaleel Bunton.
L'inedito Lazerray è accompagnato dal video ufficiale disponibile nel canale Youtube del gruppo dallo scorso 19 dicembre. Il bel filmato in bianco e nero è  stato diretto dal fotografo Atiba Jefferson, e mostra spettacolari acrobatia di skateboarding.
Per vederlo cliccate sull'immagine sotto, mentre di seguito potete leggere le parole in inglese.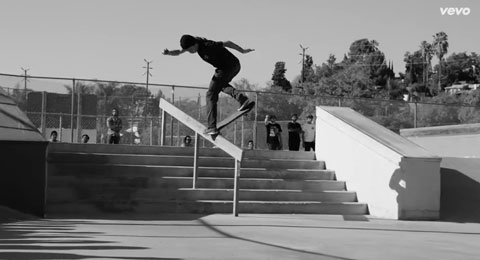 Testo Lazerray – Tv On The Radio (Digital Download)
Four thousand years ago, I came back to my senses
Jumped on a laser ray and blew into a new dimension
This vertical line, I watch it go by
Chop down your master plan in nanoseconds, man
I hope you understand that nothing living lasts forever
This vertical line, I watch it go by
[Chorus:]
I can feel it
Overheating
So bad, it makes me want to cry
I can feel it
Overheating
A burning heart unstuck in time
Now I'm a solar flare, now I'm that light that rages
Now I'm that laser ray that blows a hole right through the ages
This vertical line, I watch it go by
Ain't got no second-hand, just got my good intentions
Just got my laser ray exploding into new dimensions
This vertical line, I watch it go by
[Chorus]
AHLAHA!
From the side, gets hot
That she could fuse us into one
If only we could take the light
Well, I got mine, yes, I got mine
Four thousand years ago, I came back to my senses
Swallowed a laser ray and blew my mind in all directions
This vertical line, I watch it go by
Chop down your master plan in nanoseconds, man
I hope you understand that nothing living lasts forever
This vertical line, I watch it go by
[Chorus]
AHLAHA!
Seen the stars last night
We're only vehicles for life
So should your mind begin to shine
Say "hey, alright!", say "I got mine!" [x4]