In The Lonely Hour (Drowning Shadows Edition) è la riedizione del fortunato album di Sam Smith, pubblicato il 27 maggio 2014, uscita venerdì 6 novembre 2015 per per Capitol Records/Universal Music.
Nell'opera, sono incluse le quattordici tracce che componevano la versione standard e deluxe di In The Lonely Hour, più 9 canzoni, tra inediti, nuove versioni di brani già conosciuti, tracce bonus (la maggior parte di esse incluse nelle edizioni giapponesi dell'ultima fatica discografica) e cover.
Nello specifico, gli inediti sono il primo singolo estratto Drowning Shadows e How Will I Know. La cover è invece Love Is a Losing Game della compianta collega britannica Amy Winehouse. E' inclusa anche la hit dei Disclosure feat. Smith "Omen", Stay with Me feat. Mary J Blige, l'altro pezzo di successo Lay Me Down, questa volta in duetto con John Legend e la versione di I'm Not the Only One feat. A$AP Rocky.
Appena dopo la copertina frontale, potete leggere i titoli di tutte le 23 canzoni incluse nei due CD che compongono questa nuova uscita discografica.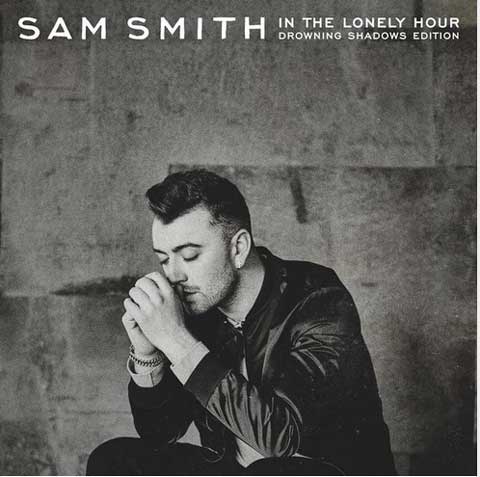 Tracklist In The Lonely Hour (Drowning Shadows Edition) – Sam Smith album (Disponibile su Amazon nelle versioni Audio CD [Doppio CD], Vinile [2LP] e Digitale)
Sono incluse le quattordici canzoni contenute in In The Lonely Hour [versione standard e deluxe] più nove pezzi racchiusi nel secondo disco:
Disco 1 In The Lonely Hour (standard + deluxe)

Money on My Mind
Good Thing
I've Told You Now
Life Support
Not in That Way
Latch (Acustica – Live from Madison Square Garden)
Make It to Me
Disco 2 (Drowning Shadows Edition)

Drowning Shadows (

Primo Singolo – Brano Inedito

)
Love Is a Losing Game
Nirvana
How Will I Know? (

Brano Inedito

)
Omen (Acustica)
Latch feat. Disclosure (Live from Madison Square Garden, New York)
I'm Not the Only One feat. A$AP Rocky