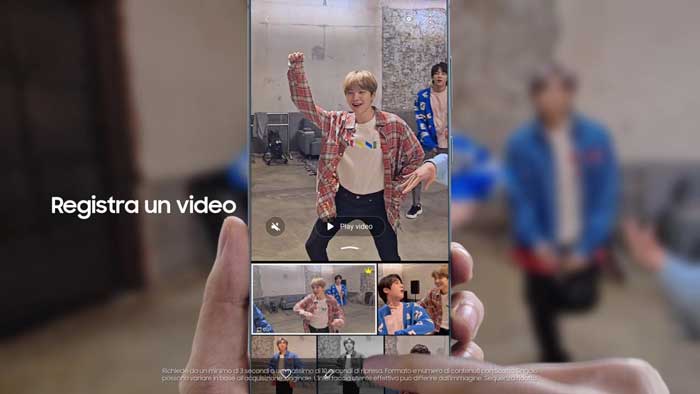 In questo 2020, Samsung ha lanciato ben tre spot per il nuovo smartphone Galaxy s20, uno dei quali con il celebre gruppo sudcoreano BTS, che utilizza un loro brano. Questo vellulare è disponibile anche su Amazon.
Vai direttamente al titolo della canzone
In una seconda pubblicità, trasmessa in precedenza, un rifacimento di una canzone datata 1957. Infine viene trasmessa una terza campagna. Appena dopo i video delle tre campagne, il titolo, anche della canzone dei Bangtan Boys.
Il brano relativo al primo video si intitola Itty bitty pretty one (il testo e l'audio completo), originariamente registrato da Bobby Day, anche se la sua versione non è sicuramente la più popolare. Lo stesso anno la canzone fu resa popolare da Thurston Harris. Prodotto da Aladdin Records e caratterizzato da The Sharps alla voce di supporto, la versione di Harris ha raggiunto il n. 6 nella classifica dei Best-Seller di Billboard negli Stati Uniti e il secondo nella classifica R&B. Le cover: Frankie Lymon (1960). Clyde McPhatter (1962). Jackson 5 (1972). Aaron Carter ha interpretato "Little Bitty Pretty One" per il film Disney del 2001 "The Princess Diaries" (Pretty Princess in Italia). La cover che sentiamo nello spot è di Frankie Lymon and the Teenagers.
Il titolo della canzone che sentiamo nello spot con i BTS è invece Best of me (il testo e l'audio completo), terza traccia inserita nel quinto EP "Love Yourself: Her", uscito il 18 settembre 2017. Scritta con la collaborazione dei Chainsmokers e prodotta da Pdogg & Andrew Taggart, Best of Me è anche disponibile nella versione giapponese, rilasciata il 4 aprile 2018.
Infine il brano che fa da colonna sonora al terzo video è Colors dei Black Pumas, duo Funk e Soul statunitense composto da Eric Burton e Adrian Quesada. Il singolo è stato rilasciato il 16 aprile 2019, anticipando l'album d'esordio omonimo, uscito il successivo 21 giugno.
---
Audio: Spotify – Deezer – Youtube
Mm-mm-mm-hm-mm-mm
Mm-mm-mm-hm-mm-mm
Mm-mm-mm-hm-mm-mm
Mm-mm-mm-hm-mm-mm
Mm-mm-mm-hm-mm-mm
Mm-mm-mm-hm-mm-mm
Mm-mm-mm-hm-mm-mm
Mm-mm-mm-hm-mm-mm
Whoaoh-ah-ah-ah-ah-ah
Whoaoh-ah-ah-ah-ah-ah
Whoa-ah-ah-ah-ah-ah
Whoa-ah-ah-yaah!
Itty bitty pretty one
Come on and stay with me
Really witty witty one
Come on and sit down on my knee
I told you a story – yeah!
Happened a long time ago
Itty bitty pretty one
I really love you so
Mm-mm-mm-hm-mm-mm
Mm-mm-mm-hm-mm-mm
Mm-mm-mm-hm-mm-mm
Mm-mm-mm-hm-mm-mm
Mm-mm-mm-hm-mm-mm
Mm-mm-mm-hm-mm-mm
Mm-mm-mm-hm-mm-mm
Mm-mm-mm-hm-mm-mm
Whoaoh-ah-ah-ah-ah-ah
Whoaoh-ah-ah-ah-ah-ah
Whoa-ah-ah-ah-ah-ah
Whoa-ah-yaah! WAWAH! GRUNT
Whoaoh-ah-ah-ah-ah-ah
Whoaoh-ah-ah-ah-ah-ah
Whoaoh-ah-ah-ah-ah-ah
Whoaoh-ah-ah-ah-ah-ah
Whoaoh-ah-ah-ah-ah-ah
Whoaoh-ah-ah-ah-ah-ah
Whoaoh-ah-ah-ah-ah-ah
Whoaoh-ah-ah-ah-ah-ah
Mm-mm-mm-hm-mm-mm
Mm-mm-mm-hm-mm-mm
Mm-mm-mm-hm-mm-mm
Mm-mm-mm-hm-mm-mm
Mm-mm-mm-hm-mm-mm
Mm-mm-mm-hm-mm-mm
Mm-mm-mm-hm-mm-mm
Mm-mm-WHOA BADABL
Whoaoh-ah-ah-ah-ah-ah
Whoaoh-ah-ah-ah-ah-ah
Whoaoh-ah-ah-ah-ah-ah
Whoa! whoa! hoa! hoa!
Hoh! GRUNT SNORT
---
Audio: Spotify – Deezer – Youtube
[Intro: Jimin, Jungkook]
When you say that you love me
Nan haneul wireul geotne
Yeongwoneul malhaejwo
Just one more time
When you say that you love me
Nan geu han madimyeon dwae
Byeonhaji anhneundago
Just one more time
[Chorus: Jin, V]
Neon naege i segyeui jeonbu gata
Deo sege apeuge nal kkwak kkyeoana
Uriga nanun something
And you can't make it nothing
Ijji anhajwosseumyeon hae
Neon nae
[Hook: Jungkook, J-Hope]
Haruharu
Yeoreum gaeoul
Neon mollado
You got the best of me
You got the best of me
So please just don't leave me
You got the best of me
[Verse 1: Rap Monster]
Nado naui kkeuteul bon jeok eopsjiman
Geuge issdamyeon neoji anheulkka
Dajeonghan padogo sipeossjiman
Niga badain geon wae mollasseulkka
Eotteokhae neoui eoneoro mareul hago
Tto neoui sumeul swineunde
I'll be you nal jwigo issneun neo
Nan neoui kare ipmajchwo
Geureoni
[Verse 2: Suga]
Take my hand right now
Ireon naega mitgiji anha
Sogeuroman sucheon beoneun deo malhaesseossdeon geu mal
Geudaeneun nal tteonaji ma
You got the best of me
You got the best of me
Kkuminji hyeonsirinjineun ttakhi jungyochi anhji
Geujeo niga nae gyeote issdaneun ge
Thanks
[Chorus: V/Jin, Jin]
Haruharu
Yeoreum gyeoul
Neon mollado
[Hook 1: Jimin, Jungkook]
You got the best of me
You got the best of me
So please just don't leave me
You got the best of me
[Hook 2: Jimin, Jungkook]
Neon naui guwon neon naui chang
Nan neoman isseumyeon dwae
You got the best of me
Niga piryohae
So please just don't leave me
You got the best of me
[Bridge 1: Jimin, Jungkook]
Biga naerideon na
Nuni naerideon na
Modeun bulhaengeul meomchugo
Cheongugeul deryeowa
Swipge malhaji ma
Neo eopsneun nan eopseo
Neon nae best of me
The best of me
[Bridge 2: J-Hope]
Geunyang nae daehan hwaksineul jwo
Geuge naega baran jeonbuinikka
Uriui gyuyureun eopsda haedo
Saranghaneun beobeun jonjaehanikka
Who got the best of me
Who got the best of me
Nugudo molla
But I know me
Nae choegoui juinin geol neon
[Hook 1: All]
You got the best of me
You got the best of me
So please just don't leave me
You got the best of me
[Hook 2: Jungkook, All]
Neon naui guwon neon naui chang
Nan neoman isseumyeon dwae
You got the best of me
Niga piryohae
So please just don't leave me
You got the best of me
[Outro: Jimin, Jungkook]
When you say that you love me
Nan haneul wireul geotne
Yeongwoneul malhaejwo
Just one more time
When you say that you love me
Nan geu han madimyeon dwae
Byeonhaji anhneundago
Just one more time