Nothing Has Changed – The Very Best Of Bowie è il nuovo greatest hits del cantautore londinese David Bowie, in uscita il 17 novembre 2014.
La compilation è disponibile nella versione standard formata da 2 CD contenenti rispettivamente 21 e 18 tracce, download digitale (standard e deluxe), doppio vinile con 20 pezzi complessivi e l'edizione deluxe in triplo CD, ognuno dei quali propone 18, 20 e 21 canzoni. Ecco il contenuto della deluxe edition.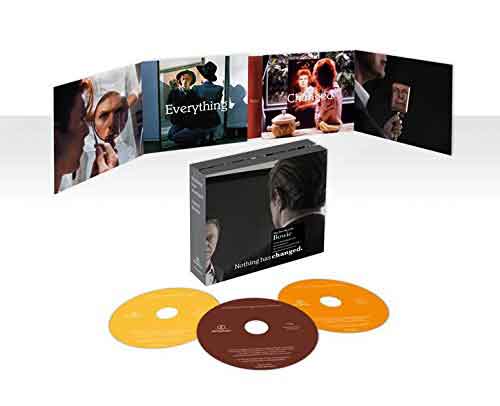 Nella raccolta, che per la prima volta riunisce i suoi migliori brani, dal 1964 ad oggi, è presente anche un singolo inedito ovvero Sue (or In A Season Of Crime), un brano inciso in quel di New York con la Maria Schneider Orchestra, una delle migliori big band della scena contemporanea, un evidente omaggio al grande amore che David Bowie ha sempre avuto nei confronti del jazz. Tra le perle proposte in Nothing Has Changed c'è anche Let Me Sleep Beside You, pubblicata per la prima volta in The World Of David Bowie nel 1970.
Ogni versione dell'opera propone una differente copertina. Ecco le parole del creatore degli artworks Jonathan Barnbrook: "Ogni formato ha un'immagine diversa. Il tema comune è Bowie che guarda lo specchio: qualcosa che fosse sufficientemente forte come "archetipo" da offrire un link visivo immediatamente riconoscibile, ma che fosse anche chiaro nel fare capire che questa è una raccolta di canzoni che copre l'esperienza di vita di una persona, non necessariamente un concetto specifico o un determinato periodo come fanno in genere gli album".
Quella che vedete in basso è la copertina dell'edizione standard dopo la quale potete leggere i titoli di tutte le canzoni contenute in tutte le versioni.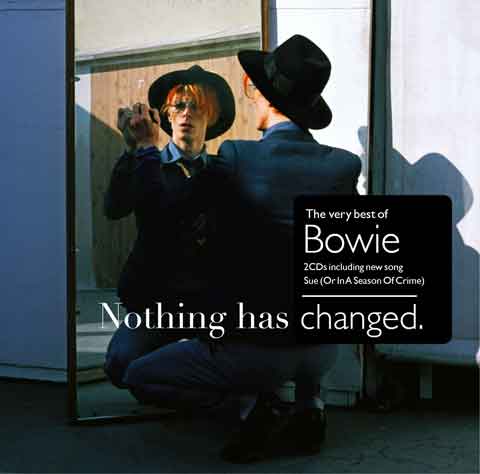 Tracklist Nothing Has Changed – The Very Best Of Bowie (reperibile su Amazon nei formati Doppio CD, Deluxe Triplo CD, Doppio Vinile, Digital Download e Digital Download Deluxe Edition)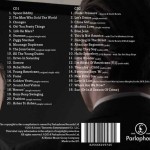 Edizione 2 CD
Disco 1
"Space Oddity" (5:12)
"The Man Who Sold the World" (3:56)
"Changes" (3:33)
"Oh! You Pretty Things" (3:11)
"Life On Mars?" (3:49)
"Starman" (original single mix) (4:10)
"Ziggy Stardust" (3:12)
"Moonage Daydream" (4:40)
"The Jean Genie" (original single mix) (4:05)
"All the Young Dudes" (Previously unreleased stereo mix) (3:08)
"Drive-In Saturday" (4:29)
"Sorrow" (2:53)
"Rebel Rebel" (4:28)
"Young Americans" (original single edit) (3:13)
"Fame" (4:14)
"Golden Years" (single version) (3:27)
"Sound and Vision" (3:03)
"'Heroes'" (single version) (3:35)
"Boys Keep Swinging" (3:17)
"Fashion" (single version) (3:25)
"Ashes to Ashes" (single version) (3:35)
Disco 2
"Under Pressure" (with Queen) (3:56)
"Let's Dance" (single version) (4:08)
"China Girl" (single version) (4:15)
"Modern Love" (single version) (3:56)
"Blue Jean" (3:11)
"This Is Not America" (with The Pat Metheny Group) (3:51)
"Dancing in the Street" (with Mick Jagger) (3:20)
"Absolute Beginners" (edit) (4:46)
"Jump They Say" (radio edit) (3:53)
"Hallo Spaceboy" (Pet Shop Boys remix) (with the Pet Shop Boys) (4:23)
"Little Wonder" (edit) (3:40)
"I'm Afraid of Americans" (V1 – clean edit) (4:30)
"Thursday's Child" (radio edit) (4:25)
"Everyone Says 'Hi'" (3:29)
"New Killer Star" (radio edit) (3:42)
"Love Is Lost" (Hello Steve Reich Mix by James Murphy for the DFA Edit) (4:07)
"Where Are We Now?" (4:09)
"Sue (Or in a Season of Crime)" (7:40)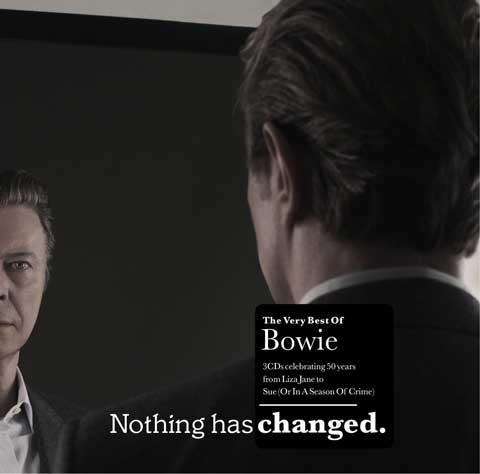 Edizione 3 CD – Deluxe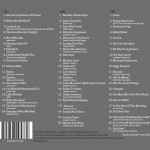 CD 1
"Sue (Or in a Season of Crime)" (7:40)
"Where Are We Now?" (4:09)
"Love Is Lost" (Hello Steve Reich Mix by James Murphy for the DFA Edit) (4:07)
"The Stars (Are Out Tonight)" (3:57)
"New Killer Star" (radio edit) (3:42)
"Everyone Says 'Hi'" (edit) (3:29)
"Slow Burn" (radio edit) (3:55)
"Let Me Sleep Beside You" (3:14)
"Your Turn to Drive" (4:44)
"Shadow Man" (4:48)
"Seven" (Marius De Vries mix) (4:12)
"Survive" (Marius De Vries mix) (4:18)
"Thursday's Child" (radio edit) (4:25)
"I'm Afraid of Americans" (V1) (clean edit) (4:30)
"Little Wonder" (edit) (3:40)
"Hallo Spaceboy" (PSB Remix) (with the Pet Shop Boys) (4:23)
"The Hearts Filthy Lesson" (radio edit) (3:32)
"Strangers When We Meet" (single version) (4:21)
CD 2
"The Buddha of Suburbia" (4:24)
"Jump They Say" (radio edit) (3:53)
"Time Will Crawl" (MM remix) (4:18)
"Absolute Beginners" (single version) (5:35)
"Dancing in the Street" (with Mick Jagger) (3:20)
"Loving the Alien" (single remix) (4:45)
"This Is Not America (with The Pat Metheny Group) (3:51)
"Blue Jean" (3:11)
"Modern Love" (single version) (3:56)
"China Girl" (single version) (4:15)
"Let's Dance" (single version) (4:08)
"Fashion" (single version) (3:25)
"Scary Monsters (and Super Creeps)" (single version) (3:32)
"Ashes to Ashes" (single version) (3:35)
"Under Pressure" (with Queen) (3:56)
"Boys Keep Swinging" (3:17)
"'Heroes'" (single version) (3:35)
"Sound and Vision" (3:03)
"Golden Years" (single version) (3:27)
"Wild Is the Wind" (2010 Harry Maslin Mix) (5:58)
CD 3
"Fame" (4:14)
"Young Americans" (2007 Tony Visconti mix single edit) (3:13)
"Diamond Dogs" (5:56)
"Rebel Rebel" (4:28)
"Sorrow" (2:53)
"Drive-In Saturday" (4:29)
"All the Young Dudes" (Previously unreleased stereo mix) (3:08)
"The Jean Genie" (original single mix) (4:05)
"Moonage Daydream" (4:40)
"Ziggy Stardust" (3:12)
"Starman" (original single mix) (4:10)
"Life On Mars?" (2003 Ken Scott Mix) (3:49)
"Oh! You Pretty Things" (3:11)
"Changes" (3:33)
"The Man Who Sold the World" (3:56)
"Space Oddity" (5:12)
"In the Heat of the Morning" (3:00)
"Silly Boy Blue" (3:54)
"Can't Help Thinking About Me" (2:46)
"You've Got a Habit of Leaving" (2:32)
"Liza Jane" (2:18)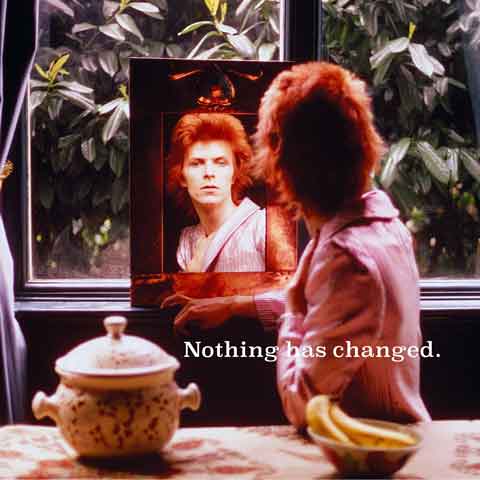 Edizione Doppio Vinile
Side One
"Let's Dance" (single version) (4:08)
"Ashes to Ashes" (single version) (3:35)
"'Heroes'" (single version) (3:35)
"Changes" (3:33)
"Life On Mars?" (3:49)
Side Two
"Space Oddity" (5:12)
"Starman" (original single mix) (4:10)
"Ziggy Stardust" (3:12)
"The Jean Genie" (original single mix) (4:05)
"Rebel Rebel" (4:28)
Side Three
"Golden Years" (single version) (3:27)
"Fame" (4:14)
"Sound and Vision" (3:03)
"Under Pressure" (3:56) (Queen & David Bowie)
"Sue (Or in a Season of Crime)" (7:40)
Side Four
"Hallo Spaceboy" (Pet Shop Boys remix) – with The Pet Shop Boys (4:23)
"China Girl" (single version) (4:15)
"Modern Love" (single version) (3:56)
"Absolute Beginners" (single version) (5:35)
"Where Are We Now?" (4:09)