Chasing Time è il titolo del terzo singolo di Azealia Banks estratto dal debut album Broke With Expansive Taste uscito lo scorso 10 novembre.
Dopo varie vicissitudini con la label Interscope, la rapper newyorkese ha finalmente pubblicato l'atteso disco d'esordio, che propone un totale di 16 canzoni.
Dopo Yung Rapunxel e Heavy Metal and Reflective arriva il terzo tassello della prima era discografica, da poche ore accompagnato dal video ufficiale.
Chasing Time è un pezzo co-scritto dalla Banks insieme a Myron Birdsong, Jonathan Harris, Warren 'Oak' Felder, Ronnie Colson, Steve Mostyn, Kelly Sheehan e Andrew 'Pop' Wansel, e prodotto da quest'ultimo.
Il filmato dell'inedito è in bianco e nero, e mostra varie coerografie ed effetti speciali, mentre l'interprete canta la sua ricerca della persona giusta, che la faccia stare bene e non le porti negatività.
La Banks ha affermato che questo brano è stato studiato appositamente per le radio, anche se al momento è passato quasi inosservato, tuttavia la clip potrebbe dargli la spinta giusta… Indubbiamente rispetto ai precedenti sperimentali singoli, questo pezzo risulta decisamente più orecchiabile e radio friendly.
Per vedere il videoclip cliccate sull'immagine (potete vederlo anche da quì in apertura) dopo la quale potete leggere le parole che compongono questa nuova canzone.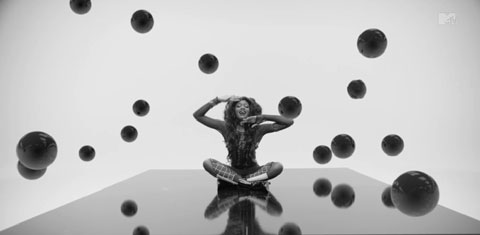 Testo Chasing Time – Azealia Banks (Digital Download)
(You could do ya dance
Take a chance with ya lover like this, begin)
GO!
You could do your dance
Take a chance with your lover like this, begin!
Say, "I want somebody who could take it apart
Stitch me back together make me anyone I wanna be
But I would rather do this in the dark
Dealing with the Devil you ain't never ever gonna be mine
'Cause I'm born to dance in the moonlight
I feel like spending my nights alone
I try to give you a little more space to grow
White lies, I don't wanna be around anymore
I'm through giving, I've got to go"
Am I Chasing Time?
'Cause I wasted all mine on you (You)
Am I Chasing Time?
'Cause I wasted all mine on you (You)
Check my watch, I left my future in my pocket
Though I lost it when I gave it to you
Tonight I'm stressed, I had the time right in my locket
Thought I lost it when I gave it to you
Damn, nigga, damn
Took a chance on you, double d-dipped again
And, scram, nigga, scram
Hit your mans up and tell 'em to get the van
And reminisce again
Bring it back to the cabin in Michigan
But man, mister, plan
'Cause I'm born to dance in the moonlight
I feel like spending my nights alone
I try to give you a little more space to grow
White lies, I don't wanna be around anymore
I'm through giving, I've got to go
Am I Chasing Time
Cause I wasted all mine on you (You)
Am I Chasing Time
Cause I wasted all mine on you (You)
Check my watch, I left the future in my pocket
Thought I lost it when I gave it to you
Tonight I'm stressed I had my time right in my locket
Thought I lost it when I gave it to you
Go get lost on the highway, freeway
We've been off-course like the broadway relay
Don't need me a boss, you're a constant delay
These the kinda thoughts I've been having for three days
Feel like you're more of a homie
Please, you don't even know me
You think I'm starting new relations
I'm just apart and need my space and
Time to myself, ventilation
No time for you, I lack the patience
And you're like, "Girl, how you do that?"
My attitude is bitchy but you already knew that
And since we can't get along
I think we should both move on
(GO!)
'Cause I'm born to dance in the moonlight
I feel like spending my nights alone
I try to give you a little more space to grow
White lies, I don't wanna be around anymore
I'm through giving, I've got to go
Am I Chasing Time?
Wasted all mine on you (You)
Chasing Time
Wasted all mine on you (You)
Check my watch, I left my future in my pocket
Though I lost it when I gave it to you
Tonight I'm stressed, I had the time right in my locket
Thought I lost it when I gave it to you