All The Ways è una canzone molto carina di Meghan Trainor estratta dal terzo album in studio Treat Myself, che vedrà la luce il 31 agosto 2018.
Dopo  "No Excuses", "Let You Be Right" e "Can't Dance", la cantautrice statunitense ha rilasciato questo orecchibile brano pop, il quarto nella scaletta del progetto, nel quale chiede al proprio partner di spiegargli in tutti i modi possibili quanto la ama.
E' a parer mio niente male questo quarto assaggio della quarta era discografica, ma giudicate voi ascoltandolo. Potete farlo direttamente nel canale Youtube della cantante cliccando sull'immagine, mentre a seguire trovate i testi.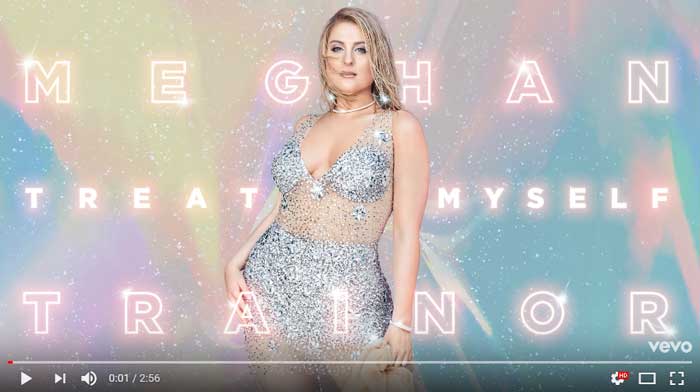 Meghan Trainor – All The Ways testo e traduzione (Download)
[Verse 1]
I need more details
More texts, calls, and emails
Been more specific
Yes, I'm here to listen
I know I'm needy
But tell me you need me
No don't be afraid, babe
C'mon, explain
[Strofa 1]
Mi servono più dettagli
Altri messaggi, telefonate ed e-mail
Essere più specifici
Sì, sono qui per ascoltare
So di aver carenza d'affetto
Ma dimmi che hai bisogno di me
No non aver paura, tesoro
Dai, spiega
[Hook]
If you love me-love me-love me
Like you say
Darling, tell me all the ways
Tell me all the ways
[Gancio]
Se mi ami, mi ami, mi ami
Come hai detto
Tesoro, dimmelo in tutti i modi
Dimmelo in tutti i modi
[Chorus]
And he said
All the ways
All the ways
All the ways
Tell me all the ways
And he said
All the ways
All the ways
(You love me)
All the ways
Tell me all the ways
And he said
[Ritornello]
E ha detto
Tutti i modi
Tutti i modi
Tutti i modi
Dimmelo in tutti i modi
E ha detto
Tutti i modi
Tutti i modi
(Tu mi ami)
Tutti i modi
Dimmelo in tutti i modi
E ha detto
[Verse 2]
Take me out dancing
Don't forget romance
And it's been awhile since
I been your princess
Tell me your heart's blue when
When I'm not with you
Don't be afraid, babe
C'mon, explain
[Strofa 2]
Portami fuori a ballare
Non dimenticare il romanticismo
Ed è da un po' che non
Sono la tua principessa
Dimmi che il tuo cuore è triste quando
Quando non sono con te
No non aver paura, tesoro
Dai, spiega
[Hook]
If you love me-love me-love me
Like you say
Darling, tell me all the ways
Tell me all the ways
[Gancio]
Se mi ami, mi ami, mi ami
Come hai detto
Tesoro, dimmelo in tutti i modi
Dimmelo in tutti i modi
[Chorus]
And he said
All the ways
All the ways
All the ways
Tell me all the ways
And he said
All the ways
All the ways
(You love me)
All the ways
Tell me all the ways
[Ritornello]
E ha detto
Tutti i modi
Tutti i modi
Tutti i modi
Dimmelo in tutti i modi
E ha detto
Tutti i modi
Tutti i modi
(Tu mi ami)
Tutti i modi
Dimmelo in tutti i modi
[Refrain]
The way you
You love me
The way you
You love me
[Refrain]
Il modo in cui tu
Mi ami
Il modo in cui tu
Mi ami
[Bridge]
And he said
Girl, you take care of me
You are my therapy
The better half of me
Say it again-say it again
Girl, you take care of me
You are my therapy
The better half of me
Say it again-say it again
[Ponte]
E ha detto
Ragazza, prenditi cura di me
Sei la mia terapia
La metà migliore di me
Dillo ancora, dillo di nuovo
Ragazza, ti prendi cura di me
Sei la mia terapia
La metà migliore di me
Dillo ancora, dillo di nuovo
[Hook]
If you love me-love me-love me
Like you say
Darling, tell me all the ways
Tell me all the ways
[Gancio]
Se mi ami, mi ami, mi ami
Come hai detto
Tesoro, dimmelo in tutti i modi
Dimmelo in tutti i modi
[Chorus]
And he said
All the ways
And he said
All the ways
And he said
All the ways
Tell me all the ways
And he said
All the ways
All the ways
(You love me)
All the ways
Tell me all the ways
And he said
(The way you)
All the ways
All the ways
(You love me)
All the ways
(The way you)
All the ways
All the ways
(You love me)
All the ways
[Ritornello]
E ha detto
Tutti i modi
E ha detto
Tutti i modi
E ha detto
Tutti i modi
Dimmelo in tutti i modi
E ha detto
Tutti i modi
Tutti i modi
(Tu mi ami)
Tutti i modi
Dimmelo in tutti i modi
E ha detto
(Il modo in cui)
Tutti i modi
Tutti i modi
(Tu mi ami)
Tutti i modi
(Il modo in cui tu)
Tutti i modi
Tutti i modi
(Tu mi ami)
Tutti i modi
[Outro]
The way you
You love me
[Conclusione]
Il modo in cui tu
Tu mi ami