Il 19 giugno 2018 i Florence and The Machine hanno rilasciato la nuova canzone Big God, come terzo singolo estratto dal quarto album in studio High as Hope, in uscita il 29 giugno 2018.
Dopo "Sky Full of Song" e "Hunger", la indie rock band inglese capitanata da Florence Welch ha reso disponibile questo bel pezzo, la quarta traccia in scaletta nell'atteso progetto, scritta con la collaborazione di Jamie Smith, con produzione di Emile Haynie,  Brett Shawe la stessa Welch.
La canzone parla di un vuoto nell'anima, ma principalmente di qualcuno che non risponde ai messaggi della cantante, che a causa della persona che ama e che non la ricambia, non riesce nemmeno a dormire, così si rivolge a Dio…
Il video ufficiale è stato diretto da Autumn de Wilde, mentre le coreografie sono di Akram Khan e Florence Welch. PEr vederlo cliccate sull'immagine, mentre a seguire potete leggere i testi.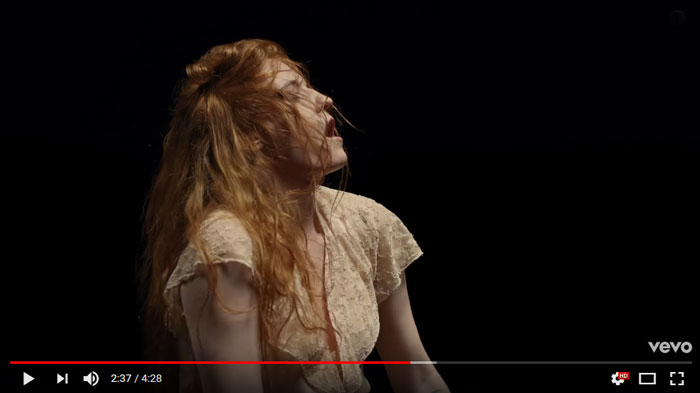 Florence + The Machine – Big God testo e traduzione (Download)
[Chorus]
You need a big god
Big enough to hold your love
You need a big god
Big enough to fill you up
[Ritornello]
Ti serve un grande dio
Grande abbastanza da contenere il tuo amore
Hai bisogno di un grande dio
Abbastanza grande da riempirti
[Verse 1]
You keep me up at night
To my messages, you do not reply
You know I still like you the most
The best of the best and the worst of the worst
Well, you can never know
The places that I go
I still like you the most
You'll always be my favorite ghost
[Strofa 1]
Mi tieni sveglio la notte
Ai miei messaggi, non rispondi
Sai che mi piaci ancora di più
Il migliori tra i migliori e il peggiore tra i peggiori
Beh, non puoi mai sapere
I posti nei quali andrò
Mi piaci ancora di più
Sarai sempre il mio fantasma preferito
[Chorus]
You need a big god
Big enough to hold your love
You need a big god
Big enough to fill you up
[Ritornello]
Ti serve un grande dio
Grande abbastanza da contenere il tuo amore
Hai bisogno di un grande dio
Abbastanza grande da riempirti
[Verse 2]
Sometimes I think it's gettin' better
And then it gets much worse
Is it just part of the process?
Well, Jesus Christ, it hurts
Though I know I should know better
Well, I can make this work
Is it just part of the process?
Well, Jesus Christ, Jesus Christ, it hurts
Jesus Christ, Jesus Christ, it hurts
[Strofa 2]
A volte penso che stia andando meglio
E poi la situazione peggiora
Fa parte del gioco?
Beh, Gesù Cristo, mi fa male
Anche se so che dovrei saperlo bene
Beh, ce la posso fare
Fa parte del gioco?
Beh, Gesù Cristo, Gesù Cristo, fa male
Gesù Cristo, Gesù Cristo, mi fa male
[Chorus]
You need a big god
Big enough to hold your love
You need a big god
Big enough to fill you up
[Ritornello]
Ti serve un grande dio
Grande abbastanza da contenere il tuo amore
Hai bisogno di un grande dio
Abbastanza grande da riempirti
[Instrumental bridge with harmonization]
[Outro]
Shower your affection, let it rain on me
And pull down the mountain, drag your cities to the sea
Shower your affection, let it rain on me
Don't leave me on this white cliff
Let it slide down to the, slide down to the sea
Slide down to the, slide down to the sea
[Conclusione]
Bagnami col tuo affetto, lascia che piova su di me
E demolisci la montagna, trascina le tue città verso il mare
Bagnami col tuo affetto, lascia che piova su di me
Non lasciarmi su questa scogliera bianca
Lascia che scivoli verso il, scivoli verso il mare
Che scivoli verso il, scivoli verso il mare