Parliamo della colonna sonora del film The Amazing Spider-Man 2 – Il potere di Electro, pellicola diretta da Marc Webb con protagonista principale Andrew Garfield (nel ruolo di Peter Parker), Emma Stone, Jamie Foxx, Dane DeHaan, Campbell Scott, Embeth Davidtz, Colm Feore, Paul Giamatti, Sally Field, Felicity Jones, Stan Lee, Martin Sheen, Marton Csokas, Chris Zylka, Chris Cooper, Denis Leary, Sarah Gadon, Kari Coleman, Alanna Blair, Raymond Mamrak, Pharrell Williams, B.J. Novak.
Si tratta del sequel del film del 2012 The Amazing Spider-Man, riavvio della saga cinematografica slegato dalla precedente trilogia diretta da Sam Raimi.
Al cinema dal
Il film sarà distribuito negli Stati Uniti a partire dal 2 maggio, mentre in Italia sarà trasmesso nelle sale cinematografiche dal 23 aprile 2014.
Trama
Peter Parker (Andrew Garfield) passa la sua vita eliminando i cattivi nelle vesti di Spider-Man e trascorrendo del tempo con la persona che ama, Gwen (Emma Stone). Quando emerge un nuovo cattivo, Electro (Jamie Foxx), e quando ritorna un vecchio amico, Harry Osborn (Dane DeHaan), Peter scopre nuovi indizi sul suo passato. Egli viene a conoscenza che tutti i suoi nemici hanno una cosa in comune: OsCorp.
Trailer
Colonna sonora
Le musiche originali della colonna sonora del film, sono quasi tutte opera del musicista e compositore tedesco Hans Zimmer & The Magnificent Six, Pharrell Williams e Johnny Marr. La soundtrack include anche brani del gruppo alternative rock statunitense dei The Neighbourhood, Alicia Keys ft. Kendrick Lamar ed un bel brano interpretato dalla nostra Francesca Michielin ovvero Amazon.
Il CD relativo alla colonna sonora, sarà disponibile in Italia a partire dal 15 aprile, nella versione "un disco" formato da 20 canzoni, e doppio CD con un totale di 32 pezzi. Dopo l'immagine della copertina, passiamo ai titoli delle tracce presenti nell'album.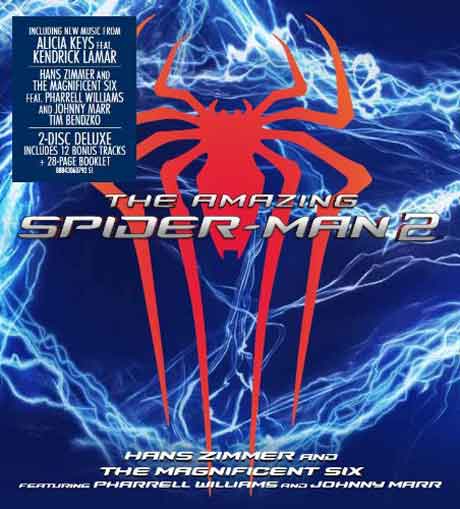 Tracklist colonna sonora The Amazing Spider-Man 2 (Disponibile su Amazon nei formati Audio CD import – Audio CD Deluxe import, Digital Download, Digital Download Deluxe)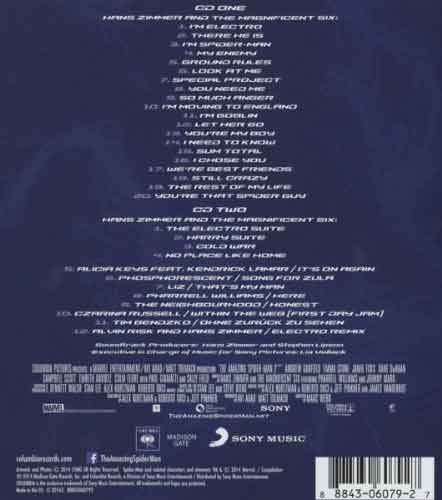 I'm Electro (

Hans Zimmer and The Magnificent Six; Pharrell Williams; Johnny Marr

)
There He Is (

Hans Zimmer and The Magnificent Six; Pharrell Williams; Johnny Marr

)
I'm Spider-Man (

Hans Zimmer and The Magnificent Six; Pharrell Williams; Johnny Marr

)
My Enemy (

Hans Zimmer and The Magnificent Six; Pharrell Williams; Johnny Marr

)
Ground Rules (

Hans Zimmer and The Magnificent Six; Pharrell Williams; Johnny Marr

)
Look at Me (

Hans Zimmer and The Magnificent Six; Pharrell Williams; Johnny Marr

)
Special Project (

Hans Zimmer and The Magnificent Six; Pharrell Williams; Johnny Marr

)
You Need Me (

Hans Zimmer and The Magnificent Six; Pharrell Williams; Johnny Marr

)
So Much Anger (

Hans Zimmer and The Magnificent Six; Pharrell Williams; Johnny Marr

)
I'm Moving to England (

Hans Zimmer and The Magnificent Six; Pharrell Williams; Johnny Marr

)
I'm Goblin (

Hans Zimmer and The Magnificent Six; Pharrell Williams; Johnny Marr

)
Let Her Go (

Hans Zimmer and The Magnificent Six; Pharrell Williams; Johnny Marr

)
You're My Boy (

Hans Zimmer and The Magnificent Six; Pharrell Williams; Johnny Marr

)
I Need to Know (

Hans Zimmer and The Magnificent Six; Pharrell Williams; Johnny Marr

)
Sum Total (

Hans Zimmer and The Magnificent Six; Pharrell Williams; Johnny Marr

)
I Chose You (

Hans Zimmer and The Magnificent Six; Pharrell Williams; Johnny Marr

)
We're Best Friends (

Hans Zimmer and The Magnificent Six; Pharrell Williams; Johnny Marr

)
Still Crazy (

Hans Zimmer and The Magnificent Six; Pharrell Williams; Johnny Marr

)
The Rest of My Life (

Hans Zimmer and The Magnificent Six; Pharrell Williams; Johnny Marr

)
You're That Spider Guy (

Hans Zimmer and The Magnificent Six; Pharrell Williams; Johnny Marr

)
Disco 2 (Deluxe)
The Electro Suite (

Hans Zimmer and The Magnificent Six; Pharrell Williams; Johnny Marr

)
Harry's Suite (

Hans Zimmer and The Magnificent Six; Pharrell Williams; Johnny Marr

)
Cold War (

Hans Zimmer and The Magnificent Six; Pharrell Williams; Johnny Marr

)
No Place Like Home (

Hans Zimmer and The Magnificent Six; Pharrell Williams; Johnny Marr

)
It's On Again (Principale Soundtrack)

Alicia Keys feat. Kendrick Lamar

Song for Zula (

Phosphorescent

)
That's My Man (

Liz

)
Here (

Pharrell Williams

)
Honest (

The Neighbourhood

)
Within the Web (First Day Jam)

Czarina Russell; Hans Zimmer & The Magnificent Six

Amazing (

Francesca Michielin

)
Electro Remix (

Alvin Risk & Hans Zimmer

)