Dopo Deejay Time Reunion vol. 1, vol. 2 e vol. 3, è arrivata negli scaffali dei negozi Deejay Time The Best Of, la nuova compilation di Albertino, Fargetta, Molella e Prezioso.
Deejay Time The Best Of è una compilation unica, che propone il meglio della Reunion (avvenuta alla vigilia di Natale del 2014) di questi quattro amati artisti, che con i loro lavori hanno fatto ballare milioni di persone (me incluso).
La reunion fu seguita da una tournée, che portò in giro per l'Italia la musica della storica trasmissione radiofonica, che negli anni '90 riempiva piazze e palazzetti di tutta la penisola, cosa assai rilevante se si pensa che all'epoca, non esisteva ancora la figura del dj superstar.
Ma tornando all'album, all'interno della compilation sono presenti un totale di 48 indimenticabili canzoni, dodici per ogni artista, racchiuse in un doppio CD.
Ma la vera grande novità è l'attesissimo docufilm "And The Heads Keep On Movin'", che può essere visualizzato in streaming inserendo il codice presente nella confezione. Il film documentario racconta la Reunion attraverso le testimonianze uniche ed esclusive di chi ha vissuto in prima persona la nascita del mito.
Il documentario è infatti impreziosito da esclusive interviste ad artisti come Linus, Alexia, Jovanotti, Max Pezzali, J-Ax, Saturnino, Benny Benassi, Rocco Tanica, Nicola Savino, Giacomo Miaolini e molti altri.
Purtroppo, almeno per il momento, l'unico modo per vedere "And The Heads Keep On Movin" è in streaming, in quanto non è stato rilasciato alcun DVD, cosa che molti fans e collezionisti sicuramente si auspicavano ed avrebbero gradito.
Appena dopo la copertina frontale, trovate i titoli delle 48 canzoni incluse nel doppio album.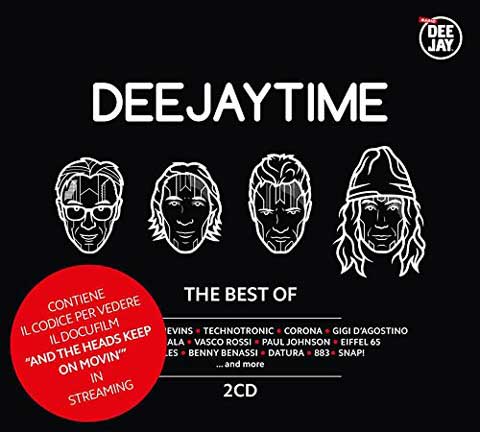 Tracklist Deejay Time The Best Of (Audio CD – Download)
CD 1 – Albertino
1 Rhythm Is A Dancer (7″ Edit) Snap! 3:45
2 Pump Up The Jam (feat. Felly) [Radio Edit] Technotronic 3:33
3 I Like To Move It (feat. The Mad Stuntman) [Radio Mix] Reel 2 Real 3:41
4 Show Me Love – Robin S 4:12
5 King of My Castle (Roy Malone Kings Mix Edit) Wamdue Project 3:33
6 Free (Mood II Swing Radio Edit) – Ultra Naté 3:51
7 The Bomb (Radio Edit) The Bucketheads 3:22
8 Get Get Down (Radio Edit) Paul Johnson 3:13
9 Hey Boy Hey Girl (Radio Edit) The Chemical Brothers 4:48
10 It's Like That '97 – RUN-DMC vs. Jason Nevins 4:09
11 Everybody's Free (To Feel Good) Rozalla 3:33
12 The Rhythm Of The Night – Corona 4:20
CD 1 – Fargetta
13 Feel It (feat. Maya) The Tamperer 2:57
14 Everybody Music (Get Far Extended Mix) Fargetta & FPI Project 4:48
15 The Riddle – Gigi D'Agostino 4:40
16 Professional Widow (Armand Van Helden's Star Trunk Mix) [Radio Edit] [Clean] Tori Amos 3:46
17 Make the World Go Round (Deep Dish Radio Edit) Sandy B 3:40
18 Shining Star (Gianluca Motta Club Version) Get-Far 6:59
19 What's Up (4 Blondes Mix) DJ Miko 5:15
20 Baby Baby – Corona 3:46
21 The Summer Is Magic (Radio Mix) Playahitty 3:55
22 Alla consolle (Mucha Cossa Radio) Mimmo Amerelli 3:06
23 Sweet Dreams (Radio Version) La Bouche 3:24
24 Dragostea Din Tei (Romanian Version) O-Zone 3:33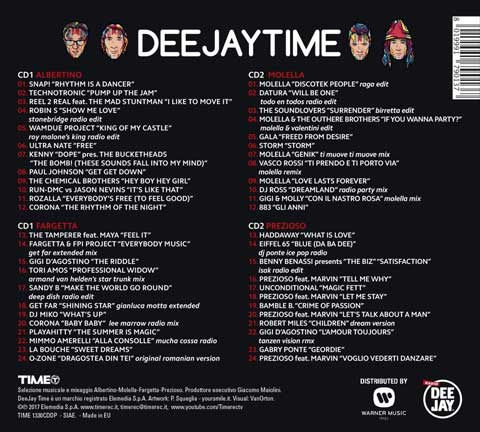 CD 2 – Molella
1 Discotek People – Molella 3:37
2 Will Be One (Todo En Todos Radio Edit) Datura 3:45
3 Surrender – The Soundlovers 2:59
4 If You Wanna Party? (Molella & Valentini Edit) Molella & The Outhere Brothers 2:33
5 Freed from Desire (Radio Edit) Gala 3:34
6 Storm (Radio Mix) – Storm 3:44
7 Genik (Ti muove ti muove Radio Mix) Molella 3:18
8 Ti prendo e ti porto via (Molella Edit) Vasco Rossi 3:35
9 Love Lasts Forever – Molella 3:37
10 Dreamland – Dj Ross 3:59
11 Con il nastro rosa (Molella Mix) Gigi & Molly 6:03
12 Gli anni – 883 4:51
CD 2 – Prezioso
1 What Is Love – Haddaway 4:28
2 Blue (Da Ba Dee) [DJ Ponte Ice Pop Radio Mix] Eiffel 65 3:43
3 Satisfaction (Radio Edit) Benny Benassi Presents The Biz 3:11
4 Tell Me Why (feat. Marvin) [Radio Edit Mix] Prezioso 4:30
5 Magic Fett (Radio Version) Unconditional 3:37
6 Let Me Stay (feat. Marvin) [Radio Mix] Prezioso 3:53
7 Crime of Passion – Bamble B 3:55
8 Let's Talk About a Man (Radio Edit) Prezioso 3:43
9 Children (Dream Version) Robert Miles 7:06
10 L'amour toujours (Tanzen Vision RMX) Gigi D'Agostino 6:59
11 Geordie (Radio Edit) Gabry Ponte 3:34
12 Voglio vederti danzare (feat. Marvin) Prezioso 3:45