Dal 5 novembre 2015 viene trasmesso nei cinema italiani Snoopy & Friends – Il film dei Peanuts (titolo originale The Peanuts Movie), pellicola prodotta dai Blue Sky Studios e distribuita da 20th Century Fox. Nel nuovo capitolo, Charlie Brown cerca in tutti i modi di conquistare la ragazzina dai capelli rossi con l'aiuto dei suoi amici mentre Snoopy è alle prese con l'immaginaria battaglia contro il suo acerrimo nemico: il Barone Rosso.
La colonna sonora del nuovo film basato sull'omonima striscia a fumetti creata da Charles M. Schulz, è opera del veterano compositore canadese specializzato in soundtrack cinematografiche e televisive Christophe Beck, che ha composto quindici delle 21 tracce racchiuse nell'album, contenente le musiche della pellicola d'animazione. Gli altri cinque pezzi sono il singolo portante di Meghan Trainor, Better When I'm Dancin', che interpreta anche una seconda traccia battezzata Good To Be Alive. Vi sono poi le canzoni "Skating" ed il brano del 1996 "Linus and Lucy", entrambe del Vince Guaraldi Trio (vale a dire Vincent Anthony "Vince" Guaraldi al secolo Vincent Anthony Dellaglio con il batterista Jerry Granelli e il bassista Fred Marshall) e That's What I Like di Flo Rida feat. Fitz.
Per la cronaca Vince Guaraldi (17/07/1928 – 6/02/1976) è stato un compositore, pianista e musicista statunitense famoso per aver composto le musiche dell'adattamento animato dei fumetti dei Peanuts. L'artista scomparve a soli 47 anni a causa di un infarto.
Appena dopo la copertina relativa al CD contenente la colonna sonora, potete leggere i titoli di tutte le tracce che la compongono.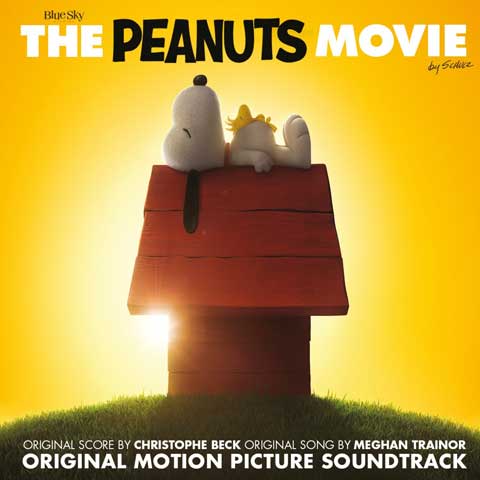 Snoopy & Friends – Il film dei Peanuts – Colonna Sonora tracklist (Disponibile su Amazon nelle versioni Audio CD e Digitale)
Linus and Lucy – Vince Guaraldi Trio
Good To Be Alive – Meghan Trainor
That's What I Like – Flo Rida feat. Fitz
Skating – Vince Guaraldi Trio
Christmas Time Is Here – Vince Guaraldi Trio
Snow Day – Christophe Beck
Fifi's Theme – Christophe Beck
Charlie Brown in Love – Christophe Beck
Wingwalking – Christophe Beck
The Library – Christophe BecK
The Assembly – Christophe Beck
Curse You Red Baron – Christophe Beck
Winter Becomes Spring – Christophe Beck
Never Give Up – Christophe Beck
Carnival Panic / Linus and Lucy – Christophe Beck
Pen Pal Partners – Christophe Beck
Good Ol' Charlie Brown – Christophe Beck
Skating – Christophe Beck
Christmas Time Is Here / Christmas Is Coming – Christophe Beck
Linus and Lucy – Christophe Beck