Bitter Sweet – Ingredienti d'amore (titolo originale Dolunay) è una serie televisiva turca del 2017 che vede protagonisti Özge Gürel e Can Yaman. La fiction non ha ancora una data d'uscita, ma si vocifera possa essere trasmessa tra fine maggio e giugno 2019, prendendo il posto di Uomini e Donne. Niente di ufficiale comunque.
Vai direttamente al titolo della canzone
Nel video promozionale, vengono utilizzate due canzoni, ma quali sono i titoli? Per vedere o rivedere il promo cliccate sull'immagine.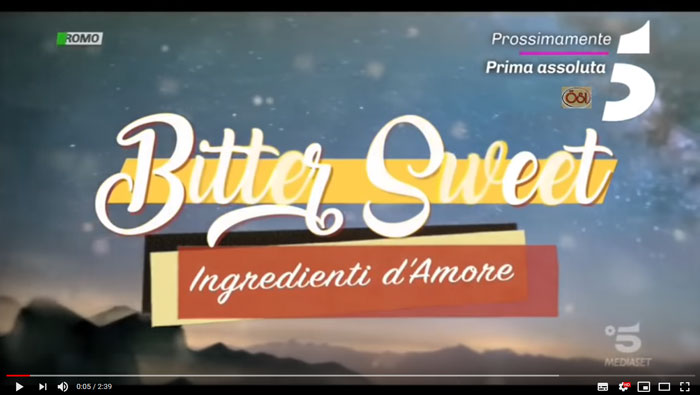 1a: nonostante mi sembra di conoscerla, di averla già sentita, la canzone che sentiamo fino al minuto 1:17 non sono purtroppo riuscito ad individuarla, ma vi aggiornerò nel caso in cui vi fossero novità. Edit: che sbadato… è la hit di Katy Perry "Teenage Dream", secondo singolo estratto dall'album omonimo, il secondo della popstar, pubblicato il 24 agosto 2010. Prodotto da Dr. Luke, Benny Blanco e Max Martin e scritto dall'interprete con la collaborazione di Lukasz Gottwald, Max Martin, Benny Blanco e Bonnie McKee, questo pezzo è andato fortissimo in buona parte del mondo. Il video.
2a: il brano che sentiamo dal minuto 1:17 in avanti è invece A Million Dreams (2017), un bel pezzo facente parte della colonna sonora del film musicale The Greatest Showman, nella quale è presente in due versioni: una incisa dal cast (Ziv Zaifman, Hugh Jackman, Michelle Williams) e la versione Reprise (molto corta) cantata da Austyn Johnson, Cameron Seely e Hugh Jackman. Il testo.
Una terza versione di A Million Dreams è stata interpretata da Pink ed è disponibile The Greatest Showman: Reimagined pubblicata il 16 novembre 2018, mentre la versione deluxe è stata rilasciata il successivo 8 dicembre. The Greatest Showman: Reimagined è stato un album di remix con cover di artisti come come James Arthur e Anne-Marie, Sara Bareilles, Kelly Clarkson, Kesha, Pink, Panic! At the Disco, Years & Years e Jess Glynne.
---
Download su: iTunes – Versione di Pink | Amazon – Versione di Pink
Audio: Spotify – Pink version | Deezer – Pink version | Youtube – Pink version
[Verse 1: Young P.T./Ellis Rubin]
I close my eyes and I can see
A world that's waiting up for me
That I call my own
Through the dark, through the door
Through where no one's been before
But it feels like home
[Pre-Chorus: Young P.T./Ellis Rubin]
They can say, they can say it all sounds crazy
They can say, they can say I've lost my mind
I don't care, I don't care, so call me crazy
We can live in a world that we design
[Chorus: Young P.T./Ellis Rubin]
'Cause every night I lie in bed
The brightest colors fill my head
A million dreams are keeping me awake
I think of what the world could be
A vision of the one I see
A million dreams is all it's gonna take
A million dreams for the world we're gonna make
[Verse 2: Young P.T./Ellis Rubin]
There's a house we can build
Every room inside is filled
With things from far away
Special things I compile
Each one there to make you smile
On a rainy day
[Pre-Chorus: Young P.T./Ellis Rubin]
They can say, they can say it all sounds crazy
They can say, they can say we've lost our minds
I don't care, I don't care if they call us crazy
Runaway to a world that we design
[Chorus: P.T. Barnum/Hugh Jackman]
Every night I lie in bed
The brightest colors fill my head
A million dreams are keeping me awake
I think of what the world could be
A vision of the one I see
A million dreams is all it's gonna take
Oh, a million dreams for the world we're gonna make
[Bridge: Charity Barnum & P.T. Barnum]
However big, however small
Let me be part of it all
Share your dreams with me
You may be right, you may be wrong
But say that you'll bring me along
To the world you see
To the world I close my eyes to see
I close my eyes to see
[Chorus: Charity Barnum & P.T. Barnum]
'Cause every night I lie in bed
The brightest colors fill my head
A million dreams are keeping me awake
A million dreams, a million dreams
I think of what the world could be
A vision of the one I see
A million dreams is all it's gonna take
A million dreams for the world we're gonna make
[Outro: Charity Barnum & P.T. Barnum]
For the world we're gonna make