Dal 7 maggio 2015, è disponibile negli store digitali il nuovo singolo di Willow Smith intitolato F Q-C #7.
La figlia del celebre attore Will Smith continua a portare avanti la sua passione: quella per la musica ed il canto. Non intimorita dai recenti flop, la quattordicenne Willow ha rilasciato il video ufficiale di un nuovo brano che si intitola F Q-C #7, un pezzo pop sperimentale in cui la ragazza mette in mostra il suo notevole timbro vocale.
Nel filmato la vediamo con un look poco femminile, tra scenari urbani e naturali, vestita in modi differenti: a detta della giovane cantante, i 4 colori dei vestiti che indossa rappresentano altrettanti personaggi che simboleggiano vari aspetti del suo essere: il nero rappresenta tutti quegli elementi che danno vita al suo personaggio, il rosso l'istinto di sopravvivenza, il blu le sue capacità vocali mentre il giallo la fiducia in se stessa.
Per vedere questo filmato cliccate sull'immagine in basso, mentre di seguito trovate le parole in inglese che compongono il brano.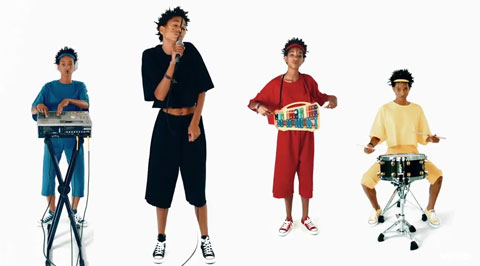 Testo  F Q-C #7 – Willow Smith (Digital Download)
How you feelin'?
How you feelin'?
I've been goin' all week doin' my class now
I'm just gettin' so weak
I'm just climbin' on trees and skippin' my class now
Don't place your blame on me
One and a two and a three, three, four
People knockin' at, knockin' at my door now
I don't want it to get bad
But let me tell you right now
I've been goin' all week doin' my class, tell you right now
Tell you right now
How you feelin'?
How you feelin'?
After I give you that amethyst crystal under your pillow now
How you feelin'?
I saw you walkin' down the hall
I knew it was you but my mouth didn't call
I thought that I wasn't the one that you wanted
Until I went onto your inspir and done it
I just done it
Let me tell you, tell you right now
I'll tell you right now
I've been climbin' in trees and jumpin' in creeks, tell you right now
Well tell you right now