Si parla della colonna sonora del film musicale Walking on Sunshine diretto da Max Giwa e Dania Pasquini, con Annabel Scholey, Hannah Arterton, Giulio Berruti, Greg Wise, Katy Brand, Leona Lewis, Danny Kirrane, Adrian Palmer, Joelle Koissi, Shane Salter, Val Monk, Susan Fordham, Kumud Pant, Anabel Kutay, Richard Banks, Terry Noble, Tony Crookes e Sarah Sharman.
Al cinema dal
La pellicola viene trasmessa nelle sale cinematografiche italiane da giovedì 4 settembre 2014.
Trama
Dopo un brevissimo fidanzamento, Maddie (Annabel Scholey), appena uscita da una storia importante con Doug (Greg Wise), si sta per sposare con Raf (Giulio Berruti) e ha invitato sua sorella Taylor (Hannah Arterton) al matrimonio in Puglia. Maddie non sa, però, che due anni prima Raf ha avuto una storia estiva con Taylor e che lei ne è ancora innamorata… E questo è solo uno degli ostacoli sulla strada verso la felicità. Via Filmup.
Trailer
Colonna sonora
Le musiche originali del film, sono opera di Anne Dudley, compositrice britannica di colonne sonore cinematografiche e di musical. I suoi cinque pezzi, sono tuttavia inclusi solo nella iTunes version uscita il 13 giugno. Il CD relativo alla colonna sonora è stato pubblicato in data 16 giugno e propone quattordici tracce, tutte cover di brani degli anni '80 di artisti vari come Leona Lewis. La canzone usata per il trailer è Walking on Sunshine della band inglese Katrina and the Waves, pubblicato per la prima volta nel 1983 e successivamente nel 1985.Dopo la copertina frontale dell'album, potete leggere i titoli di tutte le canzoni proposte nell'opera, incluse le tracce disponibili in esclusiva su iTunes.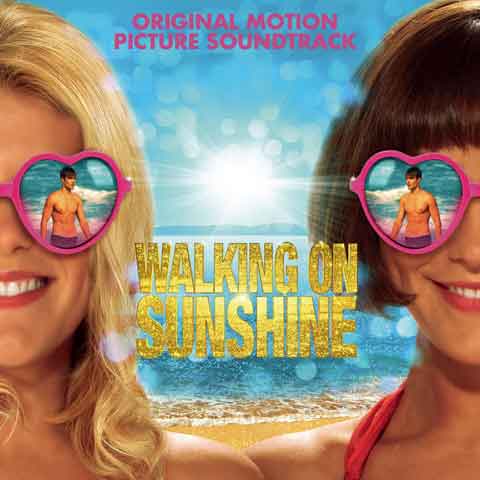 Tracklist Walking on Sunshine soundtrack (disponibile su Amazon nei formati Audio CD e Digital Download)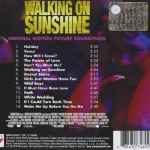 1 Holiday – Hannah Arterton 3:34
2 Venus – Katy Brand, Annabel Scholey & Hannah Arterton 3:19
3 How Will I Know? – Hannah Arterton, Danny Kirrane, Giulio Corso & Leona Lewis 3:49
4 The Power of Love – Hannah Arterton, Annabel Scholey, Katy Brand, Danny Kirrane, Giulio Corso, Giulio Berruti & Leona Lewis 3:22
5 Don't You Want Me? – Greg Wise & Annabel Scholey 3:52
6 Walking on Sunshine – Leona Lewis, Hannah Arterton, Katy Brand, Danny Kirrane, Giulio Corso & Giulio Berruti 3:41
7 Eternal Flame – Hannah Arterton 3:13
8 Girls Just Want to Have Fun – Leona Lewis, Hannah Arterton & Katy Brand 2:51
9 Wild Boys – Danny Kirrane, Giulio Corso & Giulio Berruti 3:54
10 It Must Have Been Love – Hannah Arterton & Giulio Berruti 4:45
11 Faith – Greg Wise & Annabel Scholey 2:38
12 White Wedding – Katy Brand, Danny Kirrane, Annabel Scholey, Giulio Corso, Greg Wise, Hannah Arterton & Giulio Berruti 2:34
13 If I Could Turn Back Time – Hannah Arterton & Giulio Berruti 3:50
14 Wake Me Up Before You Go-Go – Leona Lewis, Danny Kirrane, Katy Brand, Hannah Arterton, Annabel Scholey, Giulio Corso, Giulio Berruti & Greg Wise 3:41
Su iTunes trovate le seguenti cinque tracce in più di Anne Dudley:
That's What Weddings Are All About – Anne Dudley 2:05
Your Kryptonite – Anne Dudley 1:43
In the Waves Anne Dudley – 0:49
Into the Church – Anne Dudley 0:50
It's Him – Anne Dudley 2:16