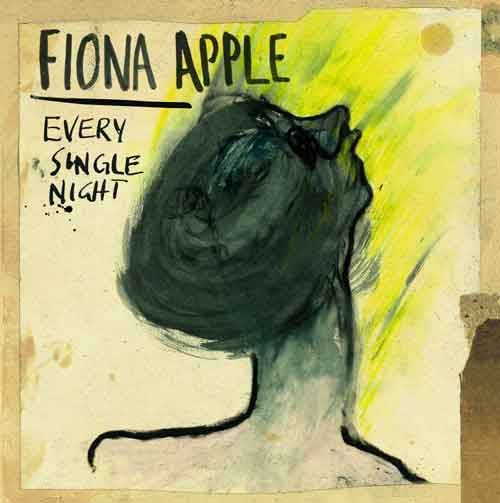 Every single night, è il nuovo singolo di Fiona Apple, cantautrice statunitense.
La data di rilascio del brano, è fissata al 10 giugno 2012, giorno nel quale sarà disponibile in download digitale.
Si tratta del primo estratto dal nuovo prodotto discografico intitolato "The Idler Wheel is wiser than the Driver of the Screw, and Whipping Cords will serve you more than Ropes will ever do", che vedrà la luce nel nostro paese il prossimo 19 giugno.
Audio Every single night – Fiona Apple – Video ufficiale
---
Testo
Every single night
I endure the flight
Of little wings of white-flamed
Butterflies in my brain
These ideas of mine
Percolate the mind
Trickle down the spine
Swarm the belly, swelling to a blaze
That's when the pain comes in
Like a second skeleton
Trying to fit beneath the skin
I can't fit the feelins in
Every single night's alright with my brain
What'd I say to her
What'd I say it to her
What does she think of me
That i'm not what I ought to be
That i'm what I try not to be
It's got to be somebody elese's fault
I can't get caught
If what I am is what I am, cause I does what I does
Then brother, get back, cause my breast's gonna bust open
The rib is the shell and the heart is the yolk yoke and
I just made a meal for us both to choke on
Every single night's a fight with my brain
I just want to feel everything
So i'm gonna try to be still now
Gonna renounce the mill a little while and
If we had a double-king-sized bed
We could move in it and i'd soon forget
That what I am is what I am cause I does what I does
And maybe i'd relax, let my breast shot bust open
My heart's made of parts of all that surround me
And that's why the devil just can't get around me
Every single night's alright, every single night's a fight
And every single fight's alright with my brain
I just want to feel everything
I just want to feel everything
I just want to feel everything
I just want to feel everything
---
Traduzione
Ogni singola notta
Sopporto il volo
Delle ali bianche fiammeggianti
Delle farfalle nel mio cervello
Le mie idee
Filtrano nella mente
Scendono lungo la schiena
Si arrampicano sulla pancia, aumentano il bruciore
Ecco quando arrivo il dolore
Come un secondo scheletro
Cerca di infilarsi sotto la pelle
Non sopporto queste sensazioni
Ogni singola notte con il mio cervello

Cosa le ho detto
Cosa le ho detto
Cosa ha pensato di me
Che non avrebbe dovuto pensare
Sono ciò che cerco di non essere
E' l'errore di qualcun altro
Sono ciò che sono, faccio ciò che faccio
Allora fratello, vai indietro, il mio petto si apre
La costola è il guscio e il cuore è il tuorlo
E ho preparato un pasto per noi, per soffocarci
Ogni notte è una lotta con il mio cervello

Voglio provare ogni cosa

Provo a rimanere ferma ora
Rinuncerò a ogni cosa
Se abbiamo un letto matrimoniale
Possiamo andarci e dimenticherò ogni cosa
Sono ciò che sono, faccio ciò che faccio
Forse mi rialsso, apro il mio petto
Il mio cuore è fatto di ciò che mi circonda
Ecco perché il diavolo non sa avvicinarmi
Ogni notte va bene, ogni notte è un volo
Ogni notte va bene con il mio cervello

Voglio provare ogni cosa (x 4)
Credit traduzione – Musickr