Parliamo della colonna sonora del film d'animazione The Lego Movie, pellicola diretta da Phil Lord e Chris Miller, registi in passato di lungometraggi d'animazione come Piovono Polpette e 21 Jump Street.
Al cinema dal
The Lego Movie sarà trasmesso nelle sale cinematografiche italiane a partire dal 20 gennaio 2014.
Trama
Una normale LEGO di nome Emmet, è il "Prescelto" che può salvare l'universo. Emmet viene portato alla corte dei Maestri Costruttori, ed intraprenderà un viaggio con lo scopo di sconfiggere l'infido tiranno Lord Business, che è intenzionato a distruggere l'universo incollando insieme tutti i mattoncini. Emmet sarà aiutato da Batman, dall'astronauta Benny, dal vecchio mistico di nome Virtuvirus, da una ragazza dal carattere difficile di nome Wildstyle, e da una gattina adorabile di nome Unikitty…
Trailer
La colonna sonora di Mark Mothersbaugh
La soundtrack del film, è stata affidata al pittore, musicista e cantante americano Mark Mothersbaugh, che negli anni '70 co-fondò la band new wave dei Devo. L'artista è la terza volta che collabora con i 2 registi, componendo le musiche dei citati film Piovono Polpette e 21 Jump Street. Nella tracklist del disco, è presente anche il singolo cantato da Tegan & Sara con i The Lonely Island intitolato "Everything Is Awesome", pezzo scritto da Shawn Patterson, Joshua Bartholomew e Lisa Harriton.
Distribuzione del disco
L'album contenente le musiche della colonna sonora, viene distribuito in Italia dal 4 febbraio 2014.
Dopo l'immagine relativa alla copertina di quest'opera, passiamo alla lista delle 28 tracce che la compongono, e subito dopo all'audio.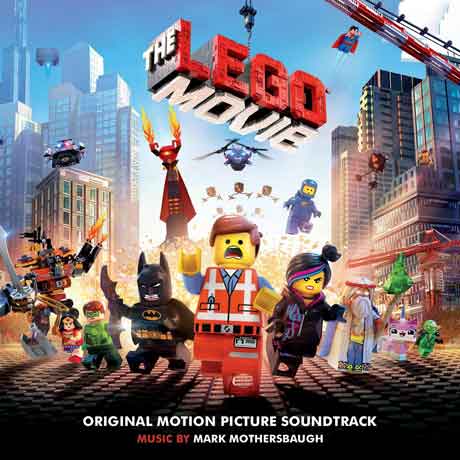 Tracklist colonna sonora film The Lego Movie (Disponibile su Amazon nella versione CD import e Digitale)
Everything Is Awesome!!! (

Feat. The Lonely Island

) – Tegan and Sara
Prologue – Mark Mothersbaugh
Emmet's Morning – Mark Mothersbaugh
Emmet Falls in Love – Mark Mothersbaugh
Escape – Mark Mothersbaugh
Into the Old West – Mark Mothersbaugh
Wildstyle Explains – Mark Mothersbaugh
Emmet's Mind – Mark Mothersbaugh
The Transformation – Mark Mothersbaugh
Saloons and Wagons – Mark Mothersbaugh
Batman – Mark Mothersbaugh
Middle Zealand – Mark Mothersbaugh
Cloud Cuckooland and Ben the Spaceman – Mark Mothersbaugh
Emmet's Speech – Mark Mothersbaugh
Submarines and Metal Beard – Mark Mothersbaugh
Requiem for Cuckooland – Mark Mothersbaugh
Reaching the Kragle – Mark Mothersbaugh
Emmet's Plan – Mark Mothersbaugh
The Truth – Mark Mothersbaugh
Wildstyle Leads – Mark Mothersbaugh
Let's Put It All Back – Mark Mothersbaugh
I Am a Master Builder – Mark Mothersbaugh
My Secret Weapon – Mark Mothersbaugh
We Did It! – Mark Mothersbaugh
Everything Is Awesome!!! – Jo Li
Everything Is Awesome!!! (

Unplugged

) – Sammy Allen, Shawn Patterson
Untitled Self Portrait – Will Arnett
Everything Is Awesome!!! (

Instrumental Sing-A-Long

) – Mark Mothersbaugh
Audio tracce colonna sonora – Playlist