The Christmas Album 2016 è un disco digitale, contenente trenta canzoni sul Natale, 30 classici brani natalizi, che è sempre un piacere riascoltare e che vi accompagneranno in questo particolare periodo dell'anno.
La scaletta propone pezzi senza tempo, interpretati dai più disparati artisti come Leona Lewis, Mariah Carey, Wham!, Shakin' Stevens, Christina Aguilera, Karmin, Meghan Trainor, John Legend, Elvis Presley, Dido, Kelly Clarkson, Chris Brown, Céline Dionn, Tony Bennett, Aretha Franklin, Le Little Mix ed i Pentatonix, che recentemente hanno inciso la classica Hallelujah.
Appena dopo la cover, trovate i titoli delle 30 track a tema natalizio incluse nella compilation, disponibile negli store digitali dallo scorso 11 novembre.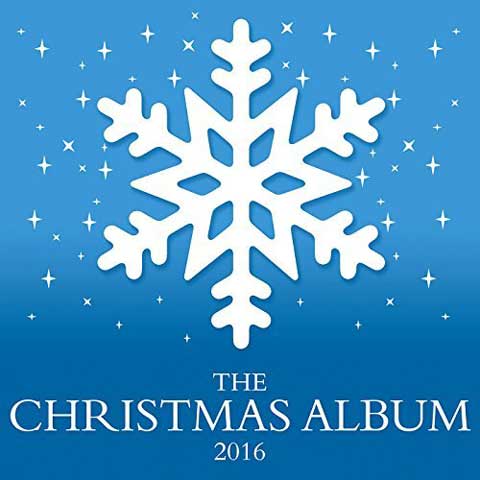 Tracklist The Christmas Album 2016 (Download su Amazon – Su iTunes)
All I Want for Christmas Is You – Mariah Carey 4:01
Merry Christmas Everyone – Shakin' Stevens 3:40
Have Yourself a Merry Little Christmas – Christina Aguilera 4:03
Jingle Bell Rock Daryl – Hall & John Oates 2:02
Santa Claus Is Coming to Town – The Crystals 3:24
Sleigh Ride – Karmin 3:04
I'll Be Home – Meghan Trainor 3:39
My Only Wish (This Year) – Britney Spears 4:14
Santa Baby – Eartha Kitt 3:26
Let It Snow! Let It Snow! Let It Snow! (with The B. Swanson Quartet) Frank Sinatra 2:35
Blue Christmas – Elvis Presley 2:06
It's Beginning to Look a Lot Like Christmas (with Mitchell Ayres and His Orchestra) Perry Como & The Fontane Sisters 2:35
It's the Most Wonderful Time of the Year – Andy Williams 2:45
Mary's Boy Child / Oh My Lord – Boney M. 4:02
This Christmas – Chris Brown 3:17
Merry Christmas, Happy Holidays – *NSYNC 4:10
Love Me Like You – Little Mix (Christmas Mix) 3:29
Underneath the Tree – Kelly Clarkson 3:49
Christmas Day – Dido 4:02
Don't Save It All for Christmas Day – Céline Dion 4:35
Joy to the World – Aretha Franklin 3:02
White Christmas – Michael Bolton 3:41
O Christmas Tree – Tony Bennett 3:27
O Holy Night – Il Divo 3:59
Deck the Halls / Silent Night – Whitney Houston 4:29
Winter Wonderland – John Legend 1:52
12 Nights of Christmas – R. Kelly 3:43
Vedi anche: The Christmas Album 2015.