In data 12 novembre 2013, è uscita la nuova raccolta dei Beatles che si intitola On Air – Live at the BBC Volume 2.
La nuova raccolta della British Broadcasting Corporation dedicata a questa leggendaria band, propone ben 63 canzoni (tutte masterizzate da Guy Massey e Alex Wharton presso studi di Abbey Road) racchiuse in un doppio CD, o in alternativa 3 LP in vinile in edizione limitata, con booklet di 48 pagine.
Tra le tracce presenti, vi sono 37 performance mai pubblicate e 23 registrazioni di dialoghi negli studi, tra i componenti del gruppo ed i presentatori della storica radio britannica.
L'opera fa seguito a "Live at the BBC" rilasciata nel lontano 1994, che per quest'occasione sarà ripubblicata in edizione rimasterizzata.
Tra la canzoni presenti, risultano particolarmente interessanti le cover (al loro debutto assoluto sul mercato discografico e mai registrate per la EMI) di "I'm talking about you" di Chuck Berry e "Beautiful dreamer". Particolare interesse lo destano anche le versioni alternative (rispetto a quelle presenti nel primo volume) delle reinterpretazioni di "The hippy hippy shake" di Chan Romero, "Memphis, Tennessee" di Chuck Berry, "Lucille" di Little Richard, "Sure to fall" e "Glad all Over" di Carl Perkins e "I got a woman" di Ray Charles.
Dopo la cover, potete leggere i titoli delle tracce che compongono On Air – Live at the BBC Volume 2.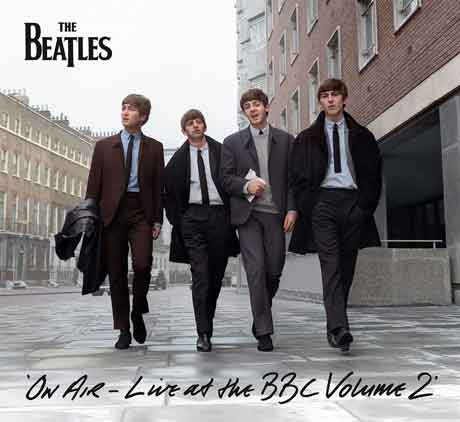 Tracklist On Air – Live at the BBC Volume 2 – Beatles (Disponibile su Amazon nei formati 2 CD e 3 LP in Vinile)
CD 1
1. And Here We Are Again (parlato)
2. WORDS OF LOVE
3. How About It, Gorgeous? (parlato)
4. DO YOU WANT TO KNOW A SECRET
5. LUCILLE
6. Hey, Paul… (parlato)
7. ANNA (GO TO HIM)
8. Hello! (parlato)
9. PLEASE PLEASE ME
10. MISERY
11. I'M TALKING ABOUT YOU
12. A Real Treat (parlato)
13. BOYS
14. Absolutely Fab (parlato)
15. CHAINS
16. ASK ME WHY
17. TILL THERE WAS YOU
18. LEND ME YOUR COMB
19. Lower 5E (parlato)
20. THE HIPPY HIPPY SHAKE
21. ROLL OVER BEETHOVEN
22. THERE'S A PLACE
23. Bumper Bundle (parlato)
24. P.S. I LOVE YOU
25. PLEASE MISTER POSTMAN
26. BEAUTIFUL DREAMER
27. DEVIL IN HER HEART
28. The 49 Weeks (parlato)
29. SURE TO FALL (IN LOVE WITH YOU)
30. Never Mind, Eh? (parlato)
31. TWIST AND SHOUT
32. Bye, Bye (parlato)
33. John – Pop Profile (parlato)
34. George – Pop Profile (parlato)
CD 2
1. I SAW HER STANDING THERE
2. GLAD ALL OVER
3. Lift Lid Again (parlato)
4. I'LL GET YOU
5. SHE LOVES YOU
6. MEMPHIS, TENNESSEE
7. HAPPY BIRTHDAY DEAR SATURDAY CLUB
8. Now Hush, Hush (parlato)
9. FROM ME TO YOU
10. MONEY (THAT'S WHAT I WANT)
11. I WANT TO HOLD YOUR HAND
12. Brian Bathtubes (parlato)
13. THIS BOY
14. If I Wasn't In America (parlato)
15. I GOT A WOMAN
16. LONG TALL SALLY
17. IF I FELL
18. A Hard Job Writing Them (parlato)
19. AND I LOVE HER
20. Oh, Can't We? Yes We Can (parlato)
21. YOU CAN'T DO THAT
22. HONEY DON'T
23. I'LL FOLLOW THE SUN
24. Green With Black Shutters (parlato)
25. KANSAS CITY/HEY-HEY-HEY-HEY!
26. That's What We're Here For (parlato)
27. I FEEL FINE (STUDIO OUTTAKE)
28. Paul – Pop Profile (parlato)
29. Ringo – Pop Profile (parlato)