Suicide Squad è un film scritto e diretto da David Ayer, che nel cast vede Will Smith, Jared Leto, Margot Robbie, Joel Kinnaman, Viola Davis, Jai Courtney, Jay Hernandez, Adewale Akinnuoye-Agbaje, Ike Barinholtz, Scott Eastwood e Cara Delevingne. La pellicola, basata sull'omonimo gruppo di supercattivi dei fumetti DC Comics, è stata distribuita il 5 agosto 2016 negli Stati Uniti e il 13 agosto 2016 in Italia.
Il film ha ben due colonne sonore:
la

Original Motion Picture Score

(disponibile nel classico CD ed in download), contenente 22 musiche originali composte dal britannico Steven Price. La versione digitale di questa soundtrack, racchiude ulteriori otto pezzi bonus.
la seconda è

Suicide Squad – The Album

(disponibile nel CD, in vinile ed in download), un interessantissimo disco che include un totale di quattordici canzoni, tra le quali spicca il singolo portante Heathens dei Twenty One Pilots. Ma questa versione è arricchita da pezzi di importanti artisti come Skrillex & Rick Ross, Eminem, Skylar Grey, Grimes, Panic! At The Disco, Action Bronson, Mark Ronson & Dan Auerbach. Una delle canzoni più interessanti, di cui contiamo di parlare nei prossimi giorni, è Sucker for Pain di Lil Wayne, Wiz Khalifa e gli Imagine Dragons, con Logic, Ty Dolla $ign feat. X Ambassadors.
Tra le due soundtracks, per ovvi motivi è la seconda quella più importante, che dal punto di vista delle vendite, è andata fortissimo in tanti paesi, su tutti USA, Canada, Australia, Nuova Zelanda ed UK.
Appena dopo l'immagine, trovate le tracklist ed i link per l'ascolto gratuito delle due colonne sonore di questa pellicola.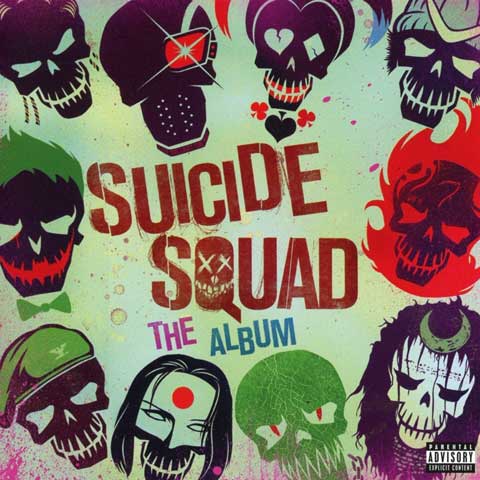 Tracklist colonna sonora Suicide Squad [The Album] (Disponibile su Amazon nel formato Audio CD – Download Digitale)
Skrillex, Rick Ross – Purple Lamborghini – 3:35
Lil Wayne, Wiz Khalifa, Imagine Dragons (con Logic, Ty Dolla $ign feat. X Ambassadors) – Sucker for Pain – 4:03
Twenty One Pilots – Heathens – 3:15
Action Bronson, Mark Ronson e Dan Auerbach – Standing in the Rain – 3:22
Kehlani – Gangsta – 2:57
Kevin Gates – Know Better – 3:28
Eminem – Without Me – 4:52
Skylar Grey – Wreak Havoc – 3:48
Grimes – Medieval Warfare – 3:01
Panic! At The Disco – Bohemian Rhapsody – 6:01
War – Slippin' Into Darkness – 3:47
Creedence Clearwater Revival – Fortunate Son – 2:18
ConfidentialMX feat. Becky Hanson – I Started a Joke – 3:10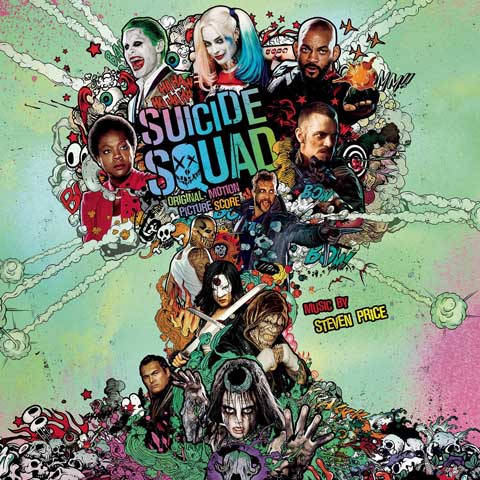 Me Suicide Squad – Original Motion Picture Score – Tracklist (CD Audio – Vinile import – Digital Download)
By Steven Price
1. "Task Force X" 4:53
2. "Arkham Asylum" 3:23
3. "I'm Going to Figure This Out" 1:41
4. "You Make My Teeth Hurt" 2:30
5. "I Want to Assemble a Task Force" 2:52
6. "Brother Our Time Has Come" 4:42
7. "A Serial Killer Who Takes Credit Cards" 2:09
8. "A Killer App" 2:53
9. "That's How I Cut and Run" 3:09
10. "We Got a Job to Do" 1:41
11. "You Die We Die" 4:01
12. "Harley and Joker" 2:49
13. "This Bird Is Baked" 4:42
14. "Hey Craziness" 4:01
15. "You Need a Miracle" 2:36
16. "Diablo's Story" 1:42
17. "The Squad" 3:58
18. "Are We Friends or Are We Foes?" 4:16
19. "She's Behind You" 3:02
20. "One Bullet Is All I Need" 3:32
21. "I Thought I'd Killed You" 3:49
22. "The Worst of the Worst" 4:11
Bonus tracks incluse nell'edizione digitale
23. "June Moone" 2:37
24. "Did That Tickle?" 3:41
25. "You Know the Rules Hotness" 1:58
26. "Enchantress in the War Room" 2:35
27. "Introducing Diablo and Croc" 2:09
28. "Task Force X Activated" 2:11
29. "Can Everyone See This Trippy Stuff" 4:25
30. "I Promised My Friends" 1:29