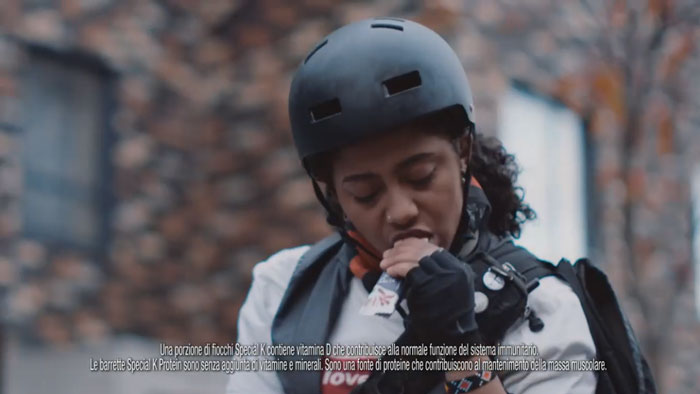 Forse cercavi: Pubblicità Kellogg's 2020?
Da marzo 2019 è in rotazione tv il nuovo spot di Kellogg's Special K "#PoweringYou", che mette in evidenza le proprietà nutritive di questo prodotto, adatto soprattutto a chi pratica sport.
Vai direttamente al titolo della canzone
Ma qual è il titolo della coinvolgente canzone che sentiamo in tutta la pubblicità? Ve lo svelo appena dopo il video.
Write My Story (qui il testo e l'audio), singolo di Olly Anna rilasciato il 30 giugno 2017 ed incluso nell'album Rebel Chick, pubblicato il 22 giugno 2018.
Olly Anna è una bionda rapper, cantante e produttrice indipendente di Nashville. La sua musica è apparsa nelle pubblicità di grandi marchi tra cui LEXUS e Special K e in diversi programmi televisivi tra cui This Is Us, The Fosters, Search Party, Wynonna Earp, Younger e "Degrassi: The Next Generation". Le canzoni di Olly hanno anche attirato l'attenzione per l'uso nei promo nel successo di HBO, INSECURE, nonché per i trailer della serie Netflix INSATIABLE e i film "BLOCKERS" (Giù le mani dalle nostre figlie) & "MIRACLE SEASON" (Una stagione da ricordare).
---
Testo Write My Story – Olly Anna
Audio: Spotify – Deezer – Youtube
Hey!
Hey!
I'm the only one that can write my story
And nobody else's gonna do it for me
Anything at all that I wanna be
I got it all right in front of me
I'm the only one that can write my story, write my story
Imma do it like this, do it like that
Do it like this, then I'll do it like that
Imma do it like this, do it like that
Do it like this, then I'll do it like that
I'm gonna make it good (la la la la la la)
I'm gonna do it right (la la la la la la)
I'm gonna make it good, yeah (la la la la la la)
I'm gonna do it right (la la la la la la)
Hey!
Hey!
I'm the only one that can write my story
And nobody else's gonna do it for me
Anything at all that I wanna be
I got it all right in front of me
I'm the only one that can write my story, write my story
Imma do it like this, do it like that
Do it like this, then I'll do it like that
Imma do it like this, do it like that
Do it like this, then I'll do it like that
I'm gonna make it good (la la la la la la)
I'm gonna do it right (la la la la la la)
I'm gonna make it good, yeah, yeah (la la la la la la)
I'm gonna do it right (la la la la la la)
Hey!
Hey!
I'm the only one that can write my story
Hey! Hey!
And nobody else's gonna do it for me
Hey! Hey!
Anything at all that I wanna be
I got it all right in front of me
Hey! Hey!
I'm the only one that can write my story
Imma do it like this, do it like that
Do it like this, then I'll do it like that
Imma do it like this, do it like that
Do it like this, then I'll do it like that
I'm gonna make it good (la la la la la la)
I'm gonna do it right (la la la la la la)
I'm gonna make it good, yeah, yeah (la la la la la la)
I'm gonna do it right (la la la la la la)
I'm the only one that can write my story
Hey!
I'm the only one that can write my story, write my story