Il 6 luglio 2018 il rapper Pitbull ha rilasciato il nuovo scoppiettante singolo battezzato "Free Free Free", un allegro pezzo che vede la collaborazione dell'emergente Theron Theron, a cui è stato affidato il ritornello e il gancio.
Dopo aver creato la colonna sonora di Gotti, lo statunitense Armando Christian Pérez, aka Pitbull, vi presenta questa festosa canzone, che rispecchia fedelmente il suo modo di far musica.
Il video ufficiale è disponibile nel canale Youtube del rapper dal 3 luglio ed è possibile vederlo cliccando sull'immagine, dopo la quale potete leggere i testi.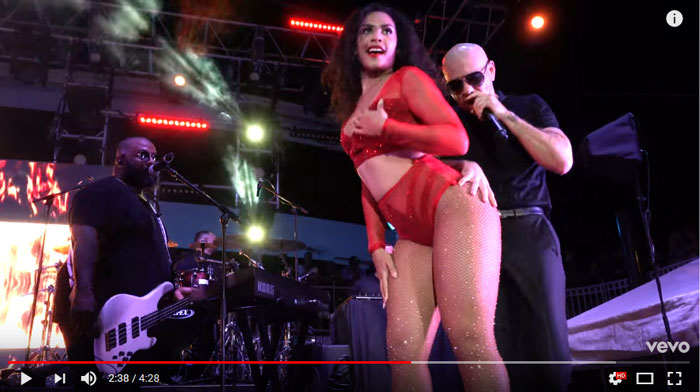 Free Free Free testo e traduzione – Pitbull (Download)
[Intro: Pitbull]
Now we gon' take it from Miami, the pineapple
To New York, the big apple
Now let's escape, dale!
[Introduzione: Pitbull]
Ora riprendiamo da Miami, l'ananas
A New York, la grande mela
Ora scappiamo, forza!
[Chorus: Theron Theron]
Party jumpin', until the morning
Feeling free, free, free
Hands keep waving, we misbehavin'
Feeling free, free, free
Cause ain't nobody ready to go home
We gon' keep it going all night long
Yeah, party raisin', so hard time crazy
Feeling free, free, free
[Ritornello: Theron Theron]
Facciamo festa fino a domattina
Sentirsi liberi, liberi, liberi
Le mani continuano ad agitarsi, ci comportiamo male
Sentendoci liberi, liberi, liberi
Perché nessuno è pronto per tornare a casa
Andremo avanti tutta la notte
Sì, la festa sta crescendo, ci divertiremo da morire
Sentendoci liberi, liberi, liberi
[Verse 1: Pitbull]
Guess who's back fresh off the boat
Smelling like Bahamas for sure
I still got the ship, escape
Still the Godfather
Still el Padrino, you know
After dark, it gets a little loose
A lotta voli 3-0-5, no goose
Straight water, straight lime, no juice
Catch me on top of that ya, (heh) no roof
Travel 'round the world like it's a new sport
Move and escape to New York
Ahora ven aqui mami, dame un beso
Tu sabe que te gusta, deja eso
[Strofa 1: Pitbull]
Indovina chi è tornato, appena arrivato
Col profumo delle Bahamas, si sicuro
Ho ancora la nave in fuga
Ancora il Padrino
Ancora il Padrino, lo sai
Di notte, tutto diventa un po' fuori controllo
Un sacco di voli 3-0-5, nessuna oca
Acqua e limone senza succo
Prendimi addosso a te, (heh) senza tetto
Viaggio per il mondo come se fosse un nuovo sport
Mi trasferisco e scappo a New York
Ora vieni qui tesoro, dammi un bacio
Sai che ti piace, smettila
[Pre-Chorus: Pitbull]
Tonight, tonight
We gon' have us a real good time
Baby girl, how you so fine?
Tonight you gon' be mine (be mine)
Tonight, tonight
We gon' have us a real good time (good time)
Baby girl, how you so fine? (so fine)
Tonight you gon' be mine (that's right)
[Pre-Ritornello: Pitbull]
Stanotte stanotte
Ci divertiremo davvero tanto
Piccola, come mai sei così bella?
Stanotte sarai mia (sarai mia)
Stanotte stanotte
Ci divertiremo davvero tanto (davvero tanto)
Piccola, come stai sei così bella?(così bella)
Stanotte sarai mia (proprio così)
[Chorus: Theron Theron]
Party jumpin', until the morning
Feeling free, free, free
Hands keep waving, we misbehavin'
Feeling free, free, free
Cause ain't nobody ready to go home
We gon' keep it going all night long
Yeah, party raisin', so hard time crazy
Feeling free, free, free
[Ritornello: Theron Theron]
Facciamo festa fino a domattina
Sentirsi liberi, liberi, liberi
Le mani continuano ad agitarsi, ci comportiamo male
Sentendoci liberi, liberi, liberi
Perché nessuno è pronto per tornare a casa
Andremo avanti tutta la notte
Sì, la festa sta crescendo, ci divertiremo da morire
Sentendoci liberi, liberi, liberi
[Verse 2: Pitbull]
Wooo
Guess who's back, Yours truly
Mr. Independent, welcome to the new me
Nothing like freedom I'd love to be free
A world takeover, times three
Hardest working man in the game, that's me
He's done, he's over, he's finished, let's see (yeah right)
You clearly don't know me
Mami wanna have some fun, mami show me
Mami wanna party, I poured her some Voli
She said I remember you at bay, I said that's the old me
Ahora dame un beso
Tu sabe que te gusta, deja eso
[Strofa 2: Pitbull]
Wooo
Indovina chi è tornato, il sottoscritto
Signor Indipendente, benvenuto al nuovo me
Niente come la libertà vorrei essere libero
Una presa di potere mondiale, moltiplicata per tre
L'uomo che lavora più duramente nel gioco, sono io
Ha finito, è sopra, è finito, vediamo (sì giusto)
Chiaramente non mi conosci
Tesoro vuoi divertirti un po', piccola fammi vedere
Tesoro vuoi divertirti, le ho versato un po' di Voli
Ha detto "mi ricordo di te alla baia, oo detto "quello è il vecchio me"
Ora dammi un bacio
Sai che ti piace, smettila
[Pre-Chorus: Pitbull]
Tonight, tonight
We gon' have us a real good time
Baby girl, how you so fine?
Tonight you gon' be mine (be mine)
Tonight, tonight
We gon' have us a real good time (good time)
Baby girl, how you so fine? (so fine)
Tonight you gon' be mine (that's right)
[Pre-Ritornello: Pitbull]
Stanotte stanotte
Ci divertiremo davvero tanto
Piccola, come mai sei così bella?
Stanotte sarai mia (sarai mia)
Stanotte stanotte
Ci divertiremo davvero tanto (davvero tanto)
Piccola, come stai sei così bella?(così bella)
Stanotte sarai mia (proprio così)
[Chorus: Theron Theron]
Party jumpin', until the morning
Feeling free, free, free
Hands keep waving, we misbehavin'
Feeling free, free, free
Cause ain't nobody ready to go home
We gon' keep it going all night long
Yeah, party raisin', so hard time crazy
Feeling free, free, free
[Ritornello: Theron Theron]
Facciamo festa fino a domattina
Sentirsi liberi, liberi, liberi
Le mani continuano ad agitarsi, ci comportiamo male
Sentendoci liberi, liberi, liberi
Perché nessuno è pronto per tornare a casa
Andremo avanti tutta la notte
Sì, la festa sta crescendo, ci divertiremo da morire
Sentendoci liberi, liberi, liberi
[Hook: Theron Theron]
Go like limbo, take me down low (down low)
Party tempo, to the Congo
We've been drinkin', making right decisions
There's no limit, everybody's singing
[Gancio: Theron Theron]
Vai come un limbo, portami in basso (in basso)
E' tempo di festa, in Congo
Abbiamo bevuto, prendendo le giuste decisioni
Non ci sono limiti, tutti cantano
[Chorus: Theron Theron]
Party jumpin', until the morning
Feeling free, free, free
Hands keep waving, we misbehavin'
Feeling free, free, free
Cause ain't nobody ready to go home
We gon' keep it going all night long
Yeah, party raisin', so hard time crazy
Feeling free, free, free
[Ritornello: Theron Theron]
Facciamo festa fino a domattina
Sentirsi liberi, liberi, liberi
Le mani continuano ad agitarsi, ci comportiamo male
Sentendoci liberi, liberi, liberi
Perché nessuno è pronto per tornare a casa
Andremo avanti tutta la notte
Sì, la festa sta crescendo, ci divertiremo da morire
Sentendoci liberi, liberi, liberi