Dallo scorso 28 maggio, è disponibile la versione MP3 dell'interessante compilation che si intitola Now The Ultimate Collection, opera formata da 40 canzoni, selezionate in base alle classifiche degli ultimi anni relative ad iTunes ed alle radio.
Quaranta hit pop di grandissimo successo a livello internazionale racchiude in 2 CD. La versione fisica, sarà disponibile dal 18 giugno 2013.
Al suo interno, troviamo quindi brani cantati da pezzi da 90: sto parlando dei vari One Direction, i Maroon 5, Avicii, Pink, i Fun, i Coldplay, Swedish House Mafia, The Black Eyed Peas, Asaf Avidan (immaginerete il brano presente nell'opera), Ne-Yo, Timbaland, i Gorillaz, Britney Spears, Robbie Williams e tanti altri.
I titoli delle canzoni presenti e degli artisti non citati in precedenza, potete leggerli quì di seguito.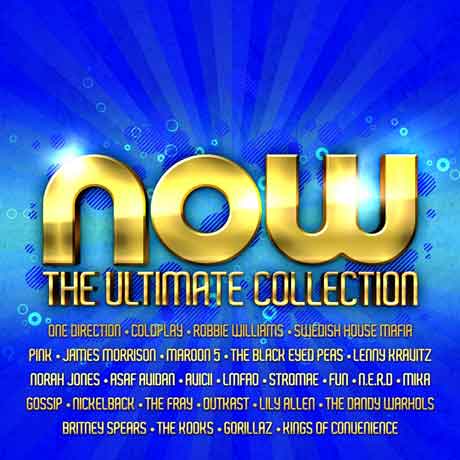 Tracklist Now the Ultimate Collection (Lo trovi su Amazon nella versione CD (dal 18 giugno ma già preordinabile) e MP3)
Disco 1
Yellow – Coldplay 4:29
We Are Young – Fun. 4:10
Get the Party Started – P!nk 3:11
Rock DJ – Robbie Williams 4:16
Payphone (feat. Wiz Khalifa) Maroon 5 3:52
One Thing – One Direction 3:17
Complicated – Avril Lavigne 4:05
Heavy Cross – Gossip 4:03
Black Horse and the Cherry Tree (Radio Version) – KT Tunstall 2:51
Bohemian Like You – The Dandy Warhols 3:29
Hey Ya! – OutKast 3:58
How To Save a Life (New) – The Fray 4:23
How You Remind Me – Nickelback 3:43
Always Where I Need To Be – The Kooks 2:40
Grace – Supergrass 2:30
Misread – Kings of Convenience 3:07
F**k You – Lily Allen 3:41
Ooh La La – Goldfrapp 3:25
Crazy – Gnarls Barkley 3:00
Come Away With Me – Norah Jones 3:19
Disco 2
Save the World – Swedish House Mafia 3:32
I Gotta Feeling – The Black Eyed Peas 4:50
One Day / Reckoning Song (Wankelmut Remix Radio Edit) – Asaf Avidan & The Mojos 3:32
Levels (Radio Edit) – Avicii 3:18
Party Rock Anthem (feat. Lauren Bennett & GoonRock) – LMFAO 4:22
Alors On Danse (feat. Kanye West) – Stromae 3:34
Beautiful Monster – Ne-Yo 4:11
Apologize (feat. OneRepublic) – Timbaland 3:05
She Wants To Move – N.E.R.D 3:34
Feel Good Inc – Gorillaz 3:41
Get Busy – Sean Paul 3:31
I'm Like a Bird – Nelly Furtado 4:03
I'll Be Waiting – Lenny Kravitz 4:19
7 Days – Craig David 3:56
Maybe Tomorrow – Stereophonics 4:34
Put Your Records On – Corinne Bailey Rae 3:34
Oops!…I Did It Again – Britney Spears 3:32
We Are Golden – MIKA 3:57
I Don't Feel Like Dancin' – Scissor Sisters 4:09
I Won't Let You Go – James Morrison 3:51