Sono disponibili da qualche giorno, 2 nuovi album del grande Michael Jackson: sto parlando di The Indispensable Collection e The Ultimate Fan Extras Collection, opere disponibili rispettivamente dal 21 e 24 giugno 2013.
Entrambi gli album, sono disponibili solo ed esclusivamente su iTunes. Sono 270 le tracce presenti.
The Ultimate Fan Extras Collection. contiene circa 162 pezzi (remix, demo e collaborazioni dal 1979 ad oggi). The Indispensable Collection include invece la completa discografia del re del pop.
Vediamo le tracklist.
Tracklist The Indispensable Collection (Mastered For iTunes) :
Off The Wall
1. Don't Stop 'Til You Get Enough
2. Rock with You
3. Workin' Day and Night
4. Get on the Floor
5. Off the Wall
6. Girlfriend
7. She's out of My Life
8. I Can't Help It
9. It's the Falling in Love
10. Burn This Disco Out
Thriller
1. Wanna Be Startin' Somethin'
2. Baby Be Mine
3. The Girl Is Mine (featuring Paul McCartney)
4. Thriller
5. Beat It
6. Billie Jean
7. Human Nature
8. P.Y.T. (Pretty Young Thing)
9. The Lady in My Life
Bad
1. Bad
2. The Way You Make Me Feel
3. Speed Demon
4. Liberian Girl
5. Just Good Friends
6. Another Part of Me
7. Man in the Mirror
8. I Just Can't Stop Loving You (featuring Siedah Garrett)
9. Dirty Diana
10. Smooth Criminal
11. Leave Me Alone
Dangerous
1. Jam
2. Why You Wanna Trip on Me
3. In the Closet
4. She Drives Me Wild
5. Remember the Time
6. Can't Let Her Get Away
7. Heal the World
8. Black or White
9. Who Is It
10. Give in to Me
11. Will You Be There (featuring The Cleveland Orchestra)
12. Keep the Faith
13. Gone Too Soon
14. Dangerous
HIStory – Past, Present and Future Book 1
1. Scream
2. They Don't Care About Us
3. Stranger in Moscow
4. This Time Around
5. Earth Song
6. D.S.
7. Money
8. Come Together
9. You Are Not Alone
10. Childhood (Theme from "Free Willy 2″)
11. Tabloid Junkie
12. 2 Bad
13. History
14. Little Susie / Pie Jesu
15. Smile
Blood On The Dance Floor/HIStory In The Mix
1. Blood on the Dance Floor
2. Morphine
3. Superfly Sister
4. Ghost
5. Is It Scary
6. Scream Louder (Flyte Tyme Remix)
7. Money (Fire Island Radio Edit)
8. 2 Bad (Refugee Camp Mix)
9. Stranger in Moscow (Tee's In-House Club Mix)
10. This Time Around (D.M. Radio Mix)
11. Earth Song (Hani's Extended Radio Experience)
12. You Are Not Alone (Classic Club Mix)
13. History (Tony Moran's HIStory Lesson)
Invincible
1. Unbreakable
2. Heartbreaker
3. Invincible
4. Break of Dawn
5. Heaven Can Wait
6. You Rock My World (with intro)
7. Butterflies
8. Speechless
9. 2000 Watts
10. You Are My Life
11. Privacy
12. Don't Walk Away
13. Cry
14. The Lost Children
15. Whatever Happens
16. Threatened
Live At Wembley – July 16, 1988
1. Wanna Be Startin' Somethin'
2. This Place Hotel
3. Another Part of Me
4. I Just Can't Stop Loving You
5. She's Out of My Life
6. I Want You Back / The Love You Save / I'll Be There
7. Rock with You
8. Human Nature
9. Smooth Criminal
10. Dirty Diana
11. Thriller
12. Working Day and Night
13. Beat It
14. Billie Jean
15. Bad
16. Man in the Mirror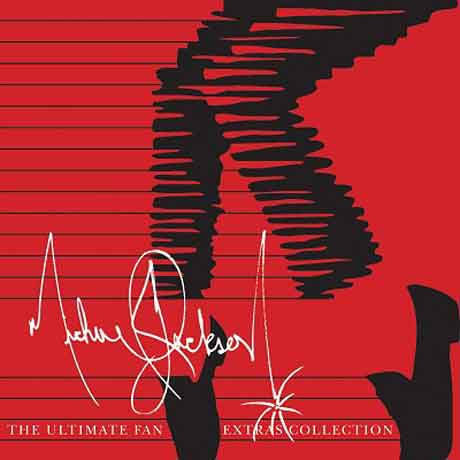 Michael Jackson: The Ultimate Fan Extras Collection tracklist:
Off The Wall Extras
1. "Don't Stop 'Til You Get Enough (Original Demo From 1978)"
2. "Workin' Day And Night (Original Demo From 1978)
3. "Rock with You (Single Version)"
4. "Off the Wall (Single Version)"
5. "She's Out of My Life (Single Version)"
Thriller Extras
1. "Billie Jean (Home Demo From 1981)"
2. "Billie Jean (Single Version)"
3. "Billie Jean (Long Version)"
4. "Billie Jean (Underground Mix)"
5. "Beat It (Single Version)"
6. "Beat It 2008 (Thriller 25th Anniversary Remix Featuring Fergie)"
7. "The Girl Is Mine 2008 with will.i.am (Thriller 25th Anniversary Remix)"
8. "P.Y.T.2008 (Thriller 25th Anniversary Remix Featuring willi.i.am)"
9." Wanna Be Startin' Somethin' 2008 with Akon (Thriller 25th Anniversary Remix)"
10. "For All Time (Previously unreleased track from the "Thriller" sessions)"
11. "Got the Hots (Thriller 25th Anniversary) (and KOP Internationally)"
12. "Someone in the Dark"
13. "Carousel"
14. "Thriller (Instrumental)"
Bad Extras
1. "Don't Be Messin' 'Round"
2. "I'm So Blue"
3. "Song Groove (A/K/A Abortion Papers)"
4. "Free"
5. "Price of Fame"
6. "Al Capone"
7. "Streetwalker"
8. "Fly Away"
9. "I Just Can't Stop Loving You (with Spoken Intro)"
10. "Todo Mi Amor Eres Tu (I Just Can't Stop Loving You)(Spanish Version)"
11. "Je Ne Veux Pas La Fin De Nous(I Just Can't Stop Loving You) (French Version)"
12. "Bad (Remix by Afrojack Featuring Pitbull- DJ Buddha Edit)"
13. "Speed Demon (Remix by Nero)"
14. "Bad (Remix by Afrojack Featuring Pitbull- DJ Buddha)"
The Ultimate Collection Extras
1. "Ease on Down the Road"
2. "You Can't Win"
3. "Shake a Body (Early Demo)"
4. "Shake Your Body (Down to the Ground) (Single Edit) (The Jacksons)"
5. "P.Y.T. (Pretty Young Thing) (Demo Version)"
6. "Sunset Driver (Demo)"
7. "Scared of the Moon (Demo)"
8. "State of Shock"
9. "We Are the World (Demo)"
10. "We Are Here to Change the World"
11. "Cheater (Demo)"
12. "Monkey Business"
13. "Dangerous (Early Version)"
14. "Who Is It (IHS Mix)"
15. "Someone Put Your Hand Out"
16. "On the Line"
17. "Fall Again (Demo)"
18. "In the Back"
19. "Beautiful Girl (Demo)"
20. "The Way You Love Me"
21. "We've Had Enough"
22. "You Rock My World (with intro)"
23. "Enjoy Yourself (The Jacksons)"
24. "Lovely One (The Jacksons)"
25. "This Place Hotel (a/k/a Heartbreak Hotel) (The Jacksons) "
This Is It Extras
1. "This Is It"
2. "This Is It (Orchestra Version)"
3. "She's Out of My Life (Demo)"
4. "Beat It (Demo)"
5. "Wanna Be Startin' Somethin' (Demo)"
6. "Smooth Criminal (Radio Edit)"
7. "Planet Earth (Poem)"
Michael
1. "Hold My Hand"
2. "Hollywood Tonight"
3. "Keep Your Head Up"
4. "(I Like) The Way You Love Me"
5. "Monster"
6. "Best of Joy"
7. "Breaking News"
8. "(I Can't Make It) Another Day"
9. "Behind the Mask"
10. "Much Too Soon"
Immortal
1. "Workin' Day and Night (Immortal Version)"
2. "The Immortal Intro (Immortal Version)"
3. "Childhood (Immortal Version)"
4. "Wanna Be Startin' Somethin' (Immortal Version)"
5. "Shake Your Body (Down to the Ground) (Immortal Version)"
6. "Dancing Machine / Blame It on the Boogie (Immortal Version)"
7. "Ben (Immortal Version)"
8. "This Place Hotel (Immortal Version)"
9. "Smooth Criminal (Immortal Version)"
10. "Dangerous (Immortal Version)"
11. "The Mime Segment:(I Like) the Way You Love Me / Speed Demon / Another Part of Me (Immortal Version)"
12. "The Jackson 5 Medley (Immortal Version)"
13. "Speechless/Human Nature (Immortal Version)"
14. "Is It Scary/Threatened (Immortal Version)"
15. "Thriller (Immortal Version)"
16. "You Are Not Alone/I Just Can't Stop Loving You (Immortal Version)"
17. "Beat It / State of Shock (Immortal Version)"
18. "Jam (Immortal Version)"
19. "Planet Earth/Earth Song (Immortal Version)"
20. "Scream/Little Susie (Immortal Version)"
21. "Gone Too Soon (Immortal Version)"
22. "They Don't Care About Us (Immortal Version)"
23. "Will You Be There (Immortal Version)"
24. "I'll Be There (Immortal Version)"
25. "Immortal Megamix"
26. "Man in the Mirror (Immortal Version)"
27. "Remember the Time / Bad (Immortal Version)"
Remixes, Rarities & Gems
1. "Can You Feel It (The Jacksons)"
2. "Don't Stop 'Til You Get Enough (Live from the 1981 U.S. Tour) (The Jacksons)"
3. "Don't Stop 'Till You Get Enough (Roger's Underground Solution Mix)"
4. "Rock with You (Frankie Knuckles Radio Mix)"
5. "Rock with You (Frankie's Favorite Club Mix)"
6. "Rock with You (Masters at Work Remix)"
7. "Rock with You (Live)(The Jacksons)"
8. "Off the Wall (Live) (The Jacksons)"
9. "She's Out of My Life (Live) (The Jacksons)"
10. "Working Day and Night (Live) (The Jacksons)"
11. "Can't Get Outta the Rain"
12. "Say Say Say (featuring Paul McCartney)"
13. "Beat It (Moby's Sub Mix)"
14. "Wanna Be Startin' Somethin' (Brothers In Rhythm House Mix)"
15. "Wanna Be Startin' Somethin' (Instrumental)"
16. "Thriller Megamix"
17. "Bad (Dance Extended Mix includes 'False Fade')"
18. "The Way You Make Me Feel (Dance Extended Mix)"
19. "The Way You Make Me Feel (Instrumental)"
20. "Man in the Mirror (Instrumental)"
21. "Dirty Diana (Instrumental)"
22. "Another Part of Me (Extended Dance Mix)"
23. "Another Part of Me (Instrumental)"
24. "Smooth Criminal (Dance Radio Edit)"
25. "Smooth Criminal (Extended Dance Mix)"
26. "Smooth Criminal (Instrumental)"
27. "Liberian Girl (UK Edit)"
28. "Black or White (The Clivilles & Cole Radio Mix)"
29. "Black or White (The Clivilles & Cole House/Club Mix)"
30. "Black or White (House With Guitar Radio Mix)"
31. "Black or White (The Underground Club Mix)"
32. "Black or White (Instrumental)"
33. "Remember the Time (New Jack Radio Mix)"
34. "Remember the Time (Silky Soul 7")"
35. "Remember the Time (12″ Main Mix)"
36. "Remember the Time (Maurice's Underground)"
37. "Remember the Time (E-Smoove's Late Nite Mix)"
38. "In the Closet (Radio Edit)"
39. "In the Closet (The Underground Mix)"
40. "Jam (Silky 12″ Mix)"
41. "Dangerous (Roger's Dangerous Edit)"
42. "Who Is It (Brothers in Rhythm House Mix)"
43. "Will You Be There (Instrumental)"
44. "Gone Too Soon (Instrumental)"
45. "Scream Louder (Flyte Tyme Remix)"
46. "Scream (Classic Club Mix)"
47. "Earth Song (Radio Edit)"
48. "Earth Song (Hani's Extended Radio Experience)"
49. "They Don't Care About Us (Love To Infinity's Walk In The Park Mix)"
50. "Stranger in Moscow (Tee's Radio Mix)"
51. "Smile (Short Version)"
52. "Is It Scary (Radio Edit)"
53. "Is It Scary (Deep Dish Dark And Scary Radio Edit)"
54. "Shout"
55. "One More Chance"
56. "One More Chance (Metro Remix)"
57. "One More Chance (Paul Oakenfold Mix)"
58. "One More Chance (Paul Oakenfold Urban Mix)"
59. "One More Chance (Ron G Club Remix)"
60. "Michael Jackson DMC Megamix"