Melancholy Mood è il nuovo EP e singolo di Bob Dylan, che anticipa l'uscita del trentasettesimo album in studio Fallen Angels, che includerà cover di dodici classici brani americani scelti dallo stesso Dylan. Proprio come avvenuto con il predecessore Shadows In The Night (2015), in ognuna delle dodici canzoni (ad eccezione di "Skylark") incluse nell'album auto-prodotto, il mitico Dylan canta brani originariamente interpretati dal grande Frank Sinatra. Il disco, il cui titolo è ispirato da un film di Otto Preminger, vedrà la luce il prossimo 20 maggio ed è già disponibile in pre-ordine in tutti i formati (CD, vinile (150 gr e Card per Digital Download) e digitale). In Fallen Angels, il cantautore statunitense canterà brani scritti da alcuni dei compositori più acclamati e influenti della storia della musica, come Johnny Mercer, Harold Arlen, Sammy Cahn e Carolyn Leigh.
Nell'EP Melancholy Mood, il primo singolo estratto dal progetto, sono incluse tre ulteriori tracks (due per lato), che troverete anche nel nuovo album.
Registrato da Sinatra nel 1939, come B-side del suo primo singolo From the Bottom of My Heart, il brano estratto dal progetto discografico è stato firmato da Vick R. Knight Sr. e Walter Schumann.
Appena dopo la copertina del vinile, trovate i titoli delle canzoni incluse nell'EP, che è anche possibile ascoltare in streaming gratuito.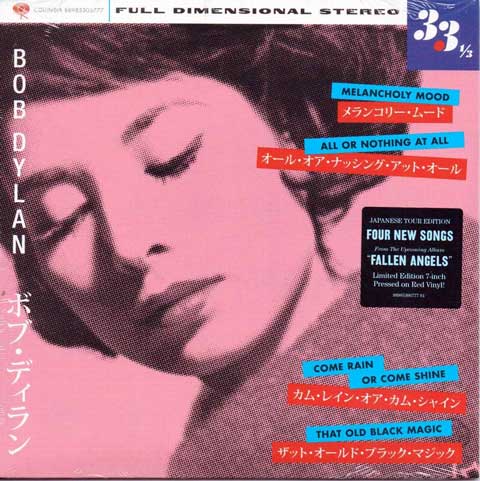 Tracklist Melancholy Mood – Bob Dylan EP (CD import – Vinile – Download del brano Melancholy Mood)
Lato A:
1. Melancholy Mood
2. All or Nothing at All
Lato B:
1. Come Rain or Come Shine
2. That Old Black Magic
Audio EP – Audio e testo di Melancholy Mood
Melancholy mood forever haunts me
Steals upon me in the night, forever taunts me
Oh, what a lonely soul am I, stranded high and dry
By a melancholy mood
Gone is every joy and inspiration
Tears are all I have to show, no consolation
All I can see is grief and gloom, till the crack of doom
Oh, melancholy mood
Deep in the night I search for a trace
Of a lingering kiss, a warm embrace
But love is a whimsy, as flimsy as lace
And my arms embrace an empty space
Melancholy mood, why must you blind me
Pity me and break the chains, the chains that bind me
Won't you release me, set me free, bring him back to me
Oh, melancholy mood